Bitcoin prices are relatively stable when writing, shrinking three percent in the past 24 hours. Even though there was strong liquidation pressure at the closing trading session of August 11, prices are trending at around H2 2022 highs.
BTC is within a bullish breakout formation after substantial gains on August 10. Even though there have been no strong follow-throughs, reading from yesterday's performance, the uptrend has been set in motion, and every low in the daily chart or lower time frame may offer entries for aggressive and upbeat BTC traders angling for $28k and $32k in sessions ahead.
Inflation in the U.S. is Cooling Down
At the back of these bullish developments is news of the U.S. economy cooling down. Annual inflation dropped to 8.5 percent as per statistics related mid-week, a signal that the U.S. FED's intervention measures and rate hiking regimes could be coming to an end.
Earlier, Jerome Powell, the chair of the FED, said inflation readings were a critical metric that advises their monetary policy decision.
Therefore, that inflation dropped, a few weeks after commenting that the country's interest rates were at optimum levels that won't lead to overheating or deflation, could signal that the bank won't probably raise rates aggressively in upcoming sessions.
Their action would subsequently prop the financial markets, mainly Bitcoin and the broader crypto scene, a net positive for the coin in the medium to long term.
Bitcoin Price Analysis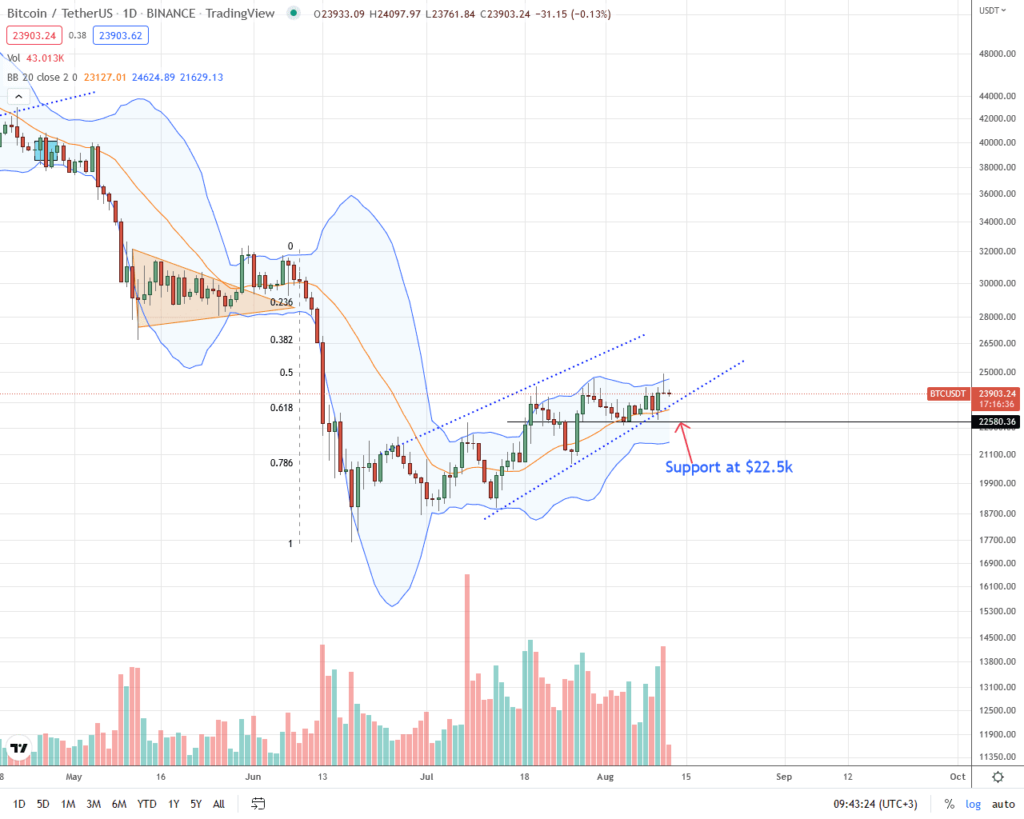 From the daily chart, BTC is relatively stable, dropping three percent in the previous trading day.
There is an inverted pin bar, an indicator of intense selling pressure during the late NY session on August 11. This sell-off spilled over to early today as visible in the Asian trading session. Despite the sell-off and rejection of higher prices, BTC is within a bullish breakout formation above the $23k level and inside a rising channel.
Therefore, based on this, aggressive traders may look for entries to buy the dips above August 10 lows and $22.5k on the lower end, marking the anchor bars of July 27 and 28. Notably, Bitcoin has the upper hand from the effort versus result perspective since prices are trending inside the two bull bars of late July 2022.
As long as Bitcoin is maintained above $23k, the odds of the coin soaring to $28k in the medium term in a bull trend continuation formation remains elevated.
Any sharp drops below $22.5k cancel this bullish preview.
Technical charts courtesy of Trading View.
Disclaimer: Opinions expressed are not investment advice. Do your research.
---
If you found this article interesting, here you can find more  Bitcoin news.