As a result of new data showing that inflation might be peaking, most cryptocurrencies rose today after the news broke.
In the last 24 hours, Bitcoin, the largest cryptocurrency in the world, has experienced a price increase of approximately 5.0%, while Ethereum, the second-largest cryptocurrency in the world, has experienced a price increase of approximately 9.0%.
External Factors Affecting the Market
It has been a very busy week for investors as they waited for the latest report of the consumer price index (CPI), which tracks the prices of a range of everyday goods and services that are consumed by the average person.
This morning, the data showed that the index for July grew 8.5% when compared to the same month last year. Further, the CPI on a seasonally adjusted basis remained unchanged from June on a monthly basis. The two data points came in below expectations and may have indicated that inflation may have peaked last month as a result of these numbers.
As a result of the report, workers were able to experience a 0.5% rise in their real wages during the month of December. There was still a 3% decline in average hourly wages from a year ago when inflation was taken into consideration.
It should be noted that shelter costs, which make up approximately a third of the weighting in the CPI, have continued to rise and have risen by 5.7% over the past year.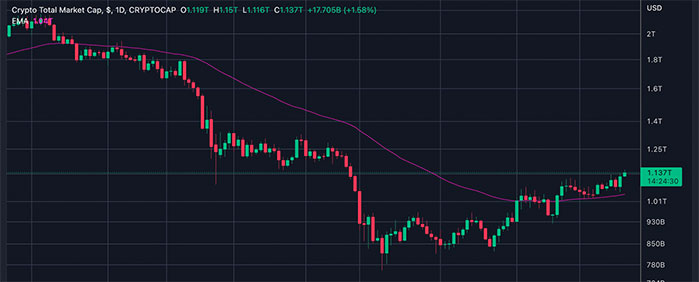 For the purpose of bringing back inflation numbers that are well ahead of the long-run target of 2% in order to address the problem, Federal Reserve officials are implementing a recipe that combines interest rate increases with tightening of monetary policy.
There have already been 2.25 percentage points of increases in benchmark borrowing rates in 2022, and officials have been clear about the fact that there will be more increases in the near future.
Inflation is expected to be better than expected for the first time in a long time, which could actually mean that the Federal Reserve is taming inflation with its hawkish policy so far this year so that it may be able to ease up on rate hikes as the year progresses.
As a result of rate hikes, the price of Bitcoin and Ethereum have plummeted by around 50% and 51.4%, respectively, this year. There is an increase in risk assets as well as a decrease in growth assets as interest rates rise. 
The market and crypto market are enjoying a good day today because there is finally some good news about inflation, which suggests that the Fed may be able to slow down the pace of rate hikes, which have been extremely aggressive in the last few months.