Bitcoin (BTC) stumbles to below $28K mark as the global crypto market grapples with ambivalence over the recent crypto crash. On April 12, Bitcoin prices pitched over the $27K level to trade at $26,350. However, soon after, the flagship token managed to marginally prop up surpassing $27,000.
At the time of writing, Bitcoin (BTC), declined over 13 per cent in the last 24 hours to trade at $27,636. As per the date from CoinMarketCap, the value of Bitcoin depreciated by 30 per cent in the last 7 days falling to a 16 month low. From a peak of $69,000 in November 2021, it has lost nearly two-thirds of its value.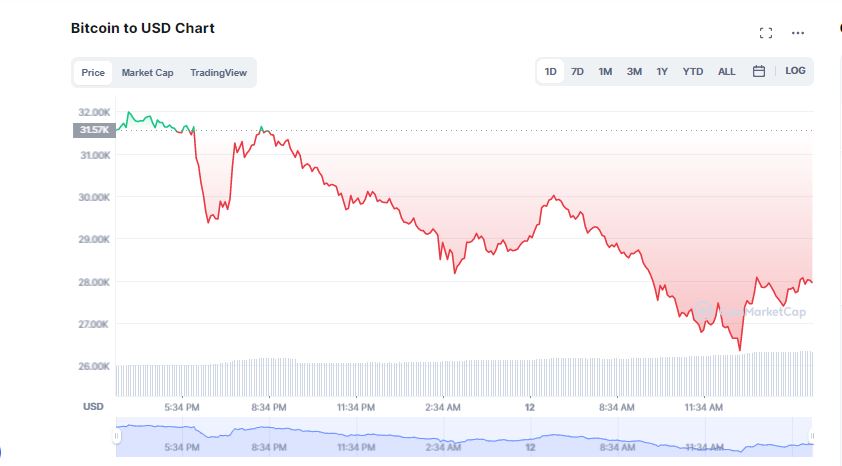 What Is The Current State Of Bitcoin?

The world's largest cryptocurrency slid through a key support level last weekend plunging below $29K. The drop came in near lock step with a broader collapse of tech stocks as investors grappled with higher interest rates and the war in Ukraine.
Bitcoin's crash mirrors tumbles in tech stocks after blue chip Dow Jones Industrial Average lost more than 100 points last week and the NASDAQ plunged by 5 per cent. BTC futures market has also witnessed a massive long liquidation due to the recent bearish leg.
Bitcoin's recent crash comes amid a broader crypto market collapse, which has seen nearly $300 billion wiped from the value of cryptocurrencies over the last four days. The Crypto Fear and Greed Index, which analyses exchange data and online trends to assess overall market sentiment, is currently at '12' for Bitcoin, marking its lowest point since last year.
Bitcoin Fear and Greed Index is 12 — Extreme Fear
Current price: $28,632 pic.twitter.com/8a9yxbKuf8

— Bitcoin Fear and Greed Index (@BitcoinFear) May 12, 2022
Expert Opinion On The Current State Of Bitcoin

Hitesh Malviya, founder of Michigan based financial services company IBC Capital, pointed to $30,000 as a key level of support, having previously tested and recovered from that point several times in 2021 before going on its record-breaking run. He expressed that,
"Bitcoin has broken the key support of 30,000$ and we have entered into a long bear cycle. Bear cycles are usually longer than bull cycles, so it could take 1/2 years to get a positive long-term price growth in the crypto market. By that time more than 90% of cryptocurrencies will eventually die due to liquidity and volume crisis."
Michael Saylor of MicroStrategy, who has spent billions building a stockpile of more than 125,000 coins blamed the crash on traders who don't appreciate Bitcoin's long term potential to transform the global financial ecosystem. Saylor said in a statement,
"In the near term, the market will be dominated by those with less appreciation of the virtues of bitcoin. Over the long term, the maximalists will be proven correct, because billions of people need this solution, and awareness is spreading to millions more each month."