The crypto market jolted awake after the US Federal Reserve raised it's short term interest rates by 0.5 per cent, marking the largest increase in rates since the year 2000. Bitcoin (BTC) jumped to $39K indicating an upward trend. Ethereum along with major altcoins witnessed sharp gains.
On May 4, The Federal Reserve, announced that it has raised the overnight interest rate by half a percentage to combat high inflation. This is the biggest jump in Fed rates in the last 22 years. In a unanimous decision, the Fed pushed its target federal funds rate to a range between 0.75% and 1%. It seems that the United States government is trying to decrease spending in the country's economy.
May 4, 2022
What Does The Increase In Fed Rate Mean for Bitcoin?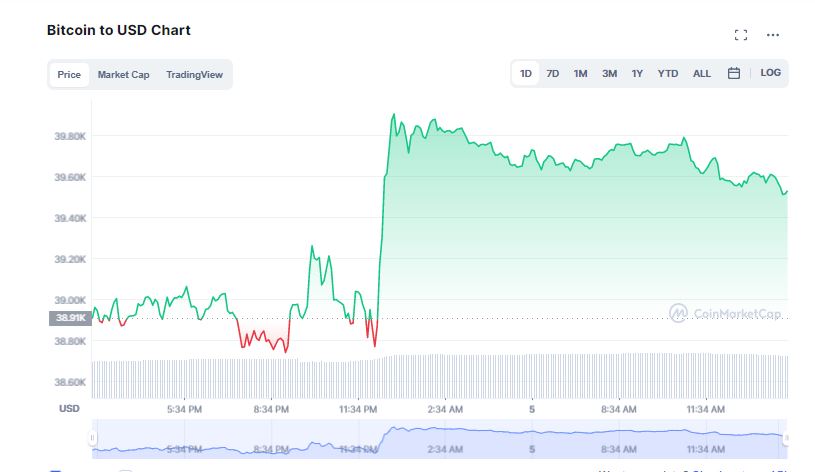 The increase in the Fed rates have cumulatively buoyed the crypto market with major tokens experiencing a massive spike. The world's most popular cryptocurrency, Bitcoin (BTC) has zoomed past 3 per cent in the last 24 hours and is currently trading at $39.597.
The current shift suggests that bears may be finally losing their grip. If Bitcoin continues to follow this pattern, the flagship token might be able to break the psychological barrier of $40K soon enough.
At one point amidst, Fed Chair Jerome Powel's announcement, Bitcoin climbed as as high as $40,002.75. The RSI for BTC is currently at its highest in a month. On the hourly time-frame, the BTC chart has broken out of the channel pattern with the start of an uptrend last night. The next resistance is expected at $48,600.
How Has The Overall Crypto Market Reacted?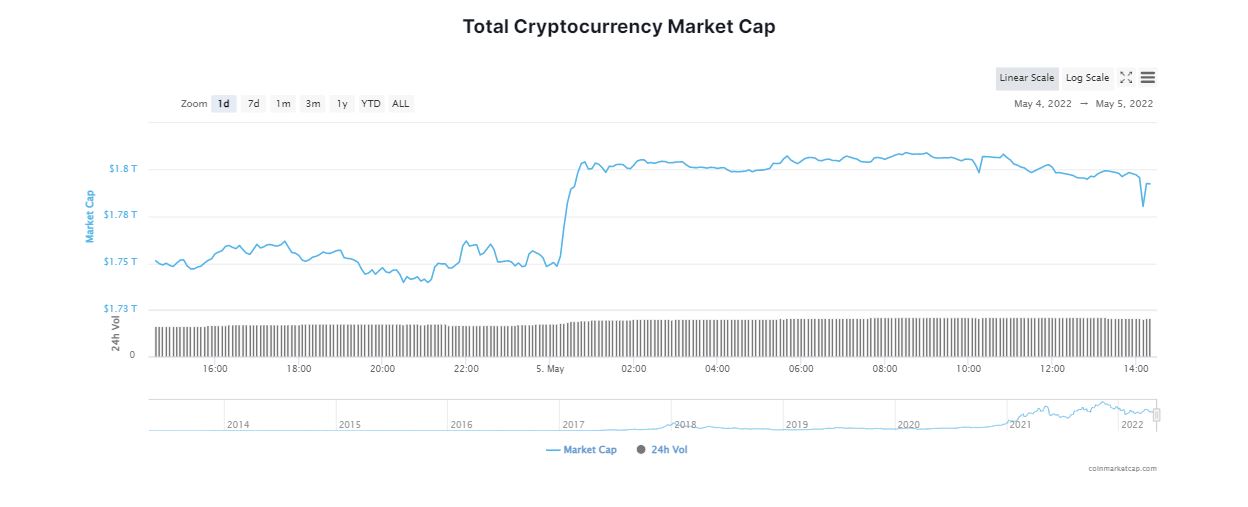 The global cryptocurrency market noted a spike, increasing by a solid 3.91 per cent in the last 24 hours to $1.80 trillion. The total crypto market volume over the last 24 hours is $100.83 billion, which makes a 37.31% increase.
In the past 24 hours, Ethereum (ETH) rallied past 4.15 per cent to trade at $2,932. Major altcoins observed a major upswing with Cardano (ADA) and Avalanche (AVAX) gaining a steep rise of around 10 per cent. XRP, Terra (LUNA) and Solana (SOL) tallied in the range of 2 to 7 per cent. Memecoins, Dogecoin (DOGE) and Shiba Inu (SHIB) are currently trading at $0.1345 and $0.0002144 zooming past 3.55 per cent and 3.43 per cent respectively.
Sharat Chandra, VP research and strategy at decentralized identity management platform, EarthId, believes that the Fed rate hike as a positive cue for Bitcoin as well as the overall crypto market. He said,
"The recent rate hike as a positive cue for the crypto markets, at least in the short term. Moreover, the crypto markets already factored in the rate hike. These factors have cumulatively buoyed the equity as well as crypto markets."