Bitcoin has once again demonstrated its strong volatility as the currency gained $ 200 in just a few hours on September 1. There are analysts who believe that this rise to $ 7,200 is a catalyst that will cause the currency to start a small upward race in the crypto market.
Its recent increase took the whole market, many major tokens such as Neo, BCH, Vechain, EOS, Litecoin, Cardano and Tron won from 5 to 15%.
On August 30, Bitcoin had dropped from $ 7,100 to $ 6,800, prompting analysts to predict that the currency would fall further around $ 6,000 due to unknown support between $ 6,800 and $ 6,500.
However, the reversal of the trend came earlier than expected with a rapid rebound to the region of $ 7,000, and today reaching $ 7,249.
The recent increase in the price of Bitcoin has led to the market capitalization of cryptocurrencies to almost 236 billion, while still maintaining bright prospects. It is obvious that the upward trend is the result of the high purchase pressure generated.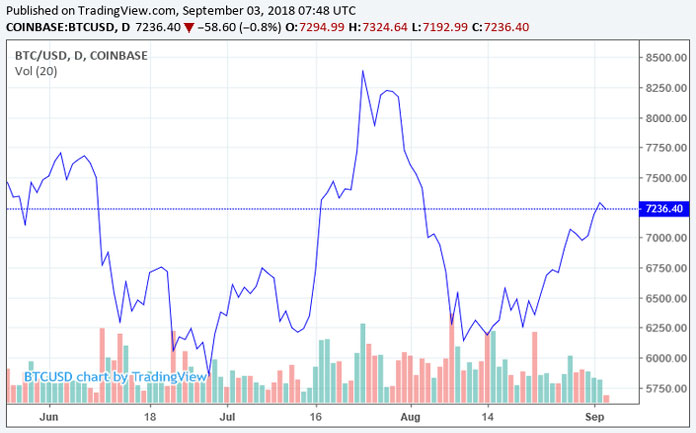 Speculations of an uptrend have been frequent and market observers have been interested in seeing the effect of a more impressive volume on the movement of prices. Days ago, the volume of the entire market dropped billions after BTC and ETH shed $3.5 and $1.3 billion respectively.
Analysts such as Fundstrat's Tom Lee had earlier said that the stability of Bitcoin just as witnessed in August is a prelude to a rally as sorts, citing the coin's major rally in the past as precedence. Considering that the cryptocurrency exhibited a stability that hasn't been seen since 14 months highlights the possibility of another rally before the end of the year according to Lee.
A crypto trading technology firm SFOX on September 1, released a report that supports the stance of Lee saying that the inflow of institutional funds even though marginal has contributed to the narrowing of price differences in exchanges and have contributed to the relative stability being witnessed in the coin market.
"Before institutional firms were actively trading crypto or heavily involved (before 2018) bitcoin price differences between exchanges varied as high as 4.5%," Danny Kim, head of growth at SFOX, said in an interview with Business Insider.
The recent price spike has proven many analysts wrong as not a few predicted a downward trend. Peter Brandt has had 43 years experience in FX and trades cryptocurrencies too. In his assessment,
"In 43 years of trading, I have never seen an 82% decline end and be reversed with a 2-week bottom. I do not believe this will be the first time, but with cryptos anything is possible (though not probable)."
Granted, had Bitcoin dropped further after the August 30 plunge, the effect may have been different, but the quick rebound has made it even clearer that this asset class may not wholly be assessed based on what we do know about traditional assets.