Bitcoin (BTC) plunged to a three-week low on Wednesday after hawkish comments from Federal Reserve Chair Jerome Powell raised the possibility of the US central bank returning to bigger rate hikes in order to tame stubborn inflation.
Bitcoin Witnesses a Steep Drop
According to CoinMarketCap, Bitcoin (BTC) dropped 1.83% in the last 24 hours to trade at $22,018. Following a brief rally which propelled BTC prices above $25K, the largest cryptocurrency has plummeted again. Over the past week, the flagship token tanked more than 7% as Powell's hawkish testimony to Congress spurred traders to price in a higher "terminal rate."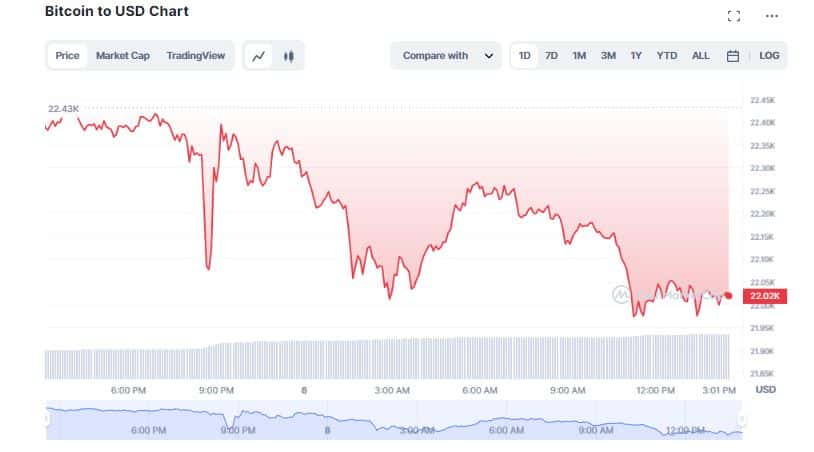 Bitcoin's dominance over the past 24 hours also slipped 0.09% to 42.18%. Recently, Bitcoin (BTC) had nosedived to a two-week low after the crypto friendly bank, Silvergate Capital admitted that it may struggle to remain solvent owing to significant losses, sending its stock prices spiralling down more than 60%.
Macroeconomic headwinds along with the recent wave of crypto crackdowns by the United States Securities and Exchange Commission (SEC) has further added to the deepening crypto winter. Despite the meltdown, Bitcoin Fear and Greed Index is still hovering near the "Neutral Zone". In a statement, Edul Patel, CEO at Mudrex said,
"Over the last 24 hours, Bitcoin experienced a decline after Fed Chair Jerome Powell made hawkish statements about interest rate hikes. If BTC dips below the current level, the next level would be at the $19,000 level."

Crypto Winter Deepens
The global crypto market cap fell 1.56% in the last 24 hours to $1.01 trillion after Powell on Tuesday said the central bank is likely to raise rates more than previously expected. Powell noted the latest economic data show that inflation remains stubborn and the job market remains resilient, stronger than expected.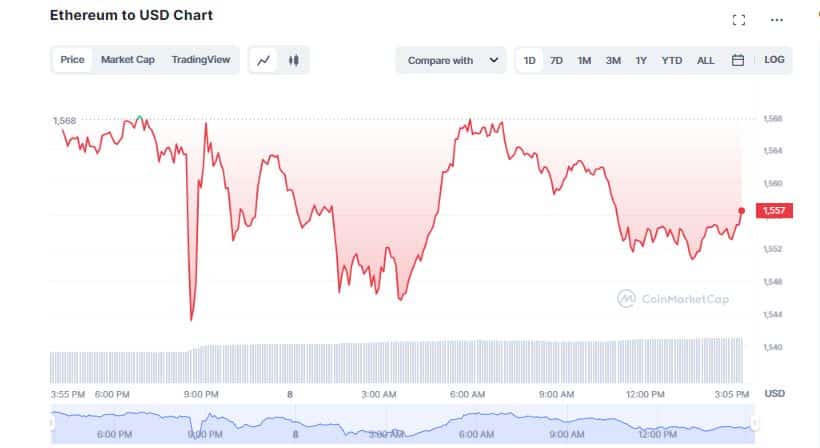 In tandem with the broader crypto market, Ethereum (ETH) shrank 0.78% over the past 24 hours to currently trade at $1,554. It seems the upcoming Shainghai Upgrade is unable to hold Ether from falling as the second largest cryptocurrency dipped more than 5% in the last one week. Patel added,
"Similarly, Ethereum is trading in tandem with BTC and is currently in the red zone. ETH is currently trading at US$1,555, and its next support level is US$1,450. Given the hawkish comments and uncertainties surrounding Silvergate Bank, traders, and investors may need time to analyze and understand the situation."
Altcoins Trade with Cuts
Meanwhile, major altcoins are also trading with substantial losses as investors and traders brace for the potential rate hike. Following Powell's hawkins tone, traders of the Fed funds futures lifted their forecasts for the terminal rate to 5.65% from around 5.47% early this week and 4.9% a month ago. This means that traders are gearing up for further tightening over the coming months, with the central bank raising rates by at least 100 basis points.

Cardano (ADA), Solana (SOL) and Polkadot (DOT) are down with losses in the last 24 hours ranging between 2% and 5%. During the same time, Polygon (MATIC) declined nearly 3% to trade at $1.12. However, XRP is one of the only major altcoins that has witnessed a price rally of more than 3% over the past 24 hours.