Bitcoin (BTC) took a dive slipping below $23,500 mark the release of the US Durable Goods Orders data for January which showed a 4.5% drop, causing concern among investors and traders about the possibility of inflation and interest rate hikes. On Tuesday, Ethereum (ETH) along with most of the digital assets followed suit trading in a sea of red.
As per reports, data released on Monday showed Durable Goods Orders dropped 4.5% in January, more than the 4% slide expected. Friday's personal-consumption expenditures (PCE) data has also stoked fears that inflationary pressures may be more stubborn than market participants had previously hoped.  In addition, U.S. stocks fell sharply on Friday, wrapping up their worst week of 2023 after a hot inflation data.
These reports indicate further weakness as a fresh renewal in the Federal Reserve's (Fed) hawkish bets on interest rate hikes in the coming days. The crypto market took a hit following the recent developments signalling fear among investors and trader who seem to be steering away from risky assets.
Bitcoin Slips Below Crucial $23.5K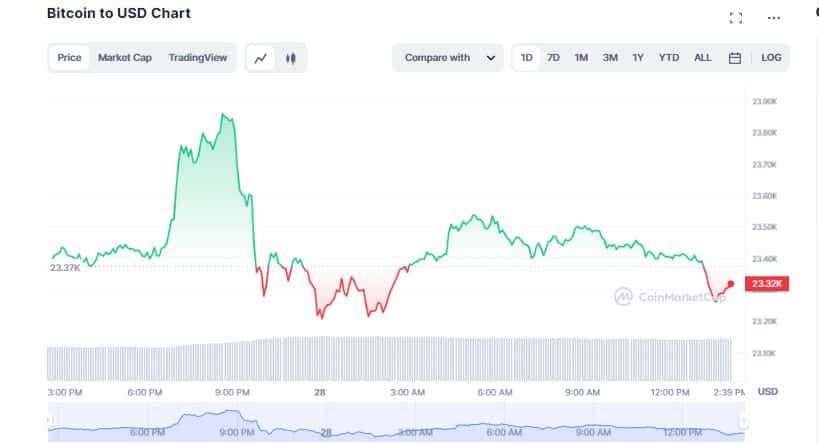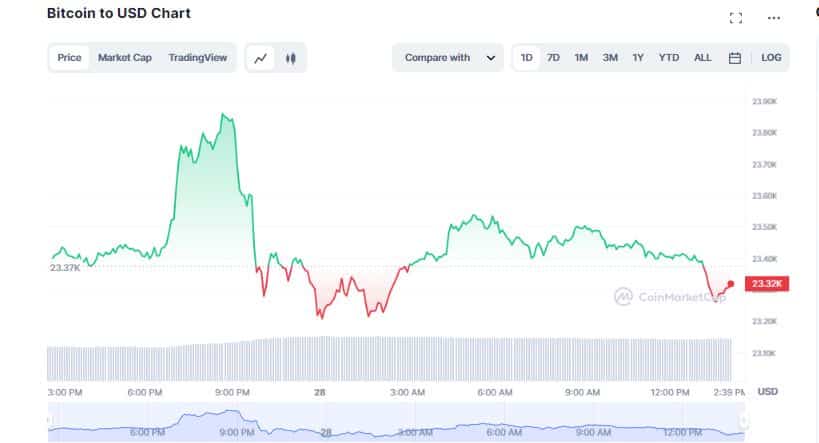 According to CoinMarketCap, Bitcoin (BTC) slipped 0.33% in the last 24 hours to trade at $23,287. The flagship token plunged nearly 7% over the past seven days even though the medium-term trend is bullish. The drop in recent BTC prices is at the back of rising hash rate and broad participation from infrastructure providers, indicating that some miners may have been selling to cover costs amid rising hash rate and difficulty.
Recently, BTC.com  reported that Bitcoin's mining difficulty has risen by 9.95% following the latest adjustment. Additionally, Bitcoin options contracts worth approximately $1.8 billion expired last week, which may trigger volatility in the short-term price movement of BTC. In a statement, Sathvik Vishwanath, Co-Founder & CEO of Unocoin said,
Breakfast News 🥘
RATING: 📙📙📙

Today will see the expiration of Bitcoin option contracts worth about $1.8 billion. pic.twitter.com/ltocKkFxxn

— The Bull's Journal (@thebullsjournal) February 24, 2023
"Bitcoin struggled to break the significant $23,750 resistance level. The closing of the candles below this level led to a bearish correction, potentially pushing the price of BTC further down towards the $22,800 mark."
#Bitcoin #mining difficulty increased by 9.95% to 43.05T, a new record high! The average computing power of the whole network is 301.02EH/s#BTC #mine #POW @BTCTN @BitcoinMagazine @Bitcoin pic.twitter.com/8GiRtkxMrR

— ELLA_Citex (@citexpixie) February 25, 2023
Altcoins Fall in Tandem with Broader Financial Market
In tandem with Bitcoin (BTC), Ethereum (ETH) also tumbled 0.78% to hover around $1,622. The second largest cryptocurrency declined more than 4% in the past one week showing a downward trend and is expected to end the week lower as investors avoid taking risks due to increasing macroeconomic uncertainties.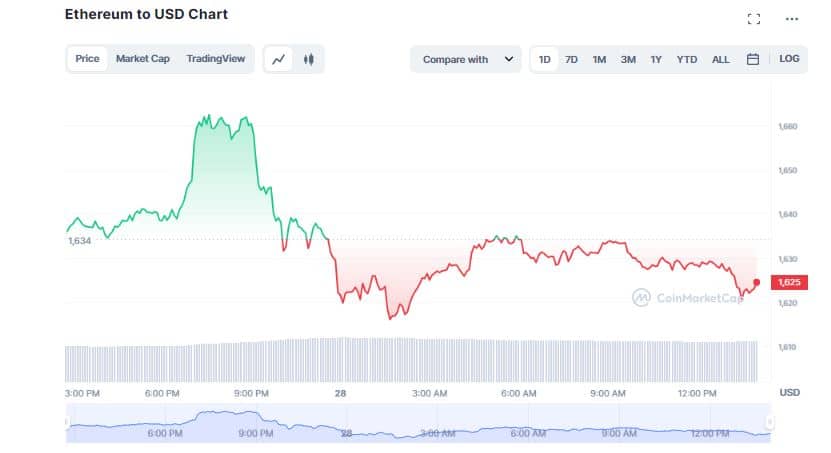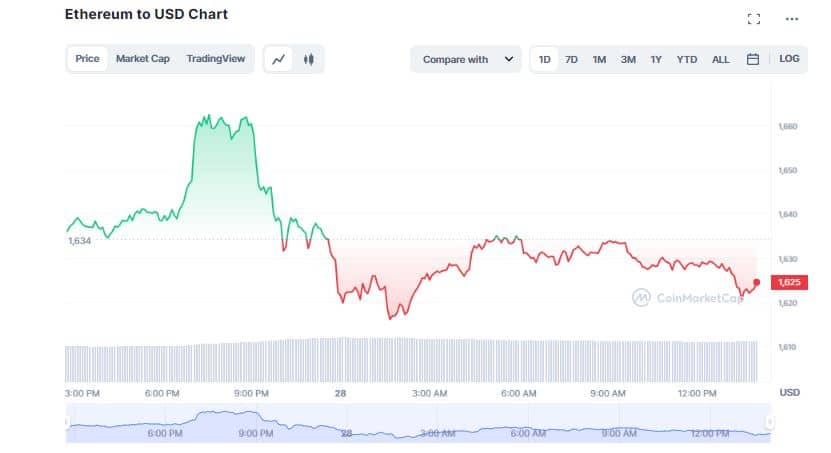 Market experts believe Ethereum's immediate support is at the $1,570 level. A break below this level could expose the Ethereum price to the next support level of $1,515. However, a break above the $1,625 resistance level could push the Ethereum price toward the next resistance level of $1,674.
Meanwhile, the global crypto market cap dipped 0.57% in the last 24 hours in the wake of the recent data from the United States government. Major altcoins followed suit with the broader market trading lower on Tuesday. Solana (SOL), Polkadot (DOT and Polygon (MATIC) are down 2.59%, 1.97% and 2.33%, respectively.
Avalanche (AVAX) tanked more than 3% in the last 24 hours to trade at $17.45. At the same time, Cardano (ADA) and Dogecoin (DOGE) witnessed a marginal gain of 0.4% and 0.22% over the past 24 hours.