The Ethereum price was on a free fall until yesterday's N.Y. Session.
Ethereum to Outperform Bitcoin in the Long Run
Despite the drawdown, traders and analysts across the board are confident of the network prospects.
For instance, Raoul Pal, in a recent podcast, said he had switched from Bitcoin to Ethereum and DeFi. The popularity of the above has seen over $50 billion of assets locked by DeFi protocols in Ethereum alone.
The number could be higher if not given the scalability challenges in Ethereum, which the development team plans to resolve in the next few months.
Specifically, DeFi continues to directly drive the value of Ethereum since ETH is for settlement. The more active the platform, the more demand for ETH, propping prices.
Ethereum and its dApps dominate in Activity
The rise of ETH and DeFi also has a direct effect on miners tasked with network confirmation. For instance, for the over 1.2 million transactions posted on average in Ethereum, miners are the biggest beneficiaries.
So popular is Ethereum that Uniswap generates more transaction fees revenue for its miners than the Bitcoin network. A few years back, wasn't, even in remote thoughts possible.
For this, Pal thinks Ethereum will, in the long run, outperform Bitcoin considering the level of network utility.
He describes Ethereum as a clear bet, an asset whose value, even if push comes to shove, won't sink to zero.
The veteran investor has been gradually increasing his exposure to the coin.
Ethereum Price Analysis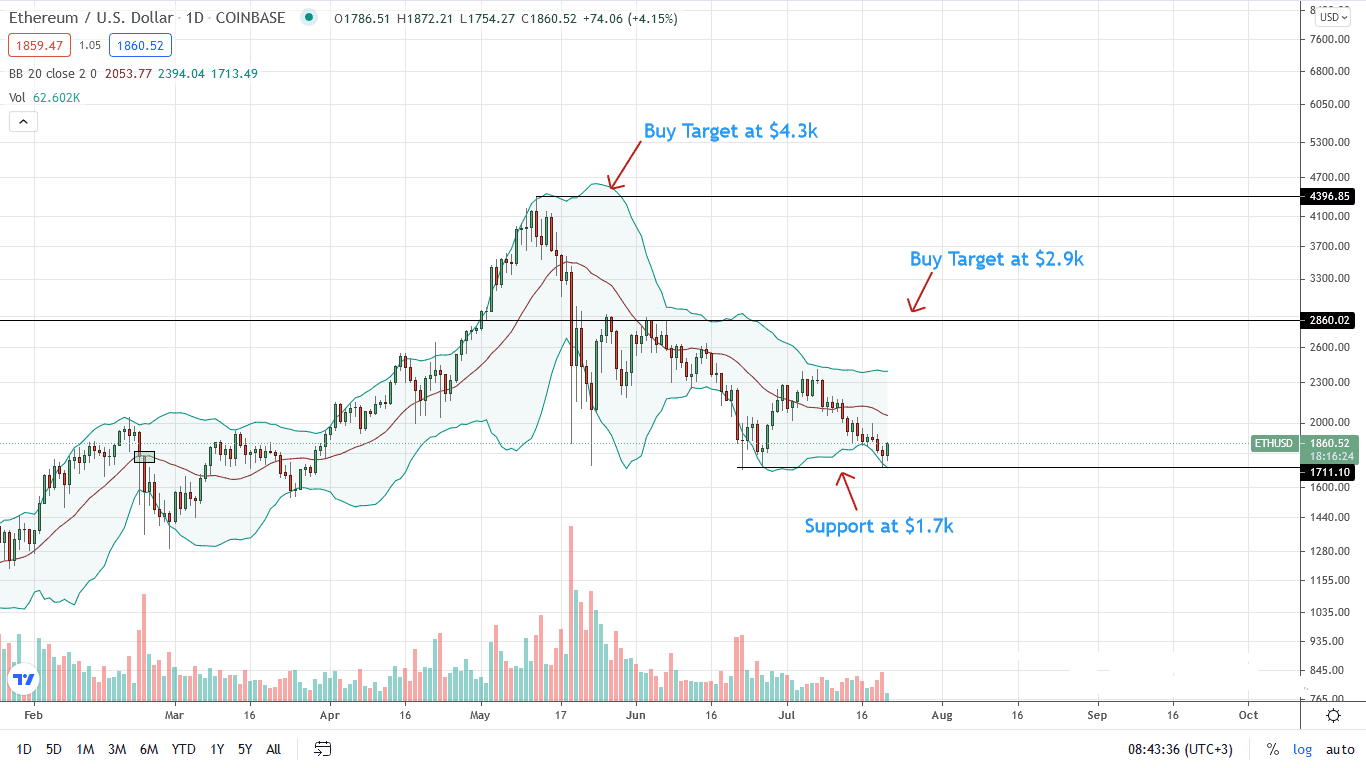 The Ethereum price is reversing from around June 2021 lows.
At the time of press, there is a double-bar bullish reversal pattern. Still, there must be confirmations before bulls are cleared to load the dips.
A level deeper, in the 4HR chart, there has been a correction of the undervaluation of prices posted during the NY Session.
All the same, losses of late July 19 aren't cleared, a reason that aggressive traders may see as a chance to load the dips early.
Ideally, if today's bar closes as bullish as it is now, there will be a double bullish reversal pattern, a move that might be the foundation for the next wave higher back to $2k—a psychological round number—or better in upcoming sessions.
Technical charts courtesy of Trading View
Disclaimer: Opinions expressed are not investment advice. Do your research.
---
If you found this article interesting, here you can find more Ethereum News