The wealth management industry is targeting growth opportunities in Asia as a new market environment presents more challenges. As a result, investors, especially in Asia, are increasingly looking for more financial advisory services from their primary wealth management firm, according to a new report from Accenture.
It is noteworthy that Accenture conducted two surveys for the report: one involving 3,200 investors and the other involving more than 550 financial advisors from private banks, captive wealth companies, retail banks, and independent wealth companies operating in Asia. Accenture also interviewed 21 senior executives from wealth firms and private banks operating in Asia.
They conducted the surveys in the months of December 2021 and January 2022 and the interviews in the months of early 2022. There was a high percentage of investors who worked with at least one wealth management firm and who had liquid assets ranging from $150,000 to over $5 million.
For the two surveys, respondents came from the following locations: China (Mainland), China (Hong Kong Special Administrative Region), India, Indonesia, Japan, Malaysia, Singapore, and Thailand.
Digital Assets Thriving
Nicole Bodack, Accenture's Capital Markets industry group lead for Growth Markets, said:
"Investors are looking for new products and advisory services as they grapple with market volatility, longer life expectancies, and the plethora of investment information available online."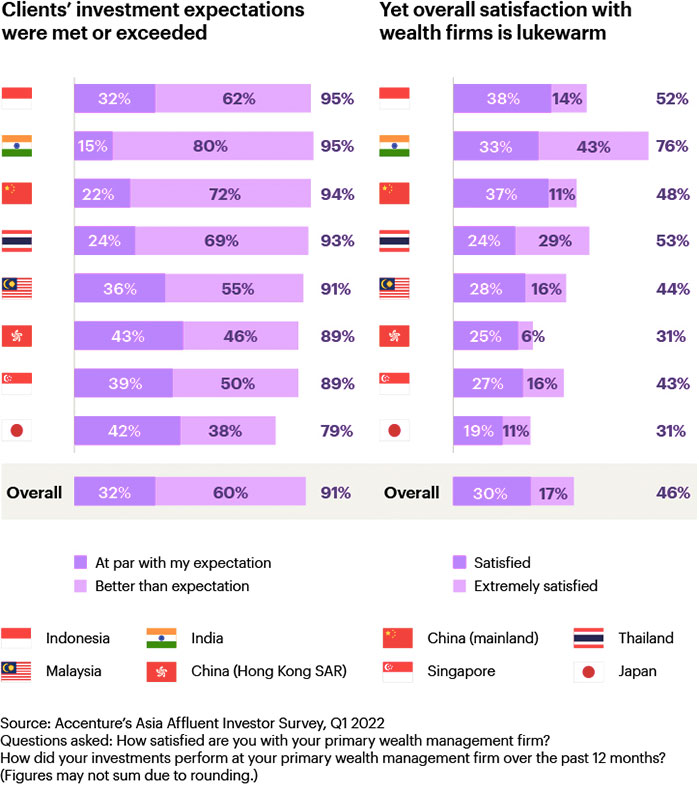 According to this report, investors respond to the wealth firm advisory service more readily than a self-directed approach, in which they take care of investing decisions themselves and still use the wealth firm just to execute their trades (40% vs. 33%).
The desire for more advisory services could result in investors shifting assets away from firms that do not offer such services, resulting in firms with robust advisory services becoming their primary wealth managers and securing a greater amount of assets under management.
According to the wealth executives who responded to the survey for this report, their firms' assets under management in Asia will nearly double by the year 2025, and their revenue will rise 60% over the same period as many as one-third (32%) of investors in Asia keep their wealth in retail deposit accounts and physical cash on the premises. This represents a significant opportunity for capturing additional assets. 
Investment companies are hesitant to invest in digital assets, and that s leading to a possible shortage of funds. Two-thirds of investors in Asia already hold digital assets — like cryptocurrencies, tokenized assets, and crypto investment funds — and another third plan on doing so by the end of 2022.
In terms of the proportion of portfolios with digital assets, 7% is the fifth-largest asset class in Asia – this is greater than the proportion allocated to foreign currencies, commodities, or collectibles. It is interesting to note that two-thirds (67%) of wealth management firms do not plan to offer digital assets in the near future.