An attack targeting a critical vulnerability in Horizon Bridge, a cryptocurrency bridge that was targeted by hackers, resulted in the theft of about $100 million.
According to a tweet from Harmony, the hacking of its Horizon bridge, which allows people to swap coins between blockchains, took place Thursday morning. National Securities has begun to work with national authorities and forensic specialists in an attempt to determine the culprit and retrieve the stolen funds.
1/ The Harmony team has identified a theft occurring this morning on the Horizon bridge amounting to approx. $100MM. We have begun working with national authorities and forensic specialists to identify the culprit and retrieve the stolen funds.

More 🧵

— Harmony 💙 (@harmonyprotocol) June 23, 2022
Repeated Scenario
There have been three bridge hacks this year in the. The third, Horizon, connects Ethereum and Harmony chains for cross-chain transfers. The Wormhole bridge was breached earlier this year by hackers who stole more than $300 million. A hacker breached the Ronin Bridge late in March and stole about $620 million. Researchers have estimated that more than $1 billion worth of money had been stolen from bridges prior to the Horizon hack.
During the past 24 hours, Harmony's native token ONE has fallen 13%. The bridge of Harmony is managed by four multi-signature wallets, and for the validation and execution of a transaction to be completed, at least two of the wallets must be accessed and authenticated. It is a similar mechanism used by the Ronin Bridge, which links to the popular play-to-earn video game Axie Infinity, requiring voters to approve every transaction if five of nine validators sign off.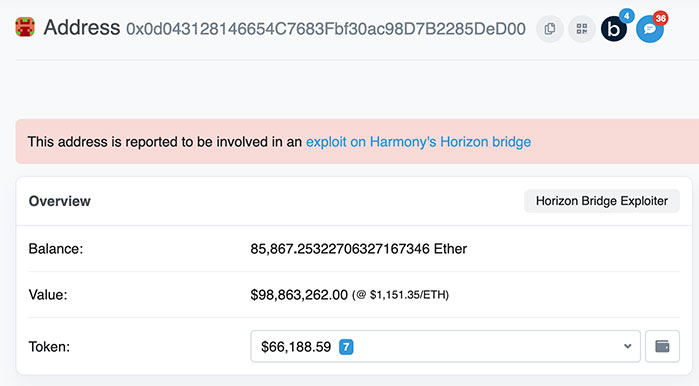 As their technology is complex and they are often run by anonymous teams, bridges can sometimes be vulnerable to hacking attacks, as they are often run by anonymous teams. It is not always clear how well they safeguard funds. During the last 30 days, a tracking service called Dune has observed a 60 percent decline in the amount of money locked on bridges linked with the Ethereum blockchain, to less than $12 billion.
In addition to a wider crypto market slump, there are also concerns about liquidity surrounding crypto-focused hedge fund Three Arrows Capital and lender Celsius Network.
It has happened in the past few weeks that there has been some crisis in the crypto market that has caused a domino effect that may spread even further, harming the ecosystem. In the beginning, Luna and Terra were the first coins to suffer hacks, breaches, and other incidents; but for the following months, other stablecoins and lending platforms were affected as well.
In the bearish market, some may believe these accidents are more likely to make the headlines than during the bullish market. Some may not believe these accounts are normal, and it may lead to a lack of trust in the platform. There is no doubt that hacks and breaches are not new to the market in this particular field. In a sense, they may even result in the development of more robust security measures on platforms that ultimately lead to a stronger decentralized industry.