Harmony is a public blockchain with sharding infrastructure that focuses on speed and security in decentralized applications.
The blockchain uses Effective Proof-of-Stake as the underlying technology. The mainnet, launched in 2019, consists of four shards, each having 1000 nodes that produce blocks in eight seconds. Harmony uses the slogan "To scale trust and create" for marketing.
The team behind Harmony – that call themselves Harmonauts – consists of multiple software and blockchain engineers from major universities and companies around the world. Stephen TSE, Rongijan Lan, Nick White, and Sahil Diwan are some of the members.
Harmony Project

Harmony Project provides a blockchain structure with an open network of nodes for decentralized applications. The community that governs nodes in this blockchain is called Pangaea.
The most important aspect of this project is using sharding as the scaling technology. This technology has been proved for scaling without compromising decentralization and security. This blockchain uses various security components to prevent attacks on the network.
The consensus procedure in Harmony is based on innovation from the development team called Byzantine Fault Tolerance (PBFT) which results in faster consensus for block transactions.
The Fast BFT (FBFT) mechanism in the underlying structure makes it possible for low transaction fees in this blockchain.
The EPoS system in Harmony makes it more decentralized and supports features like stake delegation, reward compounding, and double-sign slashing.
ONE: The Harmony Token
The native token in Harmony blockchain is called ONE and acts as an operational and governing coin in the community. It is also the financial initiative for governing community, Pangaea.
Traders can trade ONE token with other cryptocurrencies and fiat money in major exchanges like Binance, Huobi, Gate, WazirX, Kucoin, Bitmax, Bistonic, Vitex, and Hitbtc. For storing One token, there are multiple choices available for users.
Harmony Wallet that is a browser extension, is the official solution for storing the token. Other wallets include Trust Wallet, Ledger, Math Wallet, Sprout, Safepal and Guarda Wallet.
Also, hmy Command Line Interface is available for users that can be used as a local wallet or a way to interact with Ledger Nano hardware wallets. hmy CLI provides multiple features for users like creating wallets, checking balance, sending signed transactions to the mainnet, looking up previous transactions, recovering keys, etc. OSX, Linux, and Windows support hmy CLI.
The economic model in the Harmony project caps the annual token issuance at 441 million. But there will about a 3% growth rate for this cap in the long term. Harmony also burns all transaction fees to offset the insurance and eventually reach zero inflation.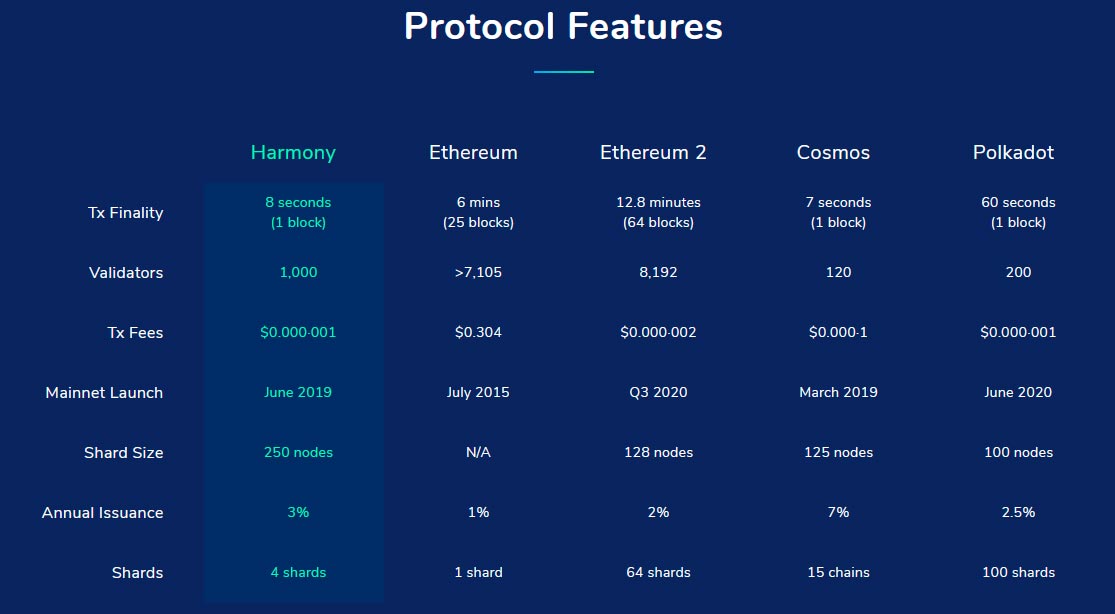 Technology
Stake delegation is a fundamental part of Harmony blockchain. Its mechanism has two main parts, named Delegators and Validators.
Validators have voting shares in Harmony blockchain, and each bonded voting share means one vote for the validator in FBFT consensus. Validators get a predictable and straightforward return by participating in the network.
Delegators are those who want to be in the staking program without running a validator node. Holders of ONE token can delegate their coins to validators. They should choose the goal validator, and if the validator becomes elected in the staking mechanism, they receive a portion of the block reward.
"Harmony blockchain runs in epochs, and one epoch lasts for every 16,384 blocks, which is roughly 1.5 days in current block time. Within an epoch, the validators in each shard stay the same and run consensus repeatedly," according to the whitepaper.
PoS Consensus
The underlying structure of the Harmony network is based on a novel Proof-of-Stake mechanism. PoS provides the basic needed functionalities in the fields of security and economics.
The specific type of PoS in Harmony is called Effective Proof-of-Stake or EPoS that is focused on decentralization and fair reward distribution.
Validators, as the most critical node operators in the Harmony network, have to meet some recommendations to continue working in the Harmony blockchain.
The EPoS protocol slashes validators who double-sign, and it penalizes elected but unavailable nodes, for example.
BLS Signature Algorithm
Harmony mainnet uses Boneh–Lynn–Shacham (BLS) signatures as constant-size solutions for committing blocks in each round of consensus messages.
BLS key is the primary signature element and shows what the validator signs the block with. Besides, validators will be authenticated by this key, too. Each validator can have more than one key to sign multiple blocks in parallel.
Adaptive State Sharding
Harmony not only uses sharding to divide the network nodes but also the blockchain states. So the scaling happens in all three aspects of machines, transactions, and storages.
Harmony uses cryptographic randomness to re-shard the network to achieve the full security and resistance against single shard attacks.
Each shard has 250 nodes to protect the shard against so-called Byzantine attacks. Besides, Verifiable Random Function (VDF) is used in the sharding structure.
Ecosystem
Lots of exchanges, wallets, staker pools, and investors create a robust ecosystem around the Harmony project. We talked about exchanges and wallets in the ONE token section.
Staker pools are other vital members of the ecosystem. Lots of them support ONE as staking next to other cryptocurrencies. Blockdaemon, Stakefish, Staked, Figment Networks, P-Ops, Chainode Tech, and FreshONE are some of the staking pools for ONE coin.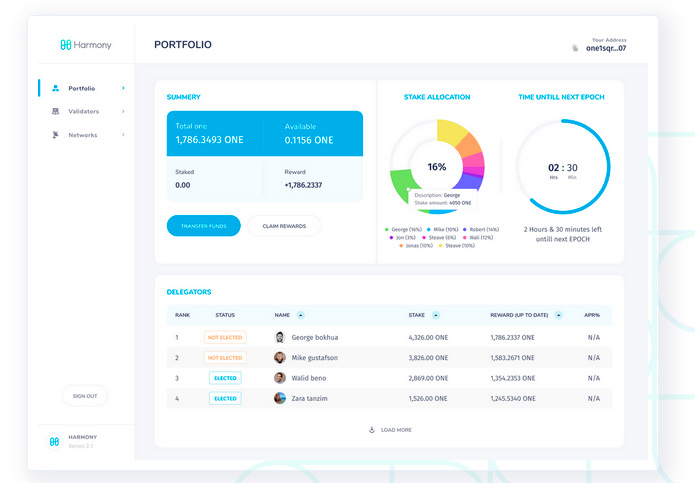 The team behind Harmony has partnered with multiple blockchain projects. Some partners support ONE token in their operations, and others are supporters or development partners in the Harmony community. Animoca Brands, Quidd, Lymmpo, Ankr, Safehaven, Incognito, Debrief, and IBC Media are some of the most famous partners.
Many major names in cryptocurrency and blockchain exosystem support the Harmony project with investment. Anmi Group, Binance Labs, Coinfund, QTUM, DACM, and Hayek Capital are some of them.
Conclusion
Harmony tries to bring the usability and features of blockchain to real-world economic use cases.
Although the free economy is the promise of many blockchain projects, Harmony tries to achieve it more efficiently by using trusted approved components like sharding and PoS infrastructure.
The roadmap shows definite signs of real-world applications, and we can expect good news from the project.
Harmony Useful Links