It is often hard to keep up with what's new and what's hot in the fast-paced world of crypto. Thanks to the NFT explosion, Axie Infinity is the latest one to charm, especially the gaming community. This blockchain-powered trading and battling game just surpassed a whopping $1 billion market cap.
While mainstream cryptocurrencies have been facing difficulty, the NFT marketplace is thriving. Owing to the ongoing parabolic rise, Axie Infinity has seen its ecosystem amplify at a rather rapid pace. Most notably, a token that is tied to the Ethereum-based digital marketplace for the game Axie Infinity has swayed the non-fungible sector in its favor
AXS goes on a wild spree
Axie infinity shards [AXS] is a governance token for the said platform and not exactly an NFT. This battling game enables players to collect, breed, raise, battle, and trade token-based creatures called "axies," which populate the Axie Infinity ecosystem. These are essentially digitized as their own NFTs. The new players in the game are required to own at least three axies while existing players are incentivized for breeding new axies.
Besides, the players can also trade axies with their AXS tokens, stake their coins for weekly rewards, and be involved in governance voting of the platform in addition to its other use cases of buying, trading, or earning by playing the game.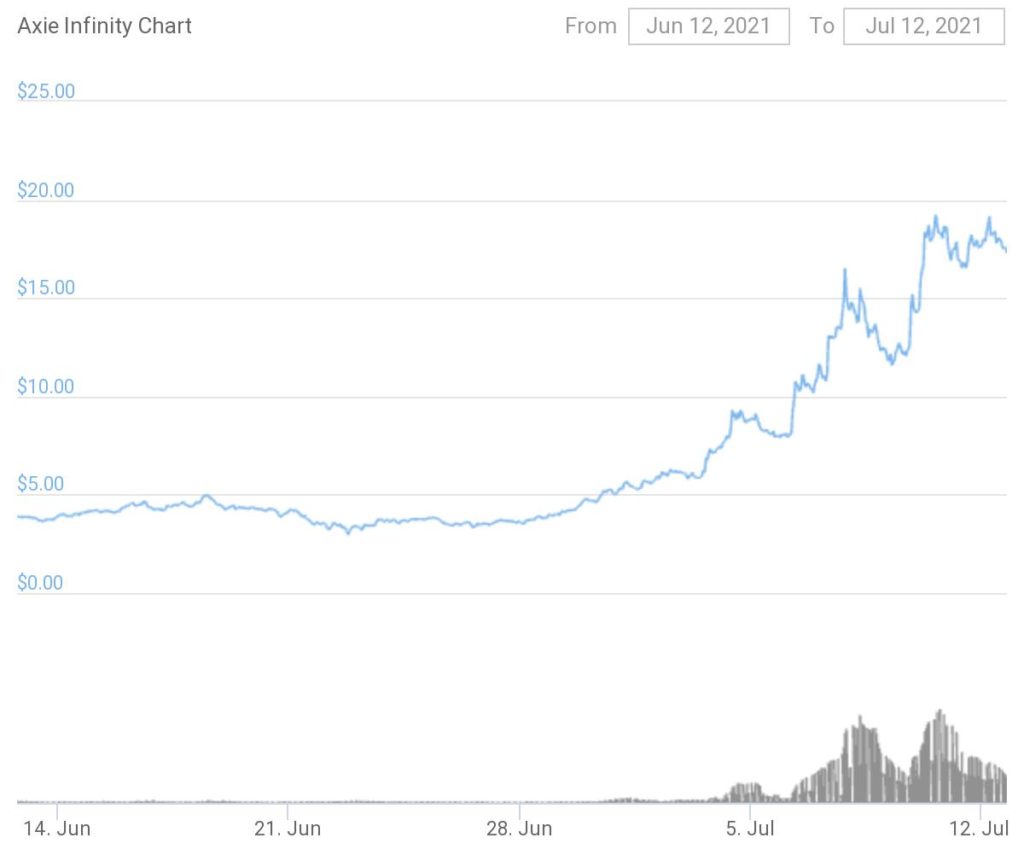 According to the data compiled by CoinGecko, AXS was currently trading at $17.12 after retracing from its all-time high of $19.63 just two days ago. It YTD gains stood an astonishing 3,130%.
The rise of AXS comes at a time when the market is riddled with adverse conditions. To put things into perspective, AXS' massive surge was in tandem with Axie Infinity's revenue, depicting a rising interest in the ecosystem rather than mere speculation. Besides, the gaming platform amasses revenue from axie sales, land sales, axie breeding fees, and marketplace fees.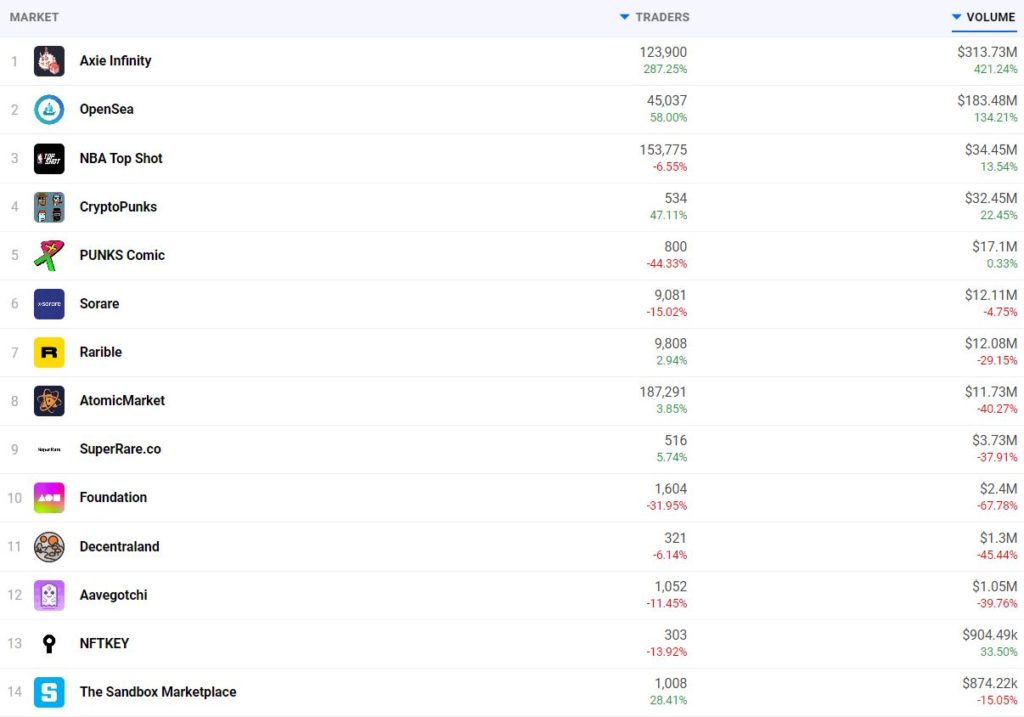 The above chart depicted that Axie Infinity has blasted past some of the world's biggest digital marketplaces such as OpenSea, CryptoPunks, Rarible, NBA Top Shot and is currently dominating the chart with respect to average daily volume over the past month.
Why did SLP show impressive gains?
To answer this, it is important to understand that SLP or Small Love Potion is yet another token in the Axie Infinity space. Unlike the governance token, SLP is minted via gameplay as an incentive or reward to the players through battle or adventure mode. It can also be leveraged as a token to breed axies. This token was originally known as "Small Love Potion."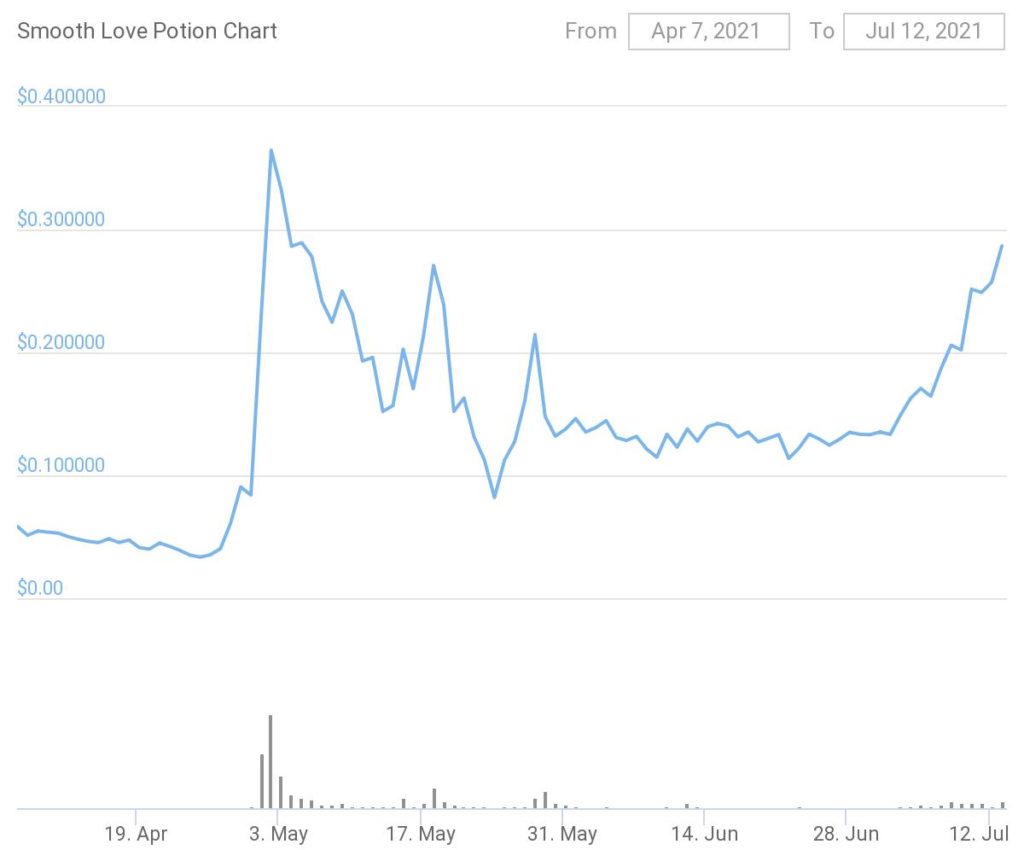 SLP also saw a dramatic price rise as it eyed reclamation of the previous peak established in the first week of May. It currently exchanged hands at $0.287 and was up by 9075.7% since last July.
The exponential price surge can be attributed to the total progress and adoption. As per the platform's June report, 2.3 million unique visitors have visited Axieinfinity.com in May. The report also disclosed that the monthly volume on its marketplace zoomed 334% to more than 128 million dollars [57,000 ETH] during the same time and surged to almost three times larger than the second-place project.
While the crypto industry might look gloomy at the moment, bulls always find a way somewhere. This time, it's gaming and the burgeoning realm of NFTs.