The Reserve Bank of Zimbabwe recently placed restrictions on cryptocurrency exchanges in the country. This has affected the services of Golix, the country's biggest exchange. Reports that the High Court has reversed the ban have been countered by the company which announced that the restrictions on their operations have not been lifted.
In clarifying the situation, Golix announced that it was granted an interim relief by the court, but its accounts are still restricted even as an appeal is ongoing in the court. The statement said that on the 11th of May, "the RBZ issued a circular to all the banks instructing them to close all of our bank accounts," however, a "60-day window" was given to the exchange. On the 15th of May, Golix "issued a statement to [their] customers" informing customers that the company was "aware of the directive" and had "started the process of engaging the RBZ" to discuss and address the central bank's concerns.
The statement continues that the Reserve bank of Zimbabwe responded with a letter on 17th of May ordering the exchange to "cease all operations immediately". The following day, the exchange's bank accounts were all closed. The exchange sought redress by filing an urgent chamber redress on the 21st of May requesting the High Court to lift the ban on the company's accounts.
The Golix statement said that, on the 24th of May, "the High Court granted Golix an interim relief that lifts the ban on cryptocurrencies by the Central Bank." Despite comprising positive news, the exchange states that "The interim relief does not guarantee that we will get our bank accounts reopened."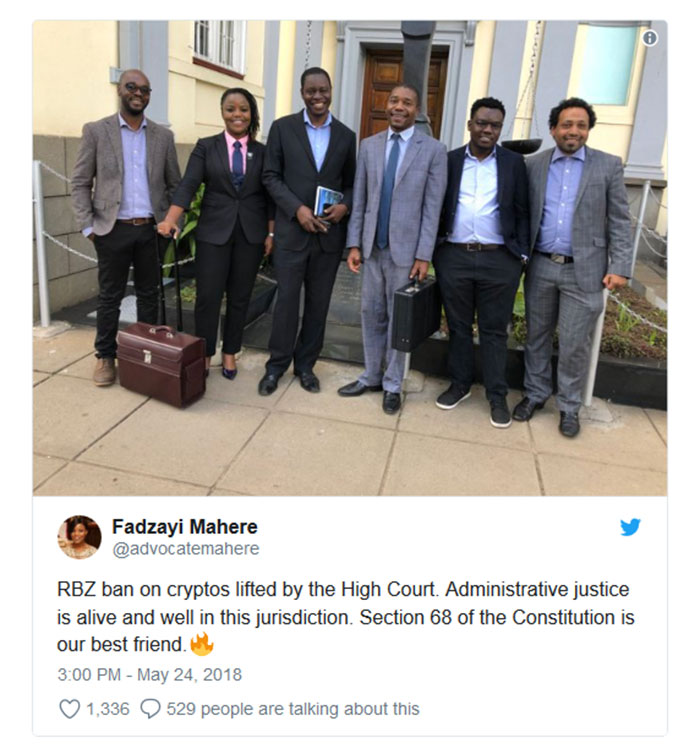 The company said that they can only be assured that their accounts will be reopened after the outcome of its suit. The spokesperson said they were not willing to discuss the suit since it contravenes court rules.
It however made appeals to customers not to pay into their accounts due to the ban, explaining the scenario,
"Please do not make any deposits into Golix until we have announced that we have resumed trading. If you try to deposit funds to our bank accounts right now, it may take weeks before we are able to recover those funds because, unless we tell the bank in advance, those funds will go straight to a suspense account."
Golix said it had initiated a separate discussion with the banks to enable gradual withdrawal of customers' deposit and enjoined its clients to apply for withdrawals from Mondays to Wednesday to enable processes that could have the funds released to them on Fridays. "We recommend that you initiate a withdrawal of your crypto and/or fiat funds right now until we recommend that we have resumed trading." the statement continued.
As the legal battle raged, the exchange has set its sight on a broader African market having planned an initial coin offering to raise $32 million from token sale. On Friday, the spokesperson, Nhlalwenhle Ngwenya, speaking on the upcoming ICO said, "Zimbabwe's digital currencies pioneer, Golix is raising $32 million through a token sale in, a bid to finance cryptocurrencies infrastructure across the entire African continent"