Recently, the cryptocurrency yearn.finance (YFI) experienced a significant surge, propelled by an escalation in whale activity, as reported by Santiment, the blockchain analytics platform.
This uptick in whale activity propelled YFI's market capitalization to achieve a growth exceeding 60% in the past week. According to the latest data from CoinMarketCap, YFI's market cap is approximately $329 million.
This performance positions it as the 124th project by market capitalization, surpassing others like Dash (DASH) and Basic Attention Token (BAT).
According to Santiment's report, whale interest in yearn.finance reached its highest point in 15 months, marking a notably robust period of activity for this cryptocurrency.
🥳 #YearnFinance's market cap has grown +60% in the past week, powered by increasing address growth and whale transactions. Whales are engaging at 15-month high levels once again, and new $YFI address growth has been exponentially increasing. https://t.co/IMNb1FP7al pic.twitter.com/YzDwbhxRF3

— Santiment (@santimentfeed) November 13, 2023
In addition, it was highlighted that YFI recorded the highest number of transactions in a single day, valued at over $100,000, since July 29, 2022. This underscores the increase in participation from investors with more substantial financial capabilities.
The yearn.finance community also experienced growth in terms of engagement, as it is reported that the number of unique wallets interacting on the network and the count of new addresses reached their highest levels since the summer season.
This demonstrates that both the investor community and enthusiastic users have a renewed interest in YFI.
YFI Whales Drive All Metrics
Regarding price performance, according to CoinMarketCap, YFI maintains a positive streak in the last 7 days, showing an increase of 66.35%, reaching a price of $9,897.05.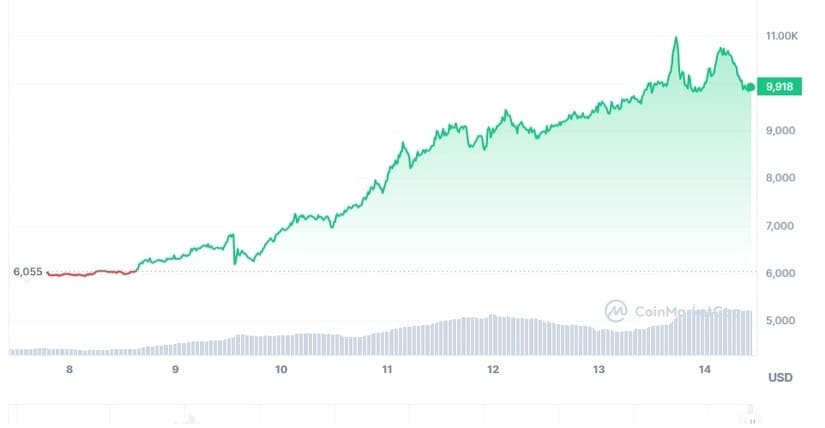 This rise in value was also supported by a growth in the total trading volume of YFI, which saw an increase of 68.76%, reaching $244,697,398.
Furthermore, in CoinMarket's ranking of the top 500 cryptocurrencies, Yearn stood out as the tenth biggest gainer in the last 24 hours.
This positioning highlights its strength and appeal compared to other popular assets, even outperforming FLOKI in terms of daily gains.
While it experienced a slight dip in its valuation, Yearn continues on an upward trajectory, demonstrating a solid positive trend. It will be important to monitor the reactions of both large and small investors and closely watch the performance of yearn.finance.