Yearn Finance shares another announcement regarding its series of mergers with other DeFi protocols, this time with Cream Finance. Today, Andre Cronje decided to share that the two protocols will team up to launch Cream V2. The announcement was published in a Medium blog post on November 26.
By teaming up, developers from both sides will work together on the upcoming Cream V2 protocol. The future protocol places its main focus on offering lending and leverage products. As such, it will require the expertise gained by the Yearn team.
Upon release, Cream V2 will serve as a 'launchpad' for future Yearn Finance and Cream Finance products, as well as for collaborations. Cronje notes that the platform's main attraction will be the ability to earn yield through leverage.
The announcement comes after a quite controversial partnership with another DeFi project. On Monday, hackers attacked and stole a considerable amount of funds from Pickle Finance. The yield farming protocol still looks for the perpetrator, but may not be able to recover user funds. As a final solution, the developer team turned to Yearn Finance and held discussions with them 'in the shadows.'
Without any previously announced news, Yearn Finance creator Andre Cronje suddenly shared news of a merger. On November 24, the famous developer announced a new partnership with the protocol, which will effectively integrate it into Yearn.
According to Cronje, the merger will enable the two parties to form a symbiotic relationship. The two established a partnership to increase specialization, decrease duplicate work, and leverage each other's experience.
Apart from delivering massive new updates to the Pickle Vaults, the partnership also delivers a reimbursement program. Through a new token called Cornichon, the victims of the recent hack will receive their lost assets.
Did the Yearn Finance team have to ask for input from the community?
The very first reactions regarding the Pickle Finance integration were incredibly harsh. Concerned about partnering with a recently hacked DeFi protocol, most YFI investors did not like the news. Within the flood of comments, Yearn Finance's community asked Andre Cronje about why it did not have the chance to vote for the integration.
After all, Yearn Finance is a decentralized protocol with a governance model. Any major updates can be approved and released by passing a governance proposal. But is there any reason for the community to vote on this issue?
According to one Yearn Finance developer, there are zero reasons for the community to vote. Named 'Tracheopteryx' on Twitter, the developer showcased what the merger brings and explains why there is nothing to vote for.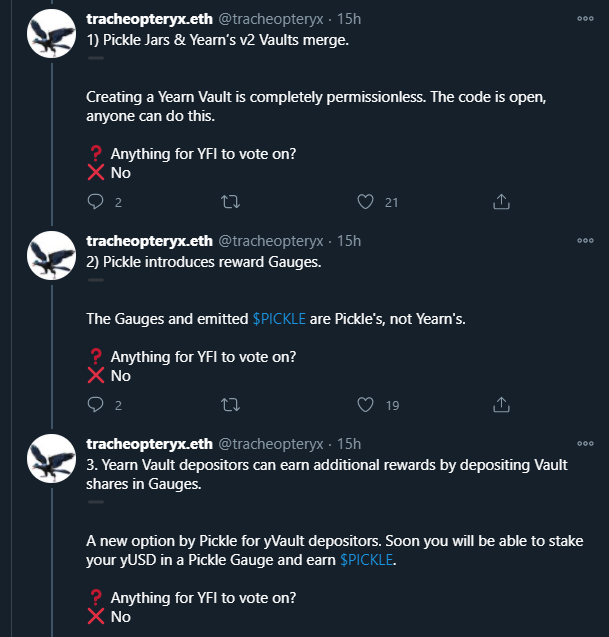 Per the user, most changes have afflicted Pickle Finance and not Yearn. On that account, the community cannot hold a governance proposal.
Moreover, the vault merger supports the decentralized manner of Yearn. Since Yearn Vaults are completely permissionless, anyone could have created the new Pickle vaults on Yearn.
---
If you found this article interesting, here you can find more DeFi News