During the week that Bitcoin had a promising move, Filecoin and Yearn.Finance had the best performance in terms of gains within the crypto world. Although there appears to be a healthy ecosystem in place, there doesn't seem to be a particular reason for this development.
Are there any Specific Reasons?
There is a sudden shift in the price path of Filecoin that follows its own rules. There are a number of projects in this space that are older, but the fact that it gained 38.7% in a single week is quite notable.
Despite the fact that the community isn't experiencing much excitement regarding today's close to 28% pump. Assuming there are any profits to be had in this run, the majority of people will gladly take advantage of it. However, other than that, this run should prove relatively short-lived.
It is difficult to find a good explanation why the price of FIL would jump by this much at such short notice. The possibility of FIL regaining its all-time high of $236.84 seems pretty much impossible, as it would lead to a diluted market capitalization of $450 billion if it were to return to its all-time high.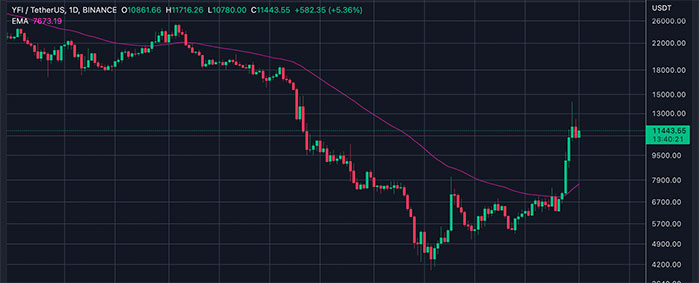 Despite the fact that the currency has recently hit an all-time low of $4.83 on June 18, it has been able to surge significantly from that low. Despite that, the current FIL pump doesn't seem to lend much credibility to it, and it seems as if there isn't much general trust in the token and its value in general – and not necessarily the whole project as a whole. 
It is very common for altcoins to pump out no matter what the reason is, only to then retrace most – if not all – of their gains within a few weeks' time. Whether or not this will be Filecoin's fate is unclear, but it is likely that it will be since there have been no announcements or reasons for an uptrend in the past few months.
In the last week, YFI was another coin that performed well and had a good week. It was the first time that Yearn.Finance's (YRN) token crossed the $10,000 barrier on May 16 when the decentralized finance pioneer announced its plans for growth.
The coin is showing promising results, according to Santiment, as it is decoupled from the altcoin pack and decoupled from the competition.
📈 #YearnFinance's price has rebounded back above $10,000 for the first time since May 16th as the #DeFi asset has decoupled from the #altcoin pack. Keep an eye on the addresses holding $1m or more in $YFI, as there have been declines in their holdings. https://t.co/YJsG2GI4oL pic.twitter.com/djmoIgnJB3

— Santiment (@santimentfeed) July 29, 2022
Overall, there are promising trends in the crypto market as a whole, but it is still too early to predict the end of the crypto bear market.