The native token of Ripple, Ripple (XRP), has surged yet again following Ripple's announcement that it has invested in artificial intelligence (AI) and metaverse technology and content company, Futureverse.
XRP Rides the Wave
XRP is on a roll! The digital token has been gleaming with confidence since Ripple's victory against the United States Securities and Exchange Commission (SEC) when Judge Analisa Torres ruled that XRP does not meet the criteria to be considered a security.
The ruling propelled Ripple token to a one-year high, soaring more than a whopping 65% in just 24 hours. However, the digital token has shed some of its gains as the cryptocurrency market experienced some fluctuations in the absence of key economic events.
According to CoinMarketCap, XRP is up 4.78% in the last 24 hours to trade at $0.78. Meanwhile, over the past seven days, the digital coin increased more than 64%, although, XRP remains significantly down from its all-time high of $3.40, reached in January 2018. The recent rally comes shortly after Ripple announced it has injected fresh funding into Futureverse.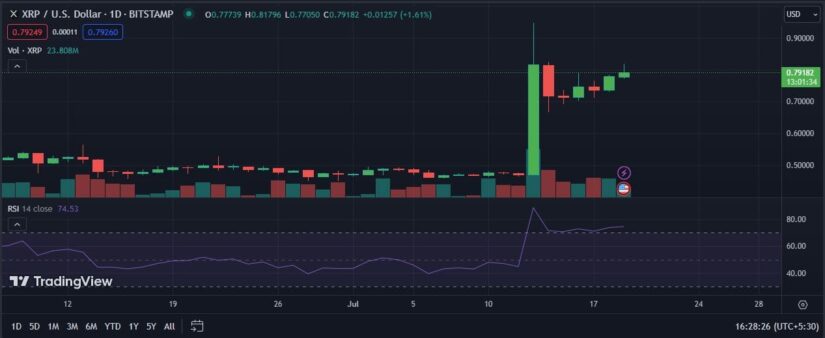 Ripple Catches Metaverse Fever
On July 18, Ripple took to Twitter to reveal the company invested in a Series A funding round of Futureverse, in an effort to merge the two most sought-after technologies in the world right now – Metaverse and artificial intelligence (AI). The fundraiser was led by 10T Holdings, a growth equity fund that invests in private companies operating in the digital asset ecosystem.
We are excited to support the @futureverse vision!
⬇️⬇️⬇️ https://t.co/UpBwGwAgtg

— Ripple (@Ripple) July 18, 2023
According to the announcement, Futureverse aims to combine both AI and metaverse to revolutionize the way users interact with the internet. The company asserted that AI and the metaverse together, can make a user-friendly and easy-to-use platform, with the help of state-of-the-art technologies such as Natural Language Processing (NLP), speech recognition, computer vision, translation, and augmented reality. 
This will enable users will be able to interact with the Metaverse in their native language and through images and videos and enhance the user-metaverse interactions. These technologies can then be applied in diverse industries, including healthcare, gaming, management, marketing and education, among others to improve many industries and increase the efficiency of users.
Our partnership with @Ripple has @TheRootNetwork integrated with XRPL and supports the use of #XRP as a GAS token as well as the XLS-20 NFT standard. pic.twitter.com/9oJYAvMlbc

— Futureverse (@futureverse) July 18, 2023
Are Things Looking Good For Ripple?
This is not the first time Futureverse has teamed up with Ripple. It is already a technology partner with Ripple. Its "Root Network" blockchain is integrated with the XRP Ledger (XRPL), a decentralized public blockchain that allows for the fast, low-cost, real-time transfer of XRP, fiat currencies, and other digital assets. Futureverse also supports the use of XRP as a GAS token as well as the XLS-20 NFT standard.
Things are looking quite peachy for Ripple and XRP at the moment. Recently, the blockchain company showed confidence that U.S. banks will start wanting to use XRP for cross-border transactions after it scored a partial victory in its fight against the SEC.
Crypto firm Ripple gets in-principle payments license in Singapore https://t.co/ZIp0C51SAQ

— CNBC Tech (@CNBCtech) June 22, 2023
Furthermore, in June, Ripple was granted an in-principle payments license from the Monetary Authority of Singapore (MAS), serving as a significant milestone for the company in the global financial market. Thus, it seems despite regulatory challenges and macroeconomic concerns, XRP's use cases and partnerships with institutions make it an interesting digital asset in the current market.