Ripple Labs' XRP token has witnessed a dramatic increase in the past few days breaking a flat long term range climbing nearly 25 per cent over the day. The sharp rise comes amid the high-profile court case with the SEC over whether or not XRP constitutes a security.
According to CoinMarketCap, XRP ballooned 22.43 per cent in the last 24 hours and is currently hovering around $0.5129. The cryptocurrency has witnessed an explosive rally of more than 57 per cent over the past 7 days. The Ripple affilated token has now become one of the best-performing cryptocurrencies within the top 100 on CoinMakretCap over the past 24 hours. Interestingly, the digital token has gained about 40 per cent in the past 30 days.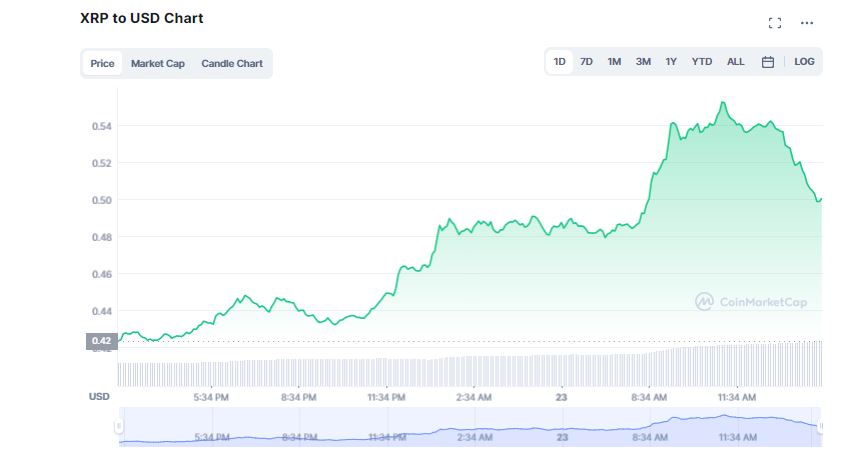 What is the Reason for the Explosion?
Analysts believe the sharp increase is due to the legal feud between between Ripple Labs and the US Securities and Exchange Commission (SEC). The legal battle which began in 2020, could finally be coming to an end sooner than originally anticipated. The court case began after the SEC sued Ripple, the previous CEO Christian Larsen, and the current CEO Brad Garlinghouse, for having raised $1.3 billion through XRP, an unregistered security.
As per recent reports, it seems Ripple Labs' is in a stronger position than previously thought, and could well be en route to winning their court case against the SEC. It looks as though a final decision will be reached soon, as the SEC has declared that the judge presiding over the case has enough information to make a decision without the case needing to go to court, and XRP holders are optimistic that XRP will not be ruled a security.
$XRP ⬆️ 63% in the last 7 days
✅ Movement based on anticipated good news from SEC lawsuit

XRP Final decision will come by MID DECEMBER 2022

Definitely see potential here going up to $0.85 or even $1.00

My XRP PT $0.85 before Jan#cryptocurrency #BTC #XRPArmy #xrpsec #Crypto pic.twitter.com/YNHgdi8UXc

— Trader Prosperity 💸 (@TraderProsper) September 23, 2022
A Postive Sentiment in the Market
The lawsuit seems to have sparked some positive market sentiment pushing XRP to rally. However, XRP is still in a long-term downtrend. From the top of $1.97 in April 2021, XRP now trades at a rather undervalued looking $0.50 which is more than 70 per cent down from the peak of last year's bull market.
You'll likely have an opportunity to long $XRP lower if that's what you're looking for
Don't FOMO, Long the long liquidations 🎣https://t.co/jmaCFVVOvn pic.twitter.com/TP9SW6OmXO

— TheKingfisher (@kingfisher_btc) September 22, 2022
Many investors have called for caution predicting a lower-level entry-point opportunity yet. Crypto analytics data provider, TheKingfisher suggested that buyers would "likely have an opportunity to long XRP lower." The XRP boom some brought in some needed relief in the crypto market that's been on another bearish streak lately. At print time, the global market cap has surged almost 3.30 per cent over the day to $946.13 billion.