Ripple Labs' XRP Token Rallied more than 10 per cent over the past 24 hours as Ripple secures a decisive win in the company's ongoing lawsuit with the Securities Exchange Commission (SEC). As per the court proceedings, a United States judge overruled SEC's attempt to withhold the documents relating to former Division Director William Hinman.
In the high-profile court case with SEC, Ripple gained an upper hand as Judge Analisa Torres ruled in favor of the crypto company for the release of documents it had been seeking from the financial regulator. The documents comprises of a 2018 speech given by William Hinman, former Director of the SEC's Division of Corporation Finance, where he specified that Ethereum (ETH) can not be considered a security.
XRP is Pumping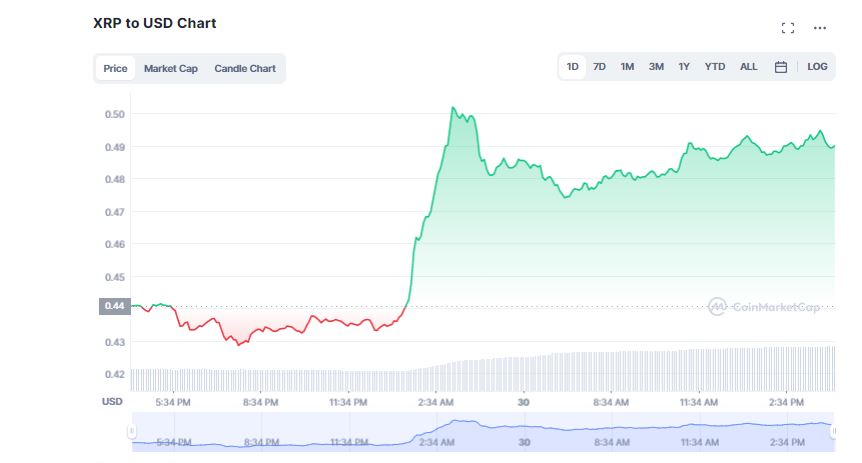 Amidst the legal battle, XRP token has been pumping intermittently. Last week, XRP gained more than 20 per cent over a period of 24 hours becoming one of the best-performing cryptocurrencies. At the time of writing, the digital currency has surged 11.90 per cent in the last 24 hours to trade at $0.4924. 
According to social intelligence platform LunarCrush, XRP's three-month social activity is on the rise, recording 1.95 billion social engagements from 9,424 social contributors as of September 29. Meanwhile XRP price has noted a significant uptick climbing nearly 59 per cent over the last three months. Although, the cryptocurrency is down 2.39 per cent in the past 7 days, it has managed to create a positive momentum.
We are noticing increased $XRP social activity along with its price +9.50% today📈#XRP 3-months activity:
Price: $0.4910 +55%
Social engagements: 1.95B +38%
Social contributors: 9.42K +8%

👉Insights: https://t.co/CJ2eQmpKrW pic.twitter.com/Hk5I4VpJP3

— LunarCrush (@LunarCrush) September 29, 2022
Ripple Vs SEC Lawsuit

As the legal tussle continues, it seems the batlle may soon come to an end. Both sides have presented valid arguments throughout the 2 years duration of the court case, but neither side was able to sway the court in favor of making a decision. However, Hinman's speech trigerred a turning point as he noted that ETH wasn't a security. He had stated,
"Based on my understanding of the present state of Ether, the Ethereum network, and its decentralized structure, current offers and sales of Ether are not securities transactions."
But as per the latest letter filed by judge Torres, it overruled the commission's objections to sharing the internal documents of the Hinman speech. The letter read,
"The Court has reviewed the remainder of the thorough and well-reasoned Orders for clear error and finds none. Accordingly, the Court OVERRULES the SEC's objections and directs the SEC to comply with the Orders."