As the collective crypto market fell by more than 65%, Shiba Inu [SHIB] couldn't break away from the heightened sell-off. It will interesting to see if the asset will be able to recover lost ground in the coming days.
Shiba Inu [SHIB] might be the most popular meme-coin in town, but a Kraken listing could take a while. Even as October's initial frenzy faded, SHIB has managed to fetch support from Winklevoss twins'-led Gemini. While this was a major development, the asset's price remained unfazed as its stunning rally came to a screeching halt.
AMC Says Yes to SHIB
In another major development for the SHIB ecosystem, the world's leading cinema chain, AMC theaters is set to accept the crypto in about 60 to 120 days. According to its CEO, Adam Aron, payment will be conducted with the help of Atlanta-headquartered crypto service provider BitPay.
Owing to the bull run this year, AMC had started accepting Bitcoin [BTC] and a few other altcoins such as Ethereum [ETH], Litecoin [LTC], and Bitcoin Cash [BCH]. Shiba Inu's rival, Dogecoin [DOGE] will also be available on the platform soon.
Attention #SHIBArmy: Our friends @Bitpay decided to support Shiba Inu specifically because I asked, so AMC can take Shiba Inu for online payments of movie tickets and concessions. @AMCTheatres to be the first @bitpay client to accept Shiba Inu. Timing 60-120 days. This is a WOW! pic.twitter.com/F54i22hHDv

— Adam Aron (@CEOAdam) November 15, 2021
A Death Cross for Shiba Inu [SHIB]?
In response to the broader market dump, SHIB hasn't been able to recover yet. Its short-term price chart does not look optimistic. As a matter of fact, the looming death cross may worsen the current trend. The 200 moving average [Yellow] was surging and if it manages to move above the SHIB price candles, a crossover with the 50 moving average [Pink] will be damaging.
Further validating the bearish thesis is the descending triangle formation which has been taking shape since the first week of November. The low trading volume also invalidated any upside cues.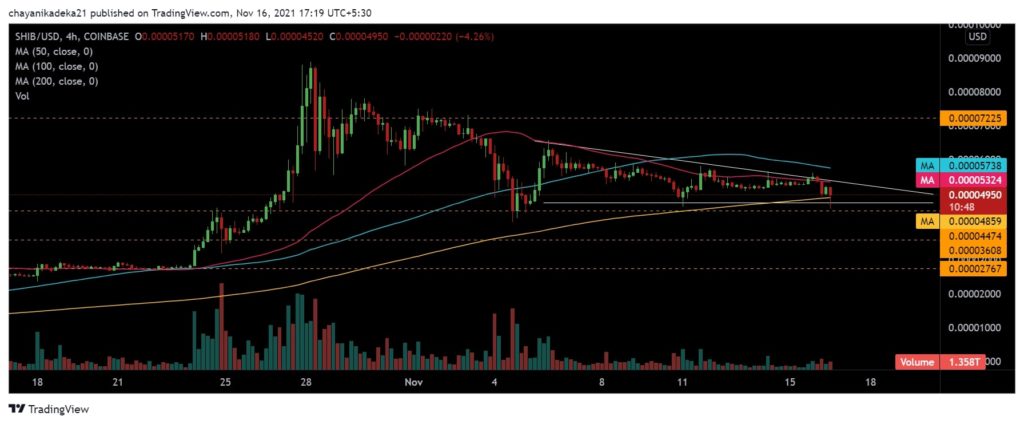 The renewed divergence in Bollinger Bands [BB] indicated an uptick in volatility in the market. The Awesome Oscillator [AO], on the other hand, edged with the bearish momentum following the latest sell-off. The Relative Strength Index [RSI] also echoed a similar sentiment of sellers' dominance in the market.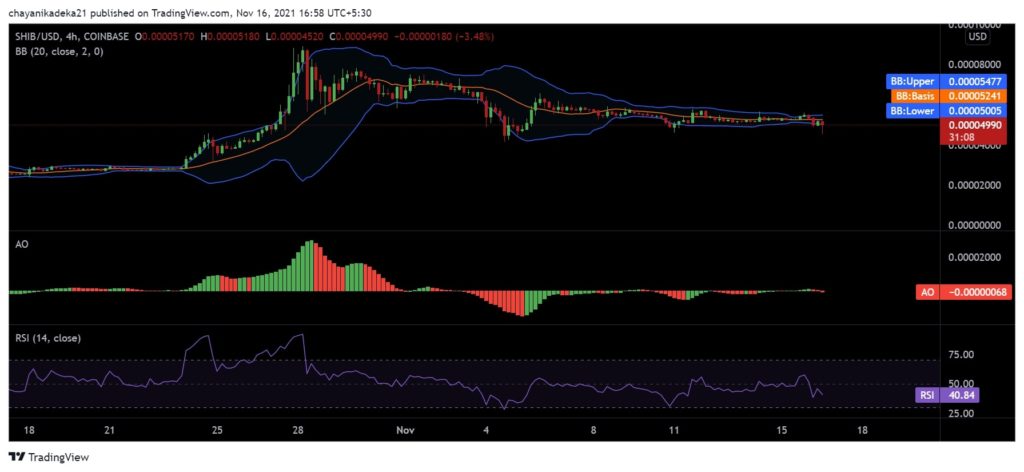 There was not much to expect from the crypto-asset's price trajectory till it recovers above a strong resistance of $0.00005316. Over the near term, SHIB could find itself near the support area of $0.00004870. If the bulls fail to defend this level, other support levels of $0.00003608 and $0.00002767 may come into play.
Despite the overwhelming support across a myriad of platforms including eToro, Coinbase, Gemini and others, SHIB's climb towards the recently established eye-popping rally is highly unlikely to transpire anytime soon.