Despite the remarkable rebound in the shares of companies like ConsenSys, Inc., which are linked to digital assets, crypto-curious stock investors are finding little comfort in the fact that the sector has outperformed just about every other risky corner of the market by a wide margin this year.
It's a Broad Challenge
Last year, Coinbase Global Inc., when it was first listed on Nasdaq, was touted as one of the best ways for investors to profit from crypto exchanges. Since it was listed on Nasdaq, Coinbase has fallen 75%.
Since Chief Executive Michael Saylor loaded up its balance sheet with bitcoins a while back, MicroStrategy Inc. has fallen 62%, or more than Bitcoin, which the software company has as a result, companies such as Marathon Digital Holdings Inc. and Riot Blockchain Inc. have also seen their stock prices drop by similar amounts, whereas smaller players such as Stronghold Digital Mining Inc. have seen theirs drop even further.
It is generally considered that crypto stocks are "classed as one of the riskiest risk assets that are currently available" by Steve Sosnick, Chief Strategist at Interactive Brokers, who also noted that there are only a handful of other bets he considers a bigger risk, such as certain penny stocks and memes.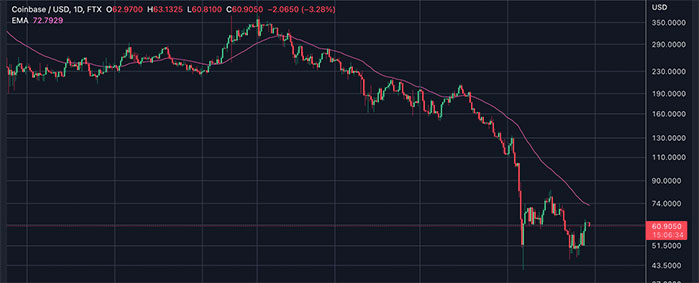 In fact, Bitcoin has been undergoing a series of outsized selloffs over the course of its 12-year history, but the latest selloff has been a particularly brutal one because of the magnitude of the losses seen across the broader crypto industry.
More than a trillion dollars worth of value has been wiped off the crypto market in less than six months, with the value of an index of the 100 largest crypto assets falling by 59%, set to have its worst year since its previous bear market, which ended in 2018.
The vast majority of crypto-exposed stocks have generally been assessed by Wall Street analysts as being economically attractive, despite the risks and deeply depressed share prices. 
 According to BTIG analyst Mark Palmer:
"While we are not at all dismissive of the impact of the current crypto market downturn, we also believe any notion that Coinbase would be unable to survive this latest challenge is misguided in light of the facts on the ground."
Earlier this week, he slashed his price target on the stock from $380 to $290, down from a Street high of $380. In Friday's closing trade, the stock had recovered 22% from the previous week's lows.
The one thing investors looking to buy into the dip in crypto stocks should be particularly wary of is the fact that despite the already historically deep selloff in some names, stocks like Voyager Digital Ltd. have proven that there is always the chance that they will fall even lower. So the market still needs time to stabilize.