American business intelligence company, MicroStrategy, asserted that the software firm was capable of withstanding further volatility in Bitcoin (BTC) after the digital token slid to multi year low.
MicroStrategy CEO, Michael Saylor, an avid Bitcoin (BTC) proponent, declared that the company has not received a margin call against a Bitcoin-backed loan and can hold out against further BTC volatility. After a tumultuous last couple of days, Bitcoin (BTC) continued to bleed further down. At the time of writing, Bitcoin prices plunged below $21K to accumulate marginally above $20,000. According to CoinMarketCap, BTC today fell by 10.19 per cent over the past 24 hours to trade at $20,333.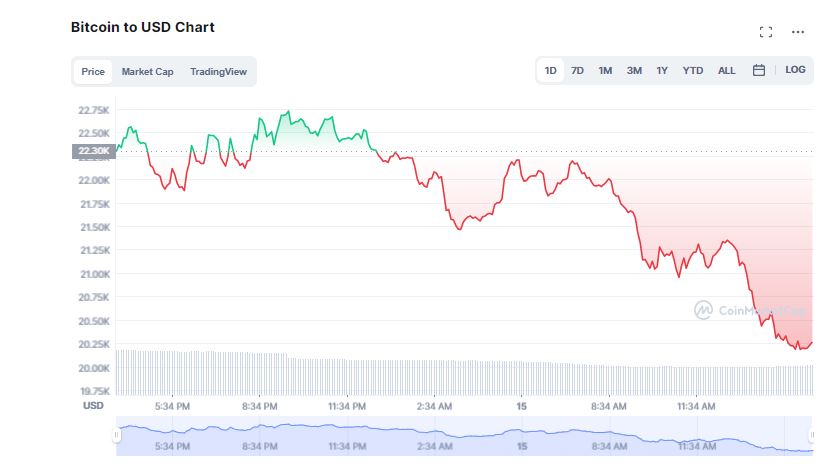 MicroStrategy Has Plenty of Collateral to Pledge

According to reports, despite the slump, Saylor, declared that MicroStrategy investors should not worry about a potential margin call on its loan backed by Bitcoin (BTC) as the software maker has plenty of collateral to pledge if needed. He remarked that Bitcoin's current volatility is irrlevant once investors and traders understand the fundamentals underlying the digital token.
In March, Microstrategy had borrowed $205 million from crypto bank, Silvergate Capital Corp, with a three-year loan mostly secured against some 19,466 Bitcoins. In the month of May, MicroStrategy President, Phong Le, explained that if BTC sholud drop below $21,000, it would set off a "margin call" or demand for extra capital. Even after a massive sell off which dragged Bitcoin (BTC) below $21K, MicroStartegy, continues to remain optimistic.
MacroStrategy, a subsidiary of @MicroStrategy, has closed a $205 million bitcoin-collateralized loan with Silvergate Bank to purchase #bitcoin. $MSTR $SIhttps://t.co/QYw2ZgeE3U

— Michael Saylor⚡️ (@saylor) March 29, 2022
Referring to the loan value ratio, Saylor wrote that the situation for a mrgin call has not yet arrived as "we manage accordingly". Conventionally, a margin call would be met by providing more capital or liquidating the loan's collateral. Saylor affirmed that the firm can always contribute additional BTC in order to maintain the required loan-to-value ratio. He added,
"As long as the Silvergate loan remains collateralized with an LTV less than 50%, there is no margin call. Even at current prices, we continue to maintain more than sufficient additional unpledged bitcoins to meet our requirements under the loan agreement."
The Mantra of HODling
When @MicroStrategy adopted a #Bitcoin Strategy, it anticipated volatility and structured its balance sheet so that it could continue to #HODL through adversity. https://t.co/rPSUVPHUVw

— Michael Saylor⚡️ (@saylor) June 14, 2022
Saylor also emphasized on 'HODling'. He explained that since MicroStrategy started holding Bitcoins (BTC), the company took into account the volatility of the digital token and designed its balance sheet accordingly so that it could continue HODling.
On the other hand, MicroStrategy's stock rose more than 3 per cent during Tuesday's session after Monday's 25 per cent plunge on fears of a margin call as the flagship token plummeted.