Bitcoin is currently getting a bear hug as its price continues to drop steadily as 2018 gets underway. The cryptocurrency is trading around $8,387.76 to mark a steep decline from its two-month high around $20,000. Traditional Wall Street analysts and cryptocurrency experts have proposed different theses to explain the massive price drop in the cryptocurrency.
Some Wall Street analysts believe that Bitcoin was never worth $20,000 to begin with and cryptocurrency analysts posit that the decline wasn't particularly nerve wrecking because cryptocurrencies are still subject to high volatility.
Unfortunately, a decline in the price of Bitcoin usually leads to a sell-off in most of the other cryptocurrencies in the market. When Bitcoin sneezes, the crypto market tends to catch a cold (see chart below).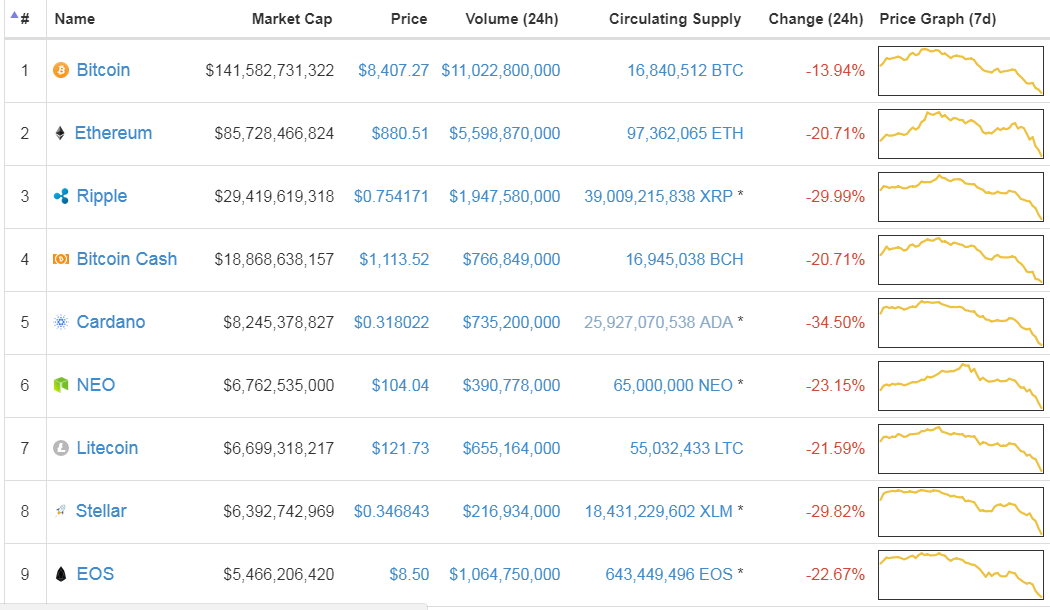 Should traders buy the dip on Bitcoin?
Nonetheless, technical analysis of Bitcoin's latest market movements suggests that the worst might be over and the cryptocurrency might be ready for another uptrend. For one, traders are starting to consider the Bitcoin price level incredibly low and the momentum to start buying the dip is starting to build up. It is basic investment wisdom to buy an asset when its price is low and then resell for profit when its price is high.
Of course, speculators who came late to the Bitcoin party when it was already trading upwards of $10,000, or $15,000 late in 2017 are not likely to stick around as the price dips to $8000. In fact, one could rightly posit that the extended decline in Bitcoin prices is a self-fulfilling prophecy occasioned by the exit of late stage speculators who expected Bitcoin to continue its $20,000 rally towards $50,000.
A merger of cryptocurrencies might bring stability to the market
In Q4 2017 when Bitcoin started breaking price records, every bit of good news seemed to push the price of Bitcoin higher. Now, the reverse seems to be the case and every bit of bad news is sending the price of the cryptocurrency lower. In essence, news has done its fair share of being a price driver for cryptocurrencies. It is high time the cryptocurrency industry starts reviewing the fundamental factors that drive prices instead of an overreliance on news.
Interestingly, the creators of Litecoin and Monero seem to be taking the lead in reformulating the fundamentals that determine how their coins trade in the market. Litecoin is essentially a cheaper version of Bitcoin, which is to Bitcoin what Silver is to gold. Monero is another peer-to-peer money that emphasizes anonymity to take cryptocurrency truly beyond the control of governments.
News making round in the cryptocurrency market suggests that Litecoin and Monero are considering a merger that will make the two coins interoperable. A "merger" will help Monero increase its liquidity by riding on Litecoin's popularity and volume on exchanges. The deal will also benefit Litecoin by providing it with the latent anonymity and fungibility in Monero.
The brains behind Litecoin and Monero are also considering the idea of allowing on-chain atomic swaps that enable users to exchange Monero for Litecoin or vice versa without selling/buying either currency and without needing the intermediary of an exchange.
Final words…
It is still somewhat too early to know if anything will come out of the proposed Litecoin and Monero allaiance. Even if they agree on an alliance in principle, there's no telling how long it would take to work out the kinks in the blockchains for full interoperability. Nonetheless, the fragmentation of the cryptocurrency industry by more than 1,380 tokens is one of the factors fuelling the speculative fires in the market. A "merger" of some cryptocurrencies will help them unlock a synergy that strengthens their weaknesses and the cryptocurrency industry will be on a faster path to getting mass-market adoption.