In the past few hours, notable movements of Bitcoin (BTC) orchestrated by whales have been recorded. According to data provided by the tracking platform Whale Alert, multiple investors executed Bitcoin transfers to exchanges, sparking speculation in the market.
One of the most significant transfers was made to Coinbase, where a whale moved 2,707 BTC, equivalent to approximately $101,620,813, from an unknown wallet.
🚨 🚨 🚨 🚨 🚨 2,707 #BTC (101,620,813 USD) transferred from unknown wallet to #Coinbasehttps://t.co/ReSVTNs9UL

— Whale Alert (@whale_alert) November 20, 2023
Shortly after, another whale executed a similar transfer of 2,712 BTC, valued at approximately $101,661,213.
🚨 🚨 🚨 🚨 🚨 2,712 #BTC (101,661,213 USD) transferred from unknown wallet to #Coinbasehttps://t.co/Zm1G6bGyMc

— Whale Alert (@whale_alert) November 21, 2023
Additionally, a third undisclosed wallet sent 650 BTC, equivalent to $24,294,303, to the Binance platform.
🚨 650 #BTC (24,294,303 USD) transferred from unknown wallet to #Binancehttps://t.co/d5115IZmZT

— Whale Alert (@whale_alert) November 21, 2023
Such moves by large investors historically generate market speculation, as traders remain vigilant to determine whether these actions will lead to a significant increase in Bitcoin's price, known as a "pump," or if, conversely, a massive sell-off, termed a "dump," will occur.
The Effect of Whales on Bitcoin
So far, the price of BTC has only experienced a modest 0.58% increase in the last day of trading, according to CoinMarketCap data. This positions the cryptocurrency at $37,193.17 at the time of writing, with a recent peak of $37,756.82.
BTC's intraday volume also saw a significant increase of 28.24% from the previous day, reaching a total of $19,823,462,092 in the last 24 hours. The market capitalization of BTC rose to $726,872,392,781, solidifying its position as the leading cryptocurrency in terms of capitalization.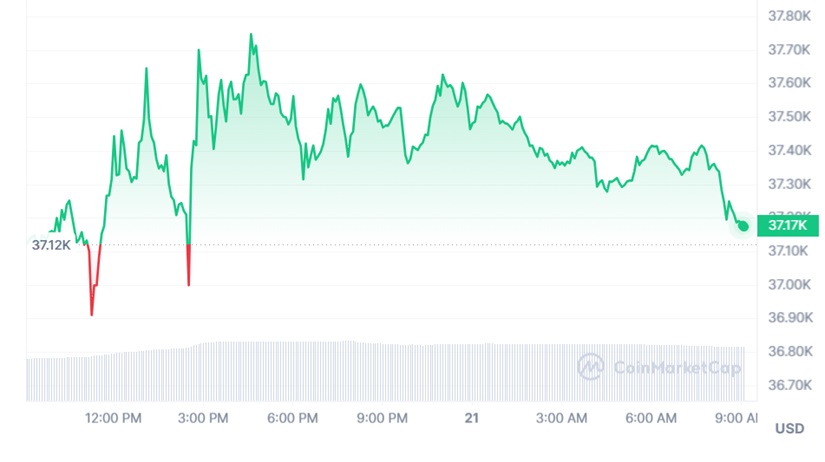 Another interesting aspect is that BTC surpassed Ethereum (ETH) in terms of daily transaction fees. On November 20, BTC's average daily transaction fee reached $10.34, surpassing ETH's $8.43.
This increase in BTC transaction fees could be linked to the growing activity related to the Ordinals Protocol. This protocol facilitates the creation of assets similar to NFTs and BRC-20 tokens on the Bitcoin network. After a period of inactivity in September, October witnessed a significant surge in assets built on the Ordinals Protocol.
Although, for now, the movements of large investors had minimal effects on BTC's valuation, investors must remain vigilant in the face of potential new actions by Bitcoin whales to avoid being caught off guard.