In a response letter to a request for clarification sent to the Securities and Exchange Commission by US House Rep. Ted Budd in conjunction with other House representatives and the non-profit crypto research organization Coin Center, the SEC chairman Jay Clayton has confirmed a prior analysis by an SEC commissioner that Ethereum and other similarly characterized digital assets are not securities.
The response letter dated March 7th, was shared by Coin Center on Tuesday, March 12th. Clayton confirms that he and his staff have found that ETH (Ethereum's native currency) is not a security and is therefore not subject to regulations by the SEC in its current state.
Budd's initial request for clarification was based on the sentiments expressed by William Hinman, SEC Director of the Division of Corporate Finance, during the All Markets Summit organized by Yahoo Finance on Thursday, June 14th, 2018. At the event, Hinman said that
"When we think about how ether today is operating, at least, we see a highly decentralized network, not the type of centralized actor that characterizes securities offerings. In its current state, we don't see value regulating it."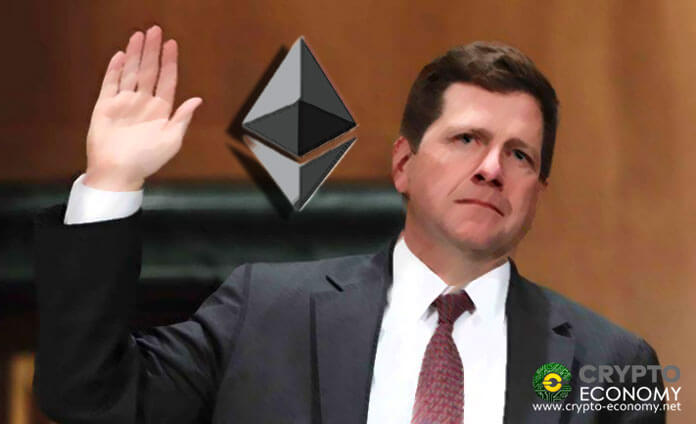 The sentiments were a relief to several Ethereum proponents but the sort of informal setting in which the commissioner made the comments cast an air of ambiguity to the official position of the SEC on the legal status of Ethereum and other digital assets.
In response to Budd's letter, Clayton wrote in part the following comments:
"Your letter also asks whether I agree with certain statements concerning digital tokens in Director Hinman's June 2018 speech. I agree that the analysis of whether a digital asset is offered or sold as a security is not static and does not strictly inhere to the instrument. A digital asset may be offered and sold initially as a security because it meets the definition of an investment contract, but that designation may change over time if the digital asset later is offered and sold in such a way that it will no longer meet that definition. I agree with Director Hinman's explanation of how a digital asset transaction may no longer represent an investment contract if, for example, purchasers would no longer reasonably expect a person or group to carry out the essential managerial or entrepreneurial efforts. Under those circumstances, the digital asset may not represent an investment contract under the Howey framework."
What Clayton's letter confirms is that Ethereum was initially subject to regulation as a security during its launch in 2015 but its operations have changed to a degree that it cannot be reasonably regulated as such in its current state. This means that the definition of a security is not "static" but can change over time bringing the underlying asset outside the purview of the financial regulator.