Latest Ethereum [ETH] News
In every aspect, the ecosystem is growing and it is precisely what investors—big or small want to see. It gets better for believers, the strong ones who were unfazed by price drops of 2018. Many believe 2019 is going to be a year of regulation and adoption. And there are hints that the space will gradually mature as regulators flow in, curbing scam projects while ensuring only the decentralized and those issuing utility tokens get funding from investors.
Already, the ground has been firmed in Colorado. With the signing of the signing of the Digital Token Act, the state is on a one way route of growth and we can only project that it is going to be a matter of time before we see it becomes a hub for blockchain companies. Although rules will apply, only projects wishing to crowd fund ought to issue out utilities if they are to be exempted from the state's Security laws.
While the move towards "BitLicense", first introduced in New York but could be applicable in California but looks likely to be rejected, like rules is always a threat, the path towards widespread adoption will be smooth if the Ethereum network can satisfactorily scale and as throughput increase, trading fees drop solidifying the platform as a leader in dApp and smart contracting.
ETH/USD Price Analysis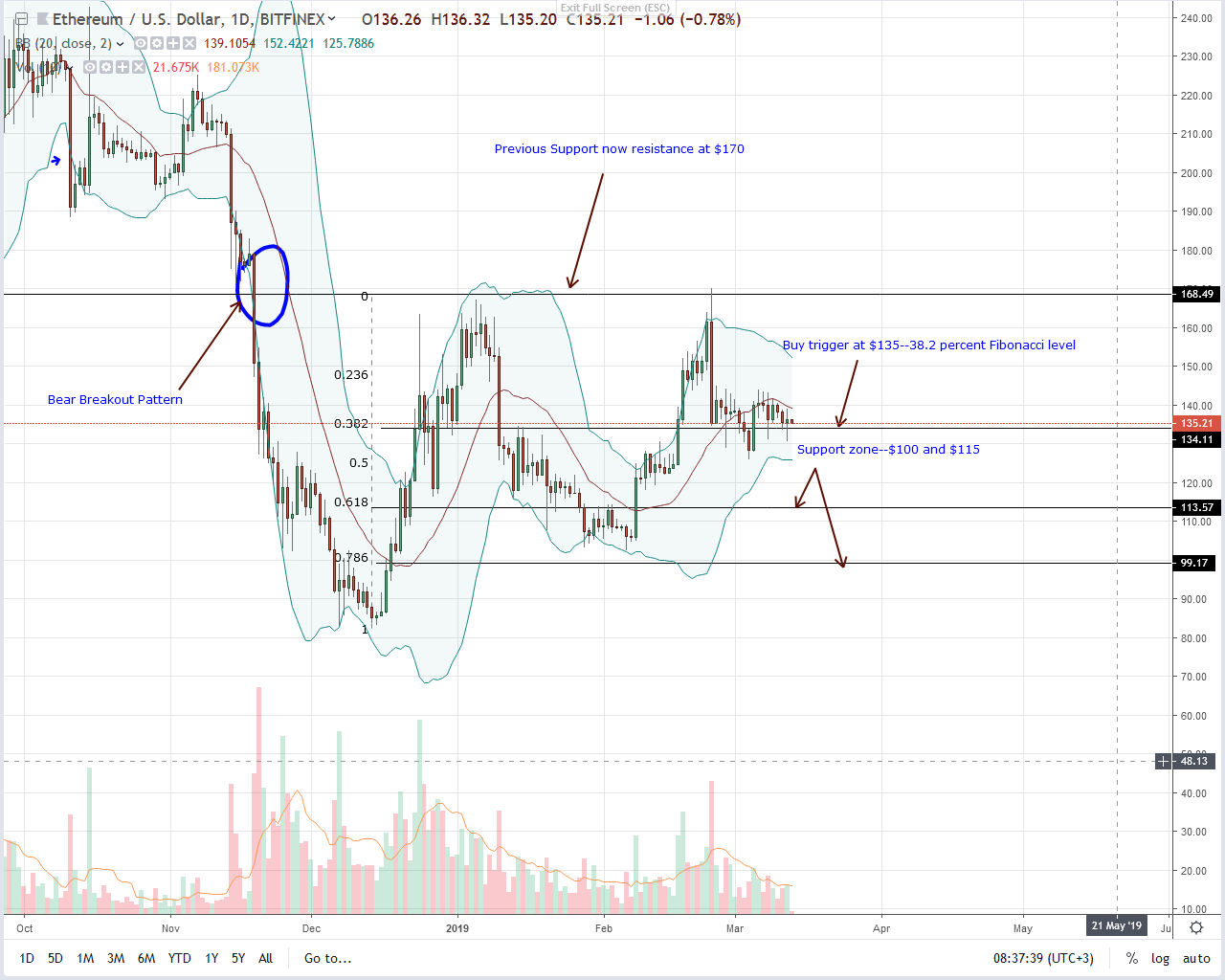 At the time of writing, ETH is stable and up one percent in the last day. Even so, the come is under pressure but trading above $135 as prices are held within tight trade ranges. Since ETH prices are firm and in range mode, our previous ETH/USD trade plan is valid.
All that is needed is a confirmation and hints of underlying momentum will show if there is a high-volume break and close above Mar 5 highs. That move will confirm the double bar bull reversal pattern of Mar 4-5 automatically helping price edge higher towards $170—our immediate target.
The only time when this upbeat overview will be null is if prices collapse and close be below Mar 5 lows at $125 at the back of high trading volumes confirming bears of Feb 24. It is no doubt that such an eventually will mean the resumption of bears as the third stage—the trend resumption phase—of a classic bear breakout pattern shape up possibly driving prices to $100 and later $70.
All Charts Courtesy of TradingView—BitFinex
Disclaimer: Views and opinions expressed are those of the author and aren't investment advice. Trading of any form involves risk and so do your due diligence before making a trading decision.