Nearly half of the U.S. adults who responded to a recent survey said they were disappointed with their returns on crypto investments. It was observed that a majority of the crypto investors surveyed believed crypto was a good way to make money, and that is why they became interested in it.
Detailed Data About Results
In a study conducted by Pew Research Center, it was found that investors have suffered a decline in the value of their investments due to the turmoil in cryptocurrency markets.
According to the survey, 46% of the U.S. adults who have personally invested, traded, or used cryptocurrencies such as bitcoin or ether report their investments have not performed well as they expected, despite the fact that 16% have done so.
In comparison, 15% of these Americans say they have done better than they expected with their investments, 31% say it has been about the same as what they wanted, and 8% are unsure about the outcome of their investments.  
There has been no change in the proportion of U.S. adults who have ever invested in, traded, or used a cryptocurrency since September 2021, according to a survey that was conducted July 5-17, 2022. In spite of the strong attention crypto has received in the news. There has not been any overall change in crypto prices.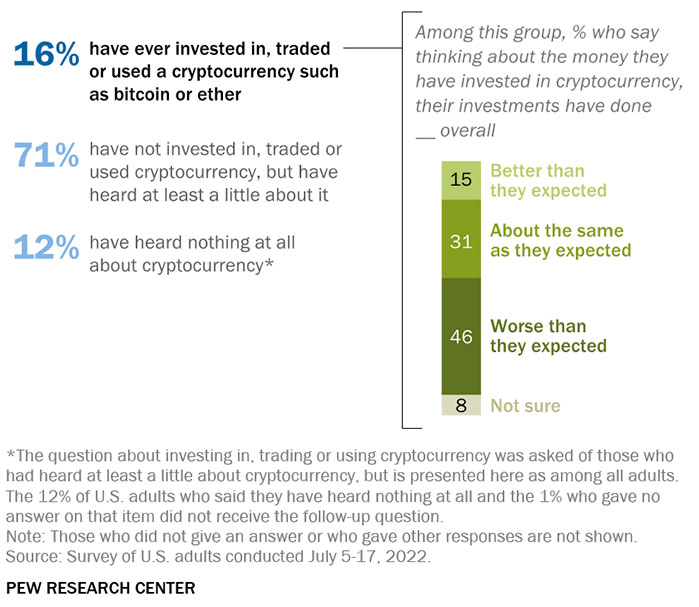 According to a recent survey, 16% of Americans say they have ever invested in, traded, or used a cryptocurrency, and about three quarters attribute that to either wanting a different method of investing (78%) or the fact that it is a good way to make money (75%).
It has been reported that 54% of respondents believe that crypto is easier to invest in than other ways, and this may be at least a minor reason for their preference.
In addition, a smaller percentage of respondents cite being more confident in cryptocurrency investments than other investment options (39%) and wanting to connect with like-minded enthusiasts (33%) as minor reasons for investing in cryptocurrencies.
Aside from assessing public awareness and use of cryptocurrencies, the survey also explored general awareness and usage of non-fungible tokens (NFTs), which was prompted by the growing interest given to artists, athletes, and journalists who have created and sold NFTs in the past year.
The majority of adults in the United States (49%) say that they have heard something about non-fungible tokens at least occasionally, and 11% say that they have heard lots about non-fungible tokens. However, just 2% of Americans claim to have purchased an NFT over the last year.