Abdulla bin Touq Al Marri, UAE Minister of Economy, launched the Ministry's headquarters in the metaverse which is the "digital twin" of the department's office in Dubai and Abu Dhabi.
UAE seems to be leading the race in becoming the crypto hub of the world. Crypto giants including Binance, Crypto.com, Kraken, OKX have already set up shops in the United Arab Emirates. Recently, UAE's central bank, CBUA also jumped on the CBDC bandwagon announcing a digital currency by leveraging artificial intelligence (AI). The gulf country's push to lure in digital wealth via the crypto ecosystem has witnessed a dramatic uptick in recent years.
Ministry of Economy Sets up Shop in Metaverse
"We are launching our 3rd address, as the Ministry Economy, one in Abu Dhabi, one in Dubai, and one in the Metaverse!"
HE Abdullah Bin Touq, Minister of Economy, Ministry of Economy of the UAE#DubaiMetaverseAssembly pic.twitter.com/4K6LVRZS4H

— Dubai Future Foundation (@DubaiFuture) September 28, 2022
According to reports from a local media, The UAE Ministry of Economy, has rolled out a digital address for the Ministry's headquarters in the metaverse. The new headquarter will allow avatars to hold meetings, network, and even sign legally binding agreements. The 3D world will also have a "customer center" where businesses can leverage the digital space to assist and communicate with individuals in real time.
Al Marri emphasized the importance of the digital world offering companies, individuals and goverments to connect with users from anywhere in the world virtually. Khalifa Al Jaziri, who was the avatar representing the ministry in metaverse explained,
"Anyone around the world who has a transaction with the ministry no longer has to come to the UAE to sign an agreement."
As per the announcement, the headquarters will feature a multiple story building, each serving a different purpose. Visitors will be able to take a ticket, which will prompt a "customer happiness center employee" to join the Metaverse and interact with the visitor.
Dubai's Rise in the Crypto Space
Lately, Dubai, has been gaining astronomical prominence in the cryptocurrency space. In February, Emirates of Dubai, established the Dubai Virtual Assets Regulatory Authority (VARA) to oversee the regulation, governance, and licensing of cryptocurrencies, NFTs, and other virtual assets. The move prompted several companies including local businesses like grocery delivery service, YallaMarket and property firms such as Emaar and DAMAC to accept cryptocurrencies as payments.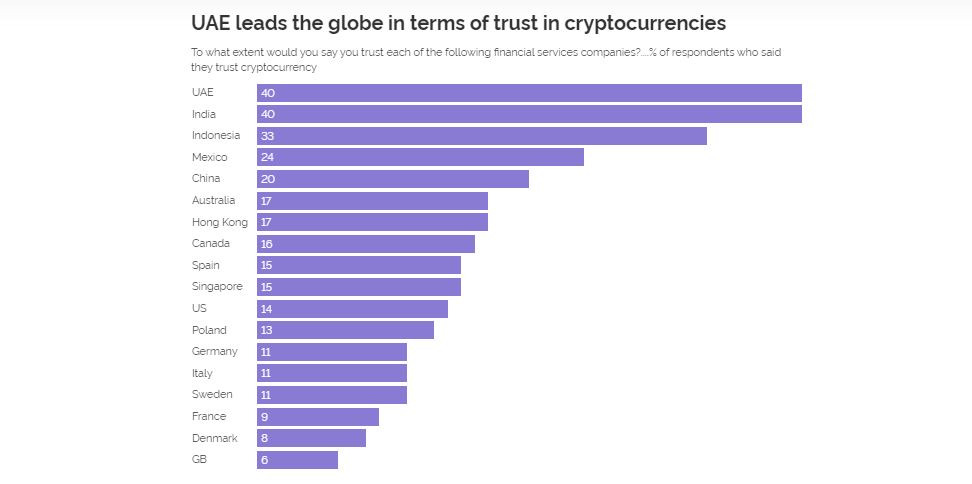 A global YouGov survey found that trust in cryptocurrencies was highest among adults in the UAE. Emma McInnes, Global Sector Head of Financial Services at YouGov, specified,
"Countries like the UAE have already created governing bodies to measure and promote the growth of virtual assets, and by doing so, it's keeping itself ahead of most of the world in terms of developing the crypto market."