In general, the last 24 hours have witnessed an upward trend across the board, as several cryptocurrencies separated from a rather unattractive side trend to register new highs.
Elite digital currencies including Ripple (XRP), Bitcoin and Tron (TRX) demonstrated an encouraging trend to both HODLers and short term traders, as the currencies went on a bull run to liberate themselves from the prolonged sideways trend.
Tron [TRX] is one cryptocurrency that has been evidently committed to developmental efforts, making headlines in the past 4 weeks. A corresponding gradual increase in the currency's price has infused its enthusiasts with heightened expectations.
Today the cryptocurrency has seen a rise of more than 2%, the volume of daily trade reached 115.891 billion dollars and its price reached 0.024 $.
The past 12 hours have seen the Tron's trend line taking a marked uptrend, rising from $0.02387 to the day's high so far at $0.02468. Upon reaching today's highest peak, the trend took a slight downward trend to take a sideways trend, oscillating between $0.02450 and $0.02440.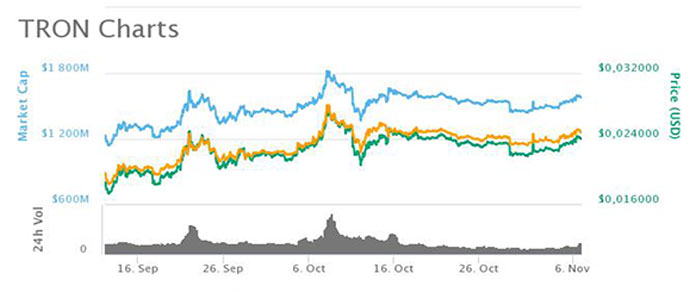 Nuggets from indicators
Bollinger Bands: The day has seen a typical pattern associated with a price hike as the upper and lower Bollinger Bands demonstrated evident divergence. The marked divergence comes after a prolonged lateral price movement thus providing a clear picture of the cryptocurrencies break from it's sideway slumber.
Awesome Oscillator: The Oscillator has also demonstrated a consistent trend with the Bollinger's as the graph took a remarkable surge. The surging graph speaks volumes of an increasing market momentum accompanying the bull rally.
The past 24 hours:
At a slightly macro scale, the trend remains part of the general downtrend that has been taking place in recent months which brought down the price of Tron to $0.0241.
Relative Strength Index (RSI)
In general terms, the RSI shows a typical trend where the buying pressure overtakes the selling pressure. 5-6 hours earlier, the index pointed to a graph which was gradually approaching the overbought zone. With seeming relative consolidation taking place within 0.02450 and 0.02440, the RSI's suggestions earlier on might be effectively taking shape.
Chaikin Money flow
In recent weeks, the CMF was crashing together with the overall downtrend signifying diminishing investor confidence. Currently, the CMF has also soared thus indicating increased investor confidence and sentiment with the subsequent money inflow. However, it is important to note that, at the larger scale, the trend at a large scale is still within the bear's jurisdiction.
Conclusion
Tron is showing consolidation at current levels which could indicate a near start of an uptrend. Most of the main indicators, including the Bollinger Bands, RSI and AO, support this trend vision with some periods of lateral movements.