A decision to hold some Ripple always leads to another equally crucial question demanding absolute clarity; what is the best Ripple wallet?
As a serious investor, you need a serious plan on how to manage your Ripple [XRP] as your wallets convenience can potentially affect your decision making when trading and conducting transactions.
This guide is dedicated to the exploration of awesome possibilities available on the blockchain landscape with regards to this question by looking at the current options on the market. Let's get started.
The Best Ripple Wallet
CoinPayments wallet

Our first few moments of thought will be dedicated to a largely familiar crypto wallet known as Coinpayments.
The Canada based cryptocurrency wallet supports a relatively wide range of digital assets, and harbors the ability to integrate with a number well known shopping carts such as Woocommerce and Magento.
To date, the wallet enjoys wide acceptance rate in about 182 countries, with a total of 718,000 vendors using the platform for payments.
Let's look at the features which are central to the wallets success.
Supported platforms and other features
Coinpayments is an internet-based or hot wallet that supports over 100 cryptocurrencies including Ripple and Bitcoin.
A host of special features gives it an edge over most of today's wallets. These include:
Being able to facilitate payments by working in sync with escrow where funds are held prior to payments.
BitGo instant: This is an application that integrates with the wallet to facilitate almost instant crypto transactions.
Vault: This feature allows you to lock your funds in the system. In this case, you are refrained from accessing the funds at a set period of time. This brings in the advantage of preventing instant access to your funds in the event that your account is hacked.
Mobile application: The wallet can also work with a number of iOS and Android based applications to facilitate transactions.
Pros
The platform is relatively easy to use when compared with similar payment platforms. Though there is a considerable number of special features and functionalities, the platform still affords an interface that doesn't demand a steep learning curve.
Fees: The fee structure provides for a widely affordable environment. A 0.5 per cent fee is charged on incoming payments and commercial deposits transactions. There are no charges associated with coin withdrawals but rather a generic transaction fee…
Security: As password and 2 factor authentication provides for a moderately reliable security platform.
Cons
Being a hot wallet could have something to do with the platform's dark history of losing 2.45 million XRP due to a system bug that rendered it susceptible.
This raises questions on the overall integrity of the system.
However, in hot wallets standards, it has all the characteristics of a relatively reliable wallet.
Gatehub

Gatehub was launched in 2014 and was originally designed to support Ripple as the only cryptocurrency.
To date, the wallet has increased its versatility by incorporating other digital currencies along with the crypto trading feature.
Gatehub works with a number of operating systems on standard computers/laptops and mobile devices.
Supported platforms
As we've already pointed out, Gatehub can be considered as a hot wallet which is compatible with Windows, Mac OS as well as Android and iOS operating systems.
In addition to Ripple, the coin supports 7 additional coins including Bitcoin, Augur, Dash, Xaurun, Ethereum, Ethereum Classic and Bitcoin Cash.
The wallet also allows purchasing cryptocurrencies by using a bank account through Swift and SEPA.
Pros
Security: The wallet uses the standard 2 level security approach in form of a password and 2 factor authentication. Though this will never be enough to guarantee 100 per cent security, it is still a reliable method of securing your funds.
Backup: The wallet also incorporates a keyphrase-based backup system that allows restoration of access in the event of losing your device.
User-friendliness: As expected, the overall interface is quite easy to navigate for someone who is new or familiar with basic wallet interfaces.
Fees: It is free to set up and deposit funds using the SEPA transfer method. The wallet does not demand upfront fees for crypto withdrawals and deposits. However, you need to have a minimum of 20 XRP to commence transactions on the system. Blockchain transaction fees, and bank deposit and withdrawals fees apply. Here is a caption of the fee structure from the wallets website.
Cons
Being a hot wallet makes the wallet less than 100 % in terms of overall security. Hot wallets are still as secure as you and your device are.
Abra

Abra provides a surprisingly simple solution to managing your digital and fiat assets.
It boasts of being one of the very few wallets that give you the ability to conduct both crypto and fiat transactions on your mobile device.
The company was established by the former director of Netscape and cerebrated Goldman Sachs software engineer, Bill Barhydt.
A number of awards, including a bronze innovation project award within the best cash innovation category testify to the pedigree the app brings on the blockchain technology landscape.
Let's have a look at the aspects that set the wallet apart.
Supported platforms
The application is compatible with iOS and Android platforms and supports over 25 digital currencies and a total of 50 fiat currencies.
Pros
Security: Like most desktop and mobile wallets, Abra allows you to create both an upfront password/pincode as well as a passphrase for backup. The passphrase is relatively shorter than most wallets as it consists of a total of 13 words.
More versatility: The wallet is more than just a crypto storage solution. Users can also buy crypto with credit or debit cards, or link it with respective bank accounts in designated countries. Currently, users in the Phillipines can add or withdraw funds through a bank account whereas other users can add and withdraw funds through credit and debit cards.
Affordable: Abra charges considerably lower fees in transacting both cryptos and fiat currencies. There are no charges associated with all types of withdrawals. Adding funds through the American express card costs 4% of the transaction.
Cons
The wallet is still only as secure as your mobile device. 2 factor authentication would be a great security feature to compensate for the risks that come with non-hardware wallets.
Ledger Nano S (Ripple Wallet)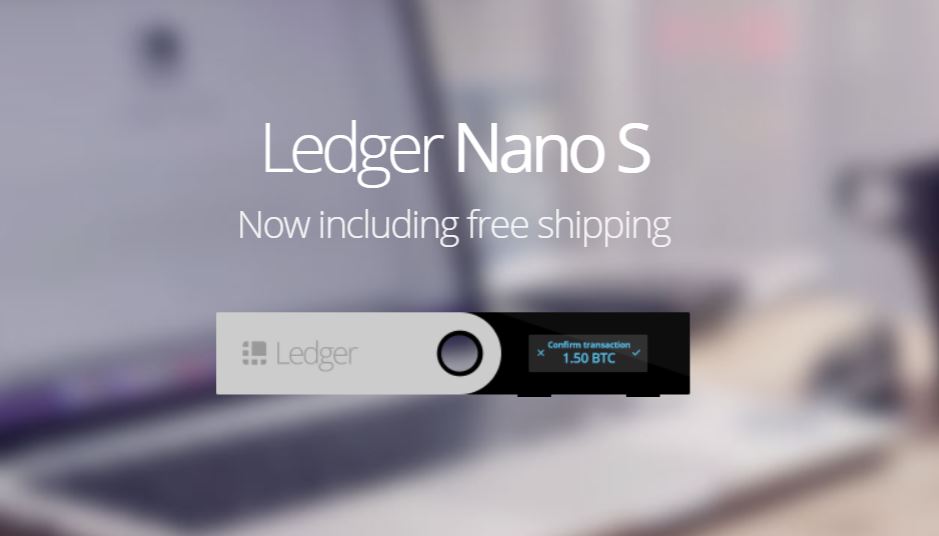 Ledger is without doubt one of the companies at the spearhead of the highly secure crypto hardware wallets gracing the market today.
The company's hardware wallet saw its launch in 2016 with the aim of providing a secure and efficient crypto storage solution to its users.
In addition to Ripple, the wallet supports such other cryptocurrencies such as Bitcoin, Ethereum and a host of other altcoins.
Let's spend the next few minutes on the wallets key features.
Supported platforms
As we've already considered, the wallet is a "Hardware wallet" which means that you'll actually have a physical device that tracks your crypto holdings on the blockchain.
It takes the form of a USB device similar to your USB drive and can work with any computer's USB port.
The wallet can work with all the essential operating systems including Windows (7), Linux, Mac. Chromium and Google chrome remain the preferred browsers used to connect the wallet to the blockchain.
The device also works with a number of software wallets for transactions. These include Ledger wallet Ripple, Electrum, Copay, GreenBits and BitGo.
Pros
Superior security features: The Ledger Nano S wallet is considered one of the most secure wallets in today's crypto community. Being a hardware wallet effectively shields the wallet from hackers unlike web-based wallets which are considerably easier for attacks. In addition to offline storage, the following features allow for top notch security:

PIN code: Like most wallets, the 4 digit pin is created right at the beginning and is required when making transactions. It gives an allowance of three guesses before an automatic wipe in order to protect against possible unauthorized attempts.
Backup: Since most devices as small as the wallet can be hard to keep especially when you are not that much of an organized person, the wallet has a provision for a backup mechanism in case the device is stolen or lost. The device comes with a recovery sheet which keeps your 24 word recovery phrase which can be used to restore your accounts. Additionally, if you are not convinced about the 24 word phrase, you can add extra unique words to make it more secure.

Ease of use: The wallet is relatively easier to install and use for frequent transactions. Clear prompts allow you to set-up in a few minutes.
Fully portable and enhanced practicality through the OLED screen which displays all transactions being carried out.
Cons
The Ledgers' physical nature and extra security features come with a higher price tag thus making it more expensive than most software based wallets which are generally free to access.
Toast Wallet

Toast wallet is another crypto storage and transaction solution promising a balance between user-friendliness and superior security.
In this line of thought, the developers claim to have come up with a wallet that "is simple enough for your grandma but safe enough for a Swiss banker".
Let's have a few moments of consideration to ascertain the validity of this bold statement.
Supported platforms
This is an open source wallet that can be downloaded and be installed on a mobile device or a computer.
For has mobile devices, it its Android and iOS versions available on respective app stores.
In terms of more robust computer operating systems, it has provisions for both Windows, Linux, Mac OSX and works with Chrome as the browser of choice.
Pros
Security: As expected, the wallet lets you set a PIN code as the first level of security. It also lets you generate a 24 word recovery phrase to allow for backup in case the device is dysfunctional or stolen.
The wallet is user-friendly as it allows for easy installation and an intuitive interface to carry out your transactions.
Affordable: There are no charges associated with accessing the wallet thus giving it an edge over hardware wallets which come with an upfront cost.
Cons
The absence of 2 factor authentication downgrades its security profile when compared with other desktop wallets which aren't 100 per cent hacker-proof.
Cryptonator

The wallet supports a wide range of cryptocurrencies in addition to Ripple and boasts a number of enhanced security features to secure your funds.
Supported platforms
The hot wallet integrates with chrome browser and works on both Windows and Mac operating systems.
Security: The wallet uses a two-step authentication process involving a password and 2 factor identification procedure. It uses a standard SHA-256 cryptographic algorithm and encrypted SSL connection to provide a satisfactory level of security.
Fees: Being an open source wallet, it is free to sign up and includes a transaction fee consistent with other standard blockchain based wallets.
The wallet supports a wide range of cryptocurrencies and features an intuitive user interface.
Pros
Cryptonator is a Russian based hot wallet parading around the web with promises of ultra-efficient transactions, top notch security and overall cutting edge technology.
Cons
The wallet's overall efficiency and credibility deserves a level of caution before signing up as the web features some discouraging reviews of multiple users having difficulties with accessing their funds in an efficient way.
Edge Wallet

Our last moments of consideration will be awarded to another wallet that is slowly gaining traction in the world of cryptocurrency transactions and storage, Edge.
The San Diego based wallet supports a total of 12 cryptocurrencies and boasts of top notch security features to offer superior protection to your assets.
The wallet also allows for buying cryptocurrencies with the USD and EUR through a credit or debit card.
Supported platforms
Edge is a mobile wallet that is compatible with Android and iOS operating systems with no desktop integration.
Pros
Security: The wallet provides for 2 level authentication process involving a password, 2 factor authentication and a question based recovery protocol to restore access to your account. Other security features include automatic logouts upon extended idle periods, and client side encryption which ensures that your data goes through an encryption procedure before it comes into contact with the wallets servers.
Easy to use: The interface is straightforward and easy to navigate through.
Fees: The Edge wallet is free to download. However, network fees still apply and a charge of 5% applies on transactions involving buying crypto with fiat through the Simplex system.
Cons
The wallet is limited to mobile devices and operating systems.
Conclusion about the best Ripple wallet
Cryptocurrency wallets provide a practical way of managing your digital assets either from your fingertips or a portable computer.
The list of wallets above should give you a good starting point in your quest to gain more control over your digital assets.
Your choice depends on your priorities and the flexibility you would like to go along with your experience.
Hardware wallets provide you the solid security measures whereas desktop and other hot wallets some security against sophisticated hackers to provide some more versatility to the dynamic crypto user.
---
If you are interested in this project and want to be informed of everything that happens, visit our Ripple News section