According to a tweet on official account of TRONSCAN, the number of daily transactions in the Tron network hit a new record figure for the last four months. According to TronScan, daily transaction in the Tron network has now reached 3,491,517 on July 21. Justin Sun in his retweet from TRONSCAN account also appreciated all users of Tron Network.
Tron Foundation's TRX was founded by Justin Sun. Now TRON network is achieving some very valuable and performance of the network is getting impressive day by day. In November 2019, daily transactions on the network were 1.1 million, and in less in then in an year, it has surpassed 3 million. This shows an impressive performance by the network. TRON was designed who provide a free entertainment system with the help of blockchain on a decentralized ecosystem.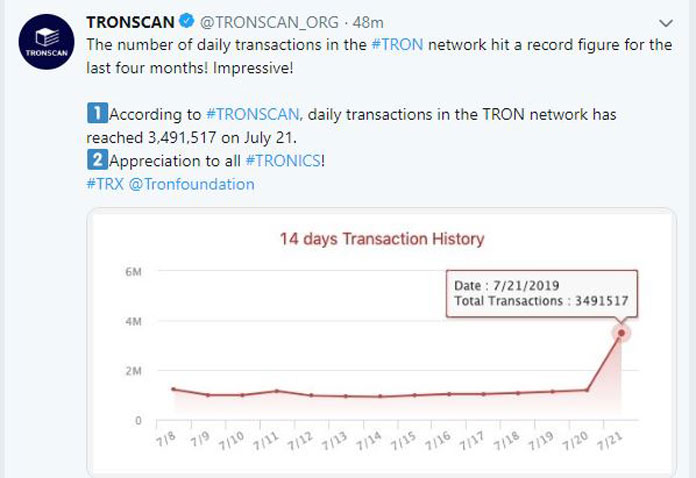 This milestone has been achieved in just 8 months. We can say that this large number of increase in the daily transaction has occurred largely due to the launch of the TRC20 based USDT. The progress of the Tron network may be seen as remarkable at any rate. This news will increase support for impassioned members of TRON community.
Justin Sun once called Tron the world's largest and most advanced Peer to peer network. Now his statement seems to be fulfilled. Tron now ranks 10th on the list of the largest cryptocurrencies in the world at this rate with which the network grows, Tron's TRX could be at number 9 very soon. According to the statistics of coinmarketcap.com, the price of TRON at the time of writing this article is 0.029420 $.
TRON is striving to build the future of purely decentralized internet and a global free content entertainment system. It´s DApps are for entertainment such as gaming, content creation, and social media. In terms of DApps, the performance of the network is really remarkable.