Blockchain platform for decentralized Internet Tron has reportedly launched a $ 1 million accelerator program, to encourage developers and programmers to build DApps and products on the TRON protocol.
According to information provided through a press release, it aims to promote innovation in the industry, as well as mass adoption of blockchain technology through the TRON ecosystem, which currently processes more than one million transactions every day and has around 600,000 active wallets.
"Tron Accelerator is a 1,000,000 USD online competition rewarding up to 56 winning DApp projects across multiple categories," reads part of the announcement. "First prize features a 200,000 USD reward. Prizes are product based. Teams can submit multiple products and potentially win multiple prizes."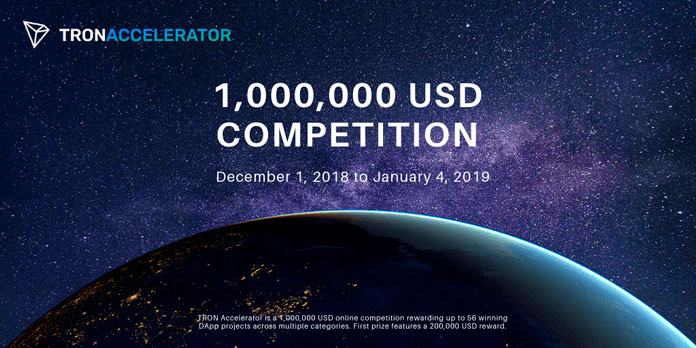 Developers who wishes to participate must submit their projects between December 1st, 2018 and January 4th, 2019. Subsequently, a group of judges will review the content of all submitted projects.
The winners will be announced in January next year during Tron's first international summit, to be held in San Francisco.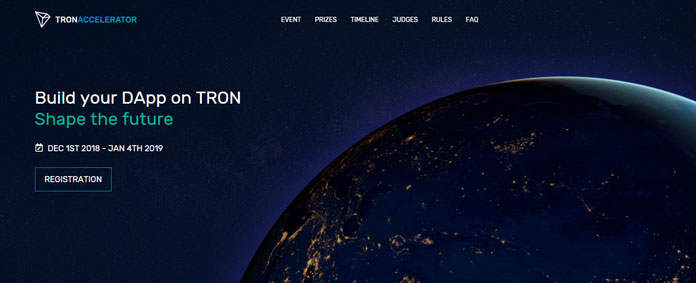 Tron and its search for a spot in the Top 10
The crypto project, – which at the time of writing locates in the eleventh place by market capitalization with $1,200 million, and trading around $0.018, is struggling to be part of the top 10 cryptocurrencies.
In order to achieve its goal, it has executed numerous growth strategies that include the launch of its mainnet, the Super Representative election system and the release of Tron Virtual Machine (TVM), as well as the acquisition of peer-to-peer file sharing service BitTorrent – to carry out Project Atlas – and payment service Poppy app.
Later on October, it was known that it would be purchasing and using cloud computing resources from Baidu – China's largest Internet search provider.
Likewise, the Tron Foundation, directed by Justin Sun, recently announced that its digital currency would be available for trading in the Fcoin exchange starting November 19, also indicating that the new Tron pairs will be added to the current 27 pairs available in the exchange.
Another noteworthy announcement that caught the attention of the crypto community was its decision to associate with Blockchain-based multiplayer online virtual reality world, NeoWorld, in which they have the TRON building, a construction that is among the best in height and rewards for work.