Renowned Venezuelan department store, Traki, began accepting cryptocurrencies as a form of payment.
According to ImVito, a user of the popular social bookmarking website Reddit, the Venezuelan store commonly compared to the American Walmart, accepts several digital currencies as payment when purchasing their products. As proof, he posted a 53-second video in which he claims to have bought almost 900 items between school supplies and clothes with $ 260 in BTC.
Likewise, many ads posted within the establishment report that in addition to accepting Bitcoin (BTC), they also receive Dash, Ethereum (ETH), Litecoin (LTC) and Bitcoin Cash (BCH).
This was also confirmed by the aforementioned Reddit user, who also assured that the funds used to made the purchase were donated by the Reddit community and that they would be destined to a charity that would deliver them to the children in need living in the Caribbean country.
The new payment options implemented a few weeks ago are still unknown to a high percentage of the local population, and those who have heard of the strategy do not believe in it, as in March, the Venezuelan government announced that the department store would accept the digital currency promoted by them known as Petro, but soon after they revoked the decision.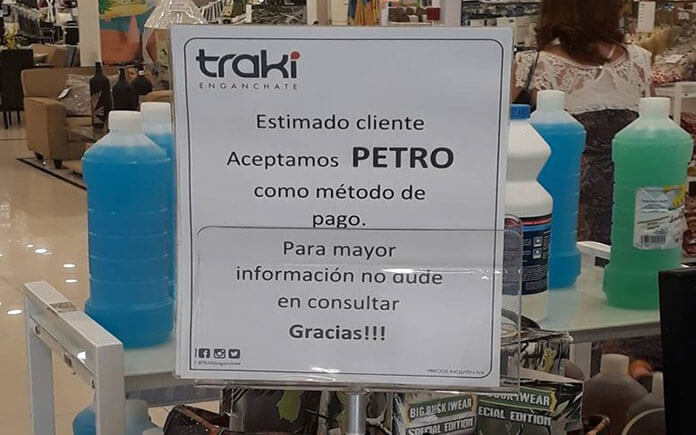 Venezuelan crisis
Over the course of the last years, Venezuela has reached the headlines around the world due to the strong economic crisis it is going through.
A sharp devaluation of its local currency, along with low prices of the oil barrel and a hyperinflation that has made history, have characterized the situation of that country.
To make matters worse, in mid-March, the President of the Uniterd States issued an executive order that prohibited its citizens to engage in transactions related to any digital currency that has been issued by, for or on behalf of the Venezuelan Government, as of 9 January 2018.
This measure was implemented to reinforce the US financial blockade against Venezuela, as well as other previous sanctions, imposed on both President Nicolás Maduro and several of its senior officers.
Due to the consequences of this crisis, Venezuelans have had to resort to cryptocurrencies as a way to protect their finances against hyperinflation and prevent capital loss caused by the constant devaluation of the Bolivar.
For this reason, many shops throughout the country have adopted the same strategy as Traki and began to accept different digital currencies as payment for goods and services.
Dash has been the currency with the largest acceptance by Venezuelan, surpassing even Bitcoin. In fact, the director of Dash Core Group Ryan Taylor, said that Venezuela has become one of Dash's most important markets thanks to the monthly thousands wallets downloads.
There are even reports that important franchises like Subway, Calvin Klein and others, are accepting Dash as payment method.