Decentralized Finance [DeFi] has continued to grow leaps and bounds. As per the latest charts of DeFi Pulse, the total value locked [TVL] in DeFi products has now registered a new all-time high as climbed to a staunching $28.2 billion as of Feb 2nd.
To further gauge the extent to which the sector has grown, it is important to note that DeFi projects' TVL has spiked by more than 2500% from June 2020 to January 2021, alone.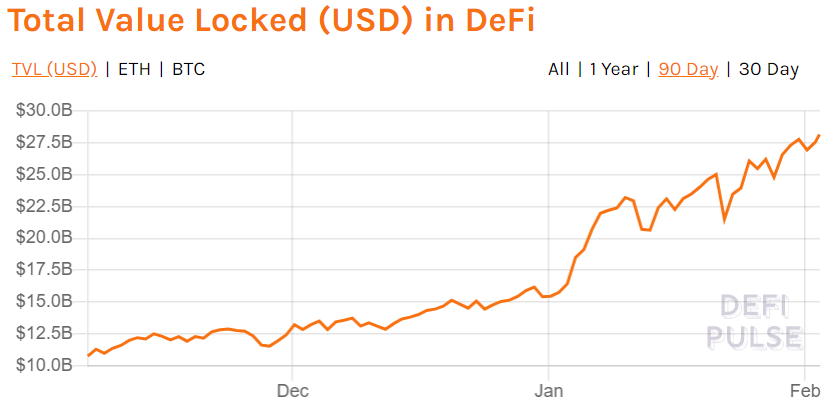 This came right after Bitcoin recovered from a rather long dull price action and broke an aggressive rangebound consolidation to note weekly gains of approximately 10%. This further propelled a market-wide bullish momentum which was felt across the DeFi space as well.
Leading the pack was the decentralized lending platform Maker which sat at $5.05 billion in terms of TVL. Closely following the trail was Aave at $3.89 billion, Compound at $3.47 billion in terms of TVL in US Dollars. Uniswap lost the top three spot as it slid to the fourth recording a TVL of $3.2 billion.
For much of 2020, it can be safely said that DeFi has not just supported Ethereum's long-term price rally in the market cycle, but also transpired the perception that DeFi projects are here to stay and is not just a bubble anymore.
Moreover, popular DeFi tokens have continued to post significant rallies. In addition, a few of them also went on to jump to record new highs in the latest bull season.
Institutions Catch the DeFi fever
The world's leading cryptocurrency asset manager, Grayscale was reportedly looking into entering the world of decentralized finance with Trusts for Aave, Cosmos, Polkadot, and Monero.
According to the official filing, the asset manager has already registered four new trusts for the four assets which indicated the firm's interest and optimism in the rapidly evolving space and the ability to release such products.
Sustainability Question Around DeFi
Institutions are now betting on DeFi, including popular investment firm and hedge fund Pantera Capital which was highly bullish on DeFi projects. The reason for this is the fact that most of these decentralized ventures are built on the Ethereum network.
Hence, these projects have secured heavy investment flows and investor interest has surged over time since they are built on Ethereum. Additionally, the increasing TVL in DeFi has further enhanced Ethereum's price rally.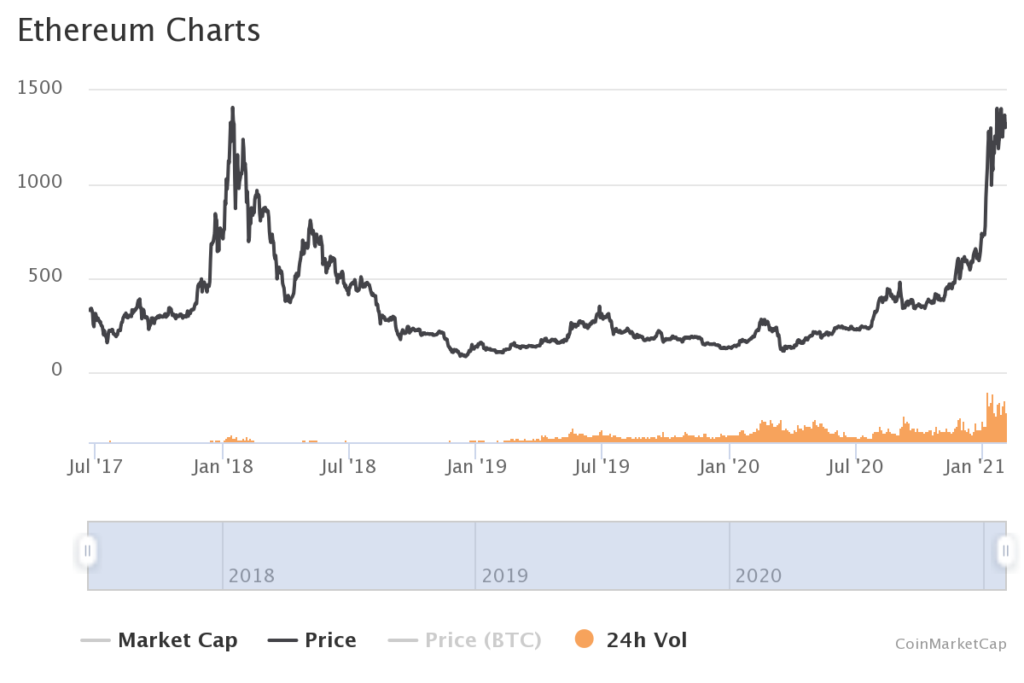 However, there is a scenario that could very much transpire in this cycle. DeFi projects risk losing steam as well as the flow of investments when Ether's price rally comes to an abrupt pause. At this time, DeFi projects' sustainability will be tested and entities' real utility and use case will be the ones to survive the onslaught.
---
If you found this article interesting, here you can find more DeFi News