Tone Vays posted a video detailing his views on the future trend of Bitcoin and a possible capitulation that will happen. As his own predictions indicate, the Bitcoin (BTC) traders as well as the investors too are likely to succumb to panic and sell their BTC stacks in the coming days.
More Red Week Coming?
During a new strategy session, Vays is telling the 121,000 subscribers to his YouTube channel that even though the monthly charts are looking bad, Bitcoin still seems to be struggling to stay above the key psychological level of $30,000. Bitcoin is currently trading at $31.8K after dropping about 7% in almost a week in the 7th continuous red week.
Investors in the Bitcoin currency might have to brace themselves for a strong sell-off that might take place within the next seven days, according to the veteran trader. He says in the video:
"It is very likely that next week we'll have our capitulation. If we go to the low $30,000 range… That could be a nice buying opportunity. But that buying opportunity is still more likely to just get back to $37,000 and then make another new low later this summer. It's just not a very good-looking chart."
It's also worth noting that Vays says he's keeping a close watch on the momentum reversal indicator (MRI), a metric that looks at a certain asset's price momentum in order to predict whether it will continue increasing or declining. Vays believes that the next quarter will see an uptick in the bearish momentum, based on the MRI.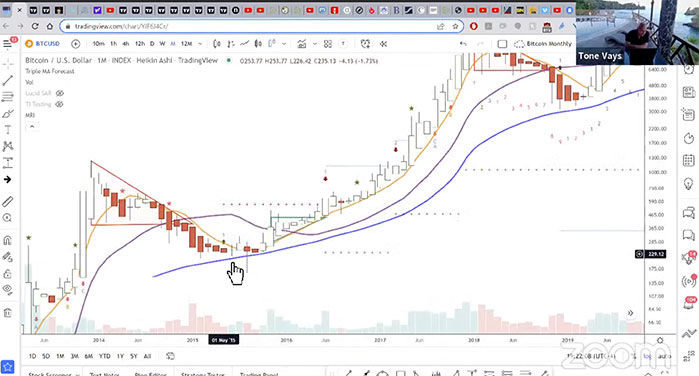 As far as he is concerned, the daily chart will be going down for some time. It will probably take about four or five more weeks for the weekly chart to reverse. looking at the monthly chart, the downward trend is going to last at least another three months.
Tone Vays is one of the many analysts that believe we should expect more red days from Bitcoin. Some of them even believe we'll have a crypto winter until 2024 that the possible halving will happen. Bitcoin and most of the cryptocurrencies haven't shown good results for investors in the past few days. After reaching an ATH of about $68K in November 2021, the major cryptocurrency started to decline and recorded the lowest price of 2022 in the past week.
Even if the recent prediction from Tone Vays doesn't come true, it doesn't seem that Bitcoin and other cryptocurrencies will have a good situation in the coming weeks. Many retail investors are fearing more losses and may start to sell their holdings. On the other hand, there are many big investors who look for these red days and start buying at the bottom. This approach may result in trend changes for Bitcoin and may even start a crypto spring.