The Fundstrat analyst, Tom Lee has made another prediction concerning the likely trend of Ethereum. According to Lee, the number 2 coin will be valued nearly $2000 by the end of next year.
The price of the digital currency has been moving downwards since the beginning of the year due to a number of factors among which is traders taking up short positions. Lee however said that the negative sentiments attached to the coin will be a basis for rebound.
At its peak value, Ethereum was worth more than $1,300 by January this year. Negative sentiments and liquidation of ICO funds have mainly been responsible for dipping prices that has seen the coin drop below $200 in recent weeks.
However, there seem to be a reversal of bears as Ethereum recovered some of its losses over the past week. The coin is presently trading at $225.
According to Lee, Ethereum will be valued $1900 by the end of 2019. This is more than 40 percent higher than its all-time-high as seen in January this year.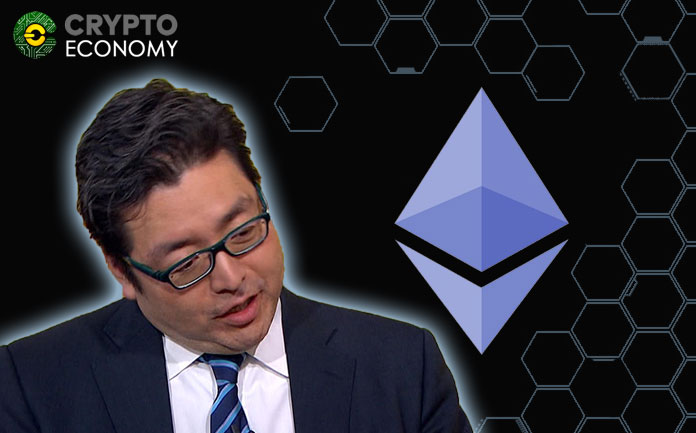 Speaking with Bloomberg, Lee cited the historical performance of the cryptocurrency, saying that there have been times in the past when the coin "underperformed peers by two standard deviations". Lee stated that the coin had in the past rebounded after such lulls.
Lee was referring to the fact that among the top coin, especially the top 10, Ethereum has seen more losses than the rest. However, based on Lee's predictions, Ethereum has been primed to appreciate by more than 700 percent of its present value by the end of next year.
Lee is one of the bulls of the coin world. Last month, he predicted that Bitcoin price will surge to $25,000 by the end of the year. He seems unfazed by the strongest of bear markets and maintained his stance on the prediction.
Like many analysts, his reason for optimism is that there is a correlation between the price movement of Bitcoin and that of the emerging markets.
Ethereum is presently stuck at the congestion zone waiting for a breakout. The next main resistance is located at the $250 mark. With MACD and RSI turning bullish, things are brightening up for the holders of ether.
From today's charts, Ethereum has gained 3.20 percent over the last 24 hours and traded $2.1 billion over the same period.