Ethereum is facing resistance and after printing 10 percent early this week, sellers are stepping up. The thing is: Prices might end up dipping below $165 if sellers keep up with the pace and this will surely deflate Ethereum bulls keen on reversing this year's losses.
All in all, the success of Ethereum depends on how best the foundation create fitting scalability solution guaranteeing high throughput and unparallel user experience.
Latest Ethereum News
Even with Justin Sun calling for "mass exodus" to Tron's TVM, Ethereum remains an on-demand smart contracting arena. Not only is it time tested but it has the highest number of developers working on various Ethereum related projects.
Besides, the network is deemed completely decentralized by the US SEC boosting investor confidence. As it has been the case in the crypto sector, endorsement by US regulators and especially the classification as a utility is a sure way of attracting investment since the token or coin is considered not consistent with Howey Test specifications.
Going forward, Ethereum network is mired with scalability concerns but Vitalik and the Ethereum Foundation has made it their priority to innovate ways of solving throughput. There are many solutions forwarded by Raiden, Plasma and network sharding take center stage.
Network shards is a layer one solution that advocates the splitting of Ethereum network into small blocks called shards. These shards shall work collaboratively for security purposes but confirm network transactions independently allowing scalability.
Plasma and Raiden are layer two solutions but the difference is that Plasma makes use of smart contracts to create independent side chains while Raiden plans on scaling through state channels technology.
Most recently, Vitalik proposed the idea of zero knowledge proofs through ZK-SNARKs. The technology is in use by privacy centric ZCash but Vitalik version introduces Relayers and Transactors and remains a layer one solution that could scale up-to X500.
Ethereum Price Analysis
Weekly Chart – Ethereum (ETH) price prediction
It's clear that the market sentiment has changed following last week's XRP led assault. However, that's not to mean there was a wholesome and sustainable shift of momentum cancelling the dominant trend.
Looking at the charts, it appears as if sellers are revitalized. First, Ethereum sellers are trading within a bear break out patterns set in motion by week ending Aug 12 high volume bear candlestick closing below $350.
While there has been attempts before, we haven't seen retest of $350 and instead prices continue to drop at the face of increasing supply. Secondly, despite last week's fun fare and confirmation of week ending Sep 16 bulls, ETH prices are trending inside Week ending Sep 9 bears.
In a classic effort versus result scenario, bears are quickly reversing last week's gains and odds are they might end up dropping below $165.
Either way, we recommend patience for obvious reasons. Bears are in charge but bulls are trying to pick up momentum. In that case, reasonable triggers are at $300 and $165 on the lower side.
Daily Chart – Ethereum (ETH) price prediction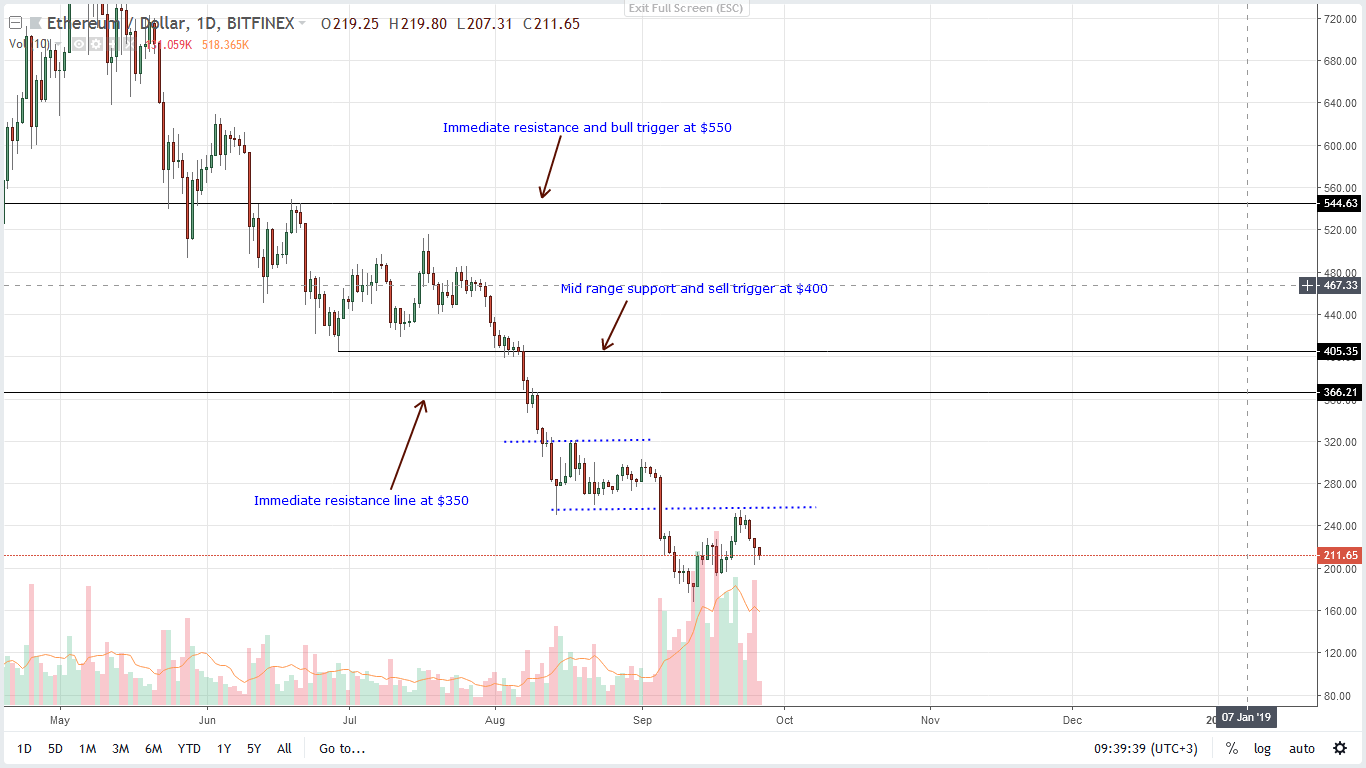 The failure of bulls to breach and close above the first level of resistance at $250 did cement our previous Ethereum trade plan.
Bull momentum is weak and the only time we recommend longs is when prices are trading above $300. If not-and as aforementioned above, there is a drop below $160 or Sep 12 lows, then sell trades shall be triggered. In that case, ideal sell targets would be at $75.
On the reverse side, gains above $300 and bulls can begin eyeing $400.
Disclaimer: Views and opinions expressed are those of the author and aren't investment advice. Trading of any form involves risk and so do your due diligence before making a trading decision.