BLOCKDATA has published a new report about companies that are investing in crypto and blockchain projects.
To comprehensively understand the key use cases that the top 100 banks are backing and the number of new banks entering the blockchain space, it analyzed the top 100 banks that are investing in blockchain/crypto by the number of assets under management or AUM.
Additionally, the company revisited the activity in blockchain investment within the top 100 public companies in terms of market capitalization in order to understand what was different and what was trending, as well as which new entrants were investing now in the blockchain sector.
The purpose of this brief is to investigate the blockchain investments made by the top corporations between September 2021 and mid-June 2022, using the funding data from CB Insights.
Institutional Money Coming to the Industry
The blockchain/crypto space has seen a tremendous amount of investment in the last few years. This includes forty different corporations. In terms of investment, Samsung has been the most active, having invested in 13 different companies.
There are seven investments made by UOB following it, which was followed by six investments made by Citigroup and five investments made by Goldman Sachs.
Whenever these corporations participate in financing rounds with multiple or many other investors, in most cases, the report is unable to determine how much money they have invested in these rounds.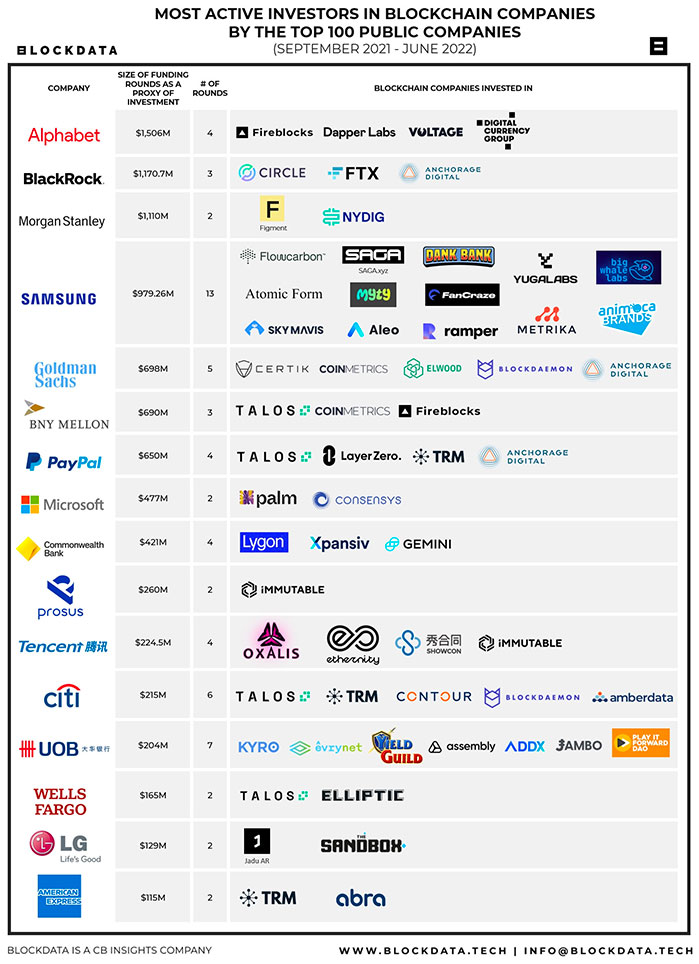 In this way, Alphabet has invested $1,506M in four rounds, Blackrock has invested $1,171M in three rounds, Morgan Stanley has invested $1,110M in two rounds, Samsung has invested $979M in 13 rounds, Goldman Sachs has invested $698 million in five rounds, BNY Mellon has invested $690 million in three rounds, and PayPal has invested $650 million in four rounds.
During the period of September 2021 to June 2022, approximately $6B was invested by forty companies into blockchain startups. In some rounds of investment, there are multiple investors who participate, making it unclear how much each investor contributed to a project as a result of the multiple investors.
In spite of the fact that MasterCard does not appear on the current list of the top investors, it remains active in the integration and development of inorganic technology. In terms of the number of deals it participated in, Mastercard was among the three most active investors prior to September 2021, based on the number of deals it participated in.
As a result, MasterCard has focused most of its effort on providing incubators and accelerators to 4 blockchain startups since then. To remain on top of the digital assets landscape, it also acquired CipherTrace, a crypto intelligence company, in September 2021 in order to bolster its cybersecurity solutions.