The web3 developer community is more active now than it has ever been, even though both Bitcoin and Ethereum have lost approximately 70% of their value since their November 2021 highs. It can be said that 2022 has been the biggest year in history.
Moving the Industry Forward
In order to provide a clearer picture of the web3 developer landscape in spite of wild macro-market volatility, the web3 development platform, Alchemy took a deep dive into the data, working together with some partners at Etherscan, DappRadar, Github, NPM JS, CoinMarketCap, and the Internet Archive. 
This analysis of the usage of Ethers.js and Web3.js by Alchemy began with examining how these libraries were used on web3. It is possible to access blockchain data through providers like Alchemy with the help of these libraries and send transactions on behalf of the users, facilitating deposits into DeFi protocols, creating NFTs, and a whole lot more through these libraries. Developing web3 products requires the use of these tools. 
Neither of these libraries was installed on a weekly basis by more than 146,000 developers during the course of 2018. In fact, that number has been steadily increasing every year, and by 2022, it was up by a whopping 10x to a staggering 1,536,548 downloads a week, which is a remarkable achievement. There was a 3-fold increase in downloads compared to Q3 2021, which was the third quarter in a row.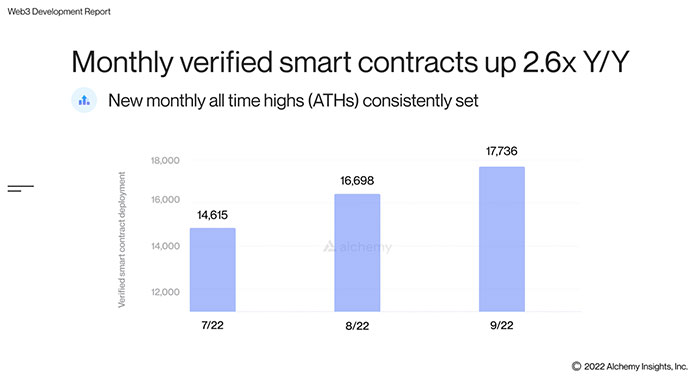 As for smart contracts, the number of smart contracts submitted to the popular block explorer, Etherscan, in September increased to 17,376 from the previous month, up 160% YoY, showing that the popularity of decentralized protocols is on the rise.
A final hallmark of the health of the ecosystem is the number of decentralized applications (dApps) that the ecosystem has deployed, which are end-user applications that have a decentralized backend.
As per DappRadar, as of May 2019, there are approximately 12,495 dApps across all blockchains, up from around 1,000 in early 2018. Furthermore, it should be noted that 2,500 of these dApps have had at least one active user in the past 24 hours, which is quite impressive.
It has been noted that data from Alchemy's NFT API shows a huge increase in the number of requests for the NFT API since the beginning of the year. This suggests more widespread use of NFTs in consumer products and analytics in the future. In spite of the fact that NFT marketplace activity has fallen almost 90% year over year, NFT developer activity remains high.
Even so, it is evident that despite the wildest market conditions in a generation, the community of web3 developers is still building useful, durable products that will continue to change the way we communicate and interact on the internet in the future.