The New Jersey Bureau of Securities has issued a cease-and-desist order to Bitcoiin, the company whose name is sound alike to Bitcoin.
When the startup launched an ICO a couple of weeks ago, the first buzz was the name the company chose – Bitcoiin. An experienced observer ought to have known the company would get more hype than they bargained for due to the name adopted for fame.
When the ICO was endorsed by the popular action movie actor, Steven Seagal, it became obvious that they may have overstepped the limits that may bring them on a collision course with regulators.
The announcement that the company has been served a cease-and-desist order may not have come as a surprise to many observers in the ICO space. The SEC, in the wake of celebrity endorsements of ICOs last year had issued a warning to investors about such crowdsales.
The order by the New Jersey Bureau of Securities marked March 7, highlighted that Bitcoiin was selling unregistered securities to residents of the state. It also stated that individuals behind the ICO were not clearly identified in the company's website despite the endorsement by Mr Seagal.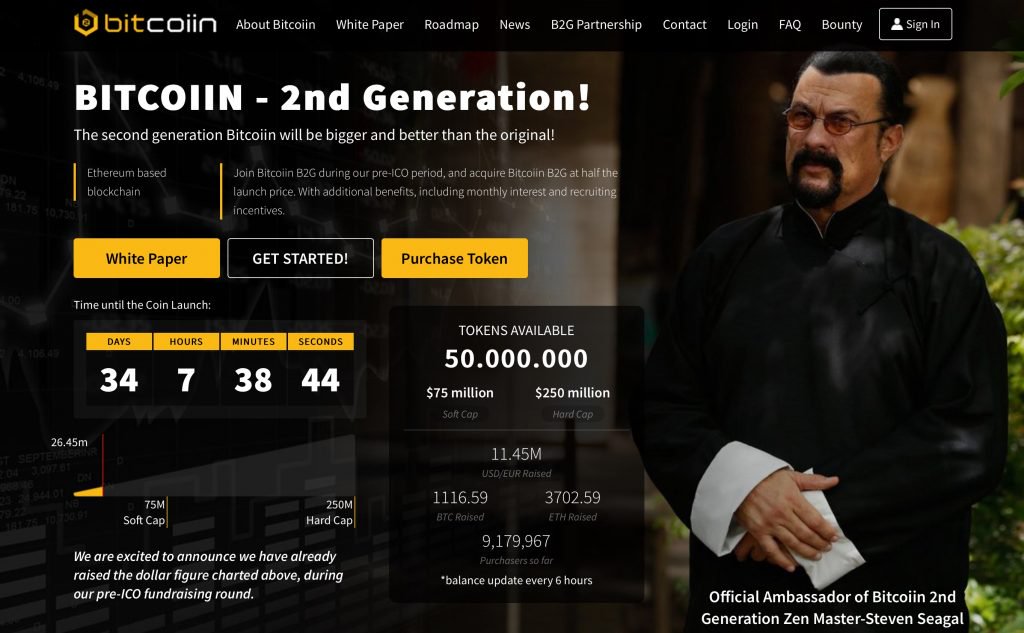 The agency continued by posting that Bitcoiin was never registered to sell securities and therefore not authorized to do so in the state. The order, while acknowledging Seagal's endorsement said that there were no disclosures of payments made to the actor on the company website, even though the site mentioned that Seagal had no ownership stake in the company.
Bitcoiin had earlier been accused of being a ponzi scheme designed to scam investors, an allegation the company denied.
The bureau stated as well that there are no indications on the Bitcoiin website that Steven Seagal has qualifications necessary to render financial advise to investors that warranted using him as the  company's goodwill ambassador. The bureau spokesman said, "The cease-and-desist order was necessary to protect investors".
On March 6, a day before the order was published, Mr Seagal had posted on Twitter under an ad hashtag, that Bitcoiin would soon be listed in major global exchanges.