The cryptocurrency market continues to gain some stability as Bitcoin stays over $24,000 and Ethereum moves along $1,900. However, the most significant performer in the market is Ankr. Several significant developments and updates in the network have helped in driving the price of its native token, ANKR.
On August 10, node infrastructure was integrated into the protocol to decentralize it. Users can now stake ANKR tokens. Thus, they can now operate nodes on the blockchain and earn a share of the fees paid to the operators. However, developers have to stake 100,000 tokens to get the remote procedure call (RPC) traffic. Along with this, other token holders can stake their coins to support individual node providers.
The Ankr Network Receives Strategic Investment From Binance
Soon after launching its staking mode, Ankr received a strategic investment from Binance Labs, the VC investment firm of Binance. However, the actual amount of investment was not disclosed by any stakeholder. The investment is aimed at enhancing Ankr's remote procedure call service.
It will also help the protocol in creating its own web3 developer suite. Also, Liquid Staking  DK, Application Chain, and Web3 Gaming SDK will be developed through these funds. Previously, Ankr has remained involved with BNB Chain and BNB Liquid Staking. Thus, both platforms continue to collaborate and assist each other in growth.
The partnership with Binance helped in propelling the price of ANKR in the market. At the time of writing, ANKR is priced around $0.052 in the market. Its price recorded gains of around 8% in the last 24 hours. With a market cap of over $504 million, the coin alls at number 83 in the list of top cryptocurrencies by market cap.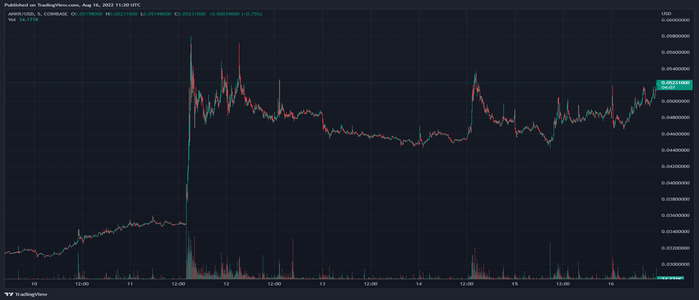 The token was able to touch $0.052 for the first time since the first week of May. Moreover, the protocol is also planning the transition of its operations into a new DAO framework. It will help the network to promote consensus-based decision-making. The team of developers is also working on an educational content project in web3.
Even though there is no exact schedule for these future events, they will surely propel the growth of the Ankr Network. The coin aims to continue its bull run and climb the list of top cryptocurrencies. Additionally, the steady growth of the market will help the coin in maintaining its uptrend. The growing community of the protocol calls itself Ankbassadors, and root of the project's success.