According to data from the blockchain analysis firm Glassnode, the metric of net change in Bitcoin's position on exchanges has experienced a significant increase, reaching its highest point since May. Specifically, 31,382.43 Bitcoins were recorded in these wallets last Sunday, equivalent to approximately $1.16 billion, raising the total balance to 2.35 million BTC.
This increase in exchange wallets is often interpreted as a sign that investors are considering liquidating their holdings, which could exert downward pressure on prices or indicate the use of coins as margin in futures and options markets.
On the other hand, a decrease in the amount of bitcoins in these wallets is commonly associated with asset accumulation.
The consistently positive net change in BTC position on exchanges has been ongoing since November 1, and historical data suggests that these periods often coincide with pauses in bullish markets or corrections in prices.
However, it is worth noting that the current increase could also reflect renewed investor confidence in centralized exchanges, despite security concerns that arose after the collapse of FTX last year.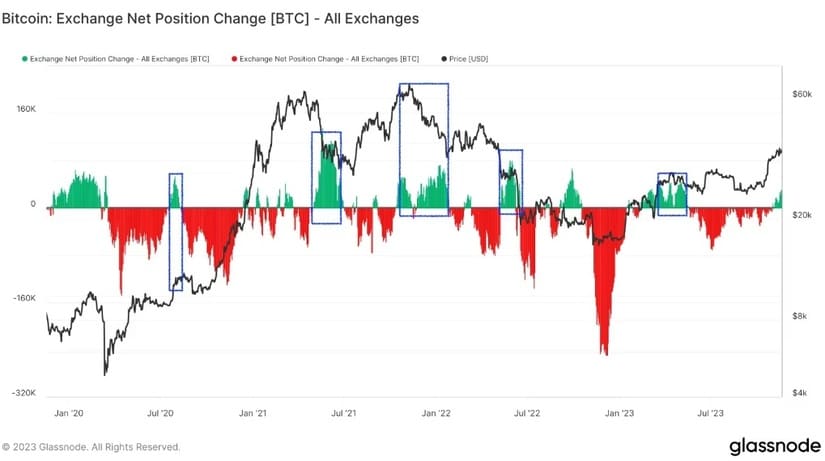 In this context, according to the latest data from CoinMarketCap, the current price of Bitcoin is around $37,405, having reached a peak of $37,517 last Sunday. This 7.5% growth in the value of BTC during the current month adds to a 28% increase recorded in October.
Its current market capitalization is nearly $731 billion, having grown by 2.5%. Meanwhile, its volume experienced a 36% increase, amounting to $15.272 billion.
Argentina Boosts Bitcoin
Additionally, part of this recent increase is attributed to the victory of Javier Milei in the presidential elections in Argentina. Milei is considered a supporter of Bitcoin and advocates for a market completely free of regulations.
In his statements, Milei praises Bitcoin as the representation of the return of money to the private sector, considering it its true owner.

Despite his support for Bitcoin, Milei differs from the president of El Salvador, Nayib Bukele, as he has no intention of making it an official currency. Instead, his plan is to replace the Argentine Peso with the US dollar, thereby strengthening the influence of the Federal Reserve and the Bank for International Settlements.
The flow of Bitcoin into centralized exchange wallets suggests significant movements in the market. Investors should closely monitor these changes, as they are historically associated with pauses in bullish trends or adjustments in prices.