Popular DeFi platform, SushiSwap has announced its integration with Chainlink price feeds on both Ethereum as well as the Binance Smart Chain [BSC] networks.
SushiSwap, which happens to be a popular automated market-making [AMM] decentralized cryptocurrency exchange, is all set to leverage Chainlink's price feeds to ensure accurate asset valuations which will drive its Kashi lending platform.
The DEX had recently rolled out Kashi, which is a lending and margin trading protocol. Kashi utilizes a unique risk isolation architecture for the purpose of bringing a broad set of token pairs under its hood for lending that were previously not accessible.
In addition to the Ethereum network, the CZ-led Binance Smart Chain [BSC] has also emerged as a crucial network in the realm of decentralized finance. Hence, it is only feasible to expand to both the blockchains to target an even wider set of audiences.
SushiSwap's Integration In Detail
With the latest integration, SushiSwap believes Chainlink price feeds will offer Kashi markets error-free, precise, and up-to-date asset valuations that are referenced at times of loan issuance and liquidation. This will hence, aid in establishing protection against under-collateralization.
Since SushiSwap is a multi-chain protocol, it intends to leverage Chainlink price feeds across all the various other chains Kashi is essentially deployed to. The official press release also went on to state that,
"Chainlink's historical performance in securing billions for the DeFi ecosystem and easy integration is the reason as to why we launched with Chainlink, while other oracle solutions will be integrated into Kashi over the coming months."
What is up with SushiSwap?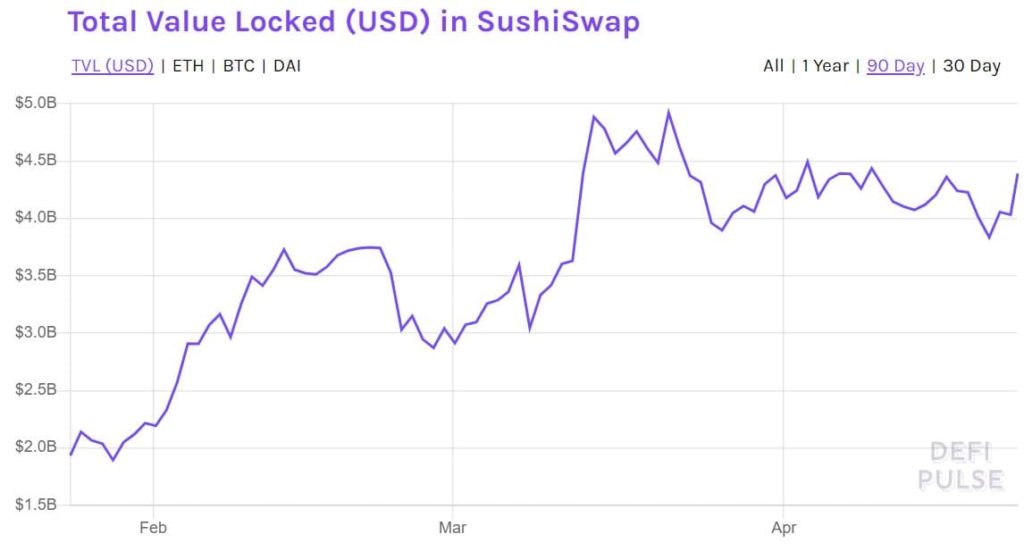 Over the past couple of months, SushiSwap has noted significant growth. It was now the sixth-largest DeFi platform. After a minor slump in the last few weeks, it registered almost $4.4 billion in terms of total value locked [in USD], at press time.
A month back, the decentralized exchange launched a new "aggressive strategy" in a bid to expand its use case more beyond an automated market maker with the all-new BentoBox and Kashi.
The first product within this ambitious roadmap includes a single vault that accommodates the assets deposited by users and makes them available for decentralized applications that are built off of the vault.
As opposed to similar products, BentoBox is touted as more coherent and structured while transferring the token. It is more efficient with regards to gas fees and complexity, easy to integrate. It also has a single token approval for use.
Kashi, on the other hand, is a lending and margin trading platform and is BentoBox's first decentralized application.
---
If you found this article interesting, here you can find more DeFi News