The native cryptocurrency of the Stellar blockchain, Stellar Lumen (XLM), witnessed a remarkable rally outranking major digital tokens including Bitcoin (BTC) and Ethereum (ETH), in the last 24 hours. What are the key factors that seem to have pushed XLM to soar?
Stellar Lumen (XLM) Fires Up
According to CoinMarketCap, XLM pumped 21.40% in the last 24 hours to hover at $0.16. Meanwhile, over the past seven days, the digital token increased more than a staggering 73%, marking a bullish trend. This comes shortly after XLM surged to a 15-month year high.
On July 13, XLM saw an enormous 104% increase, peaking at $0.196. However, it fell sharply after the all-time high, creating a long upper wick. Responding to the rally, market experts anticipate the XLM price action and indicator readings in multiple timeframes support the bullish trend reversal suggesting the increasing price is not yet finished and will reach another new yearly high.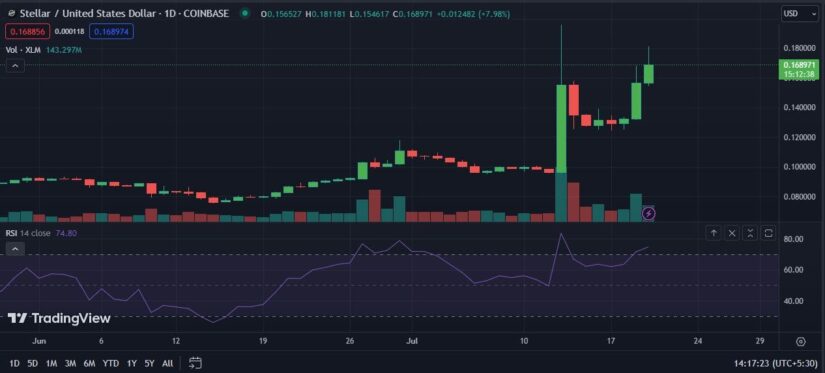 Several factors have pushed the digital token to become one of the best-performing digital assets in the crypto market. XLM witnessed a remarkable surge in its price following the recent ruling in the Ripple vs the U.S. Securities and Exchange Commission (SEC) case, along with the broader cryptocurrency market.
Reason Behind XLM Surge
Besides the favorable news, there are other reasons as well that have contributed to the XLM rally. On July 18, the blockchain announced a strategic partnership with MoneyGram and HoneyCoin app to support global digital assets cash out with USDC across Nigeria, Ghana, Tanzania, Kenya, Uganda, and the United Kingdom.
We're excited to share @honeycoinapp users can now cash out of their USDC balance at supported @MoneyGram locations in Kenya, Uganda, Tanzania, Nigeria, Ghana, and the UK 🥳️

Another real-world use case for @Circle's USDC on Stellar.https://t.co/0JKNhdJMx3

— Stellar (@StellarOrg) July 17, 2023
Just a day after the announcement, the cross-border payment facilitator revealed another collaboration with Fonbnk, a blockchain-based marketplace for individuals and businesses, in an effort to provide payment solutions to the unbanked in Africa.
Furthermore, Stellar has also made significant progress in terms of interoperability, allowing its network to connect with multiple chains, including Ethereum, Solana, Celo, and Polygon. Allbridge's interoperability and bridge solution facilitate the seamless integration of XLM into these blockchain ecosystems. This milestone showcases Stellar's versatility and utility for decentralized finance (DeFi). In an official blog post, Andriy Velykyy, CEO at Allbridge explained,
"With this new bridge, we are bringing access to the Stellar ecosystem to the countless DeFi users, allowing them to experience our expansive ecosystem of dApps and services."
For the uninitiated, Stellar is an open-source network that allows users to create, send, and trade digital representations of currency. Founded in 2014, the Stellar Development Foundation served as the bedrock of the open-source network, launching Stellar lumens (XLM) as a barrier to entry to increase the efficiency of the XLM ecosystem.