Along with the rest of the crypto market, Solana's [SOL] price tanked significantly. But a much-needed comeback could be in sight.
The Solana blockchain network has been experiencing congestion issues for quite some time now. Solana Status had recently confirmed an increase in high compute transactions which has resulted in a reduction of its network capacity to several thousand transactions per second [tps]. The degraded performance, in turn, led to some failed transactions for users.
It was this reduced throughput that affected SOL withdrawals on the cryptocurrency exchange, Binance. 
This has been the fourth such instance where Solana suffered a network issue since September 2021. While the latest one has been confirmed by the developers and the co-founder as network congestion, the first was a case of Distributed Denial of Service [DDoS] attack. This was followed by two outages two months later.
The controversy surrounding Solana's circulating supply also attracted significant bad press for the blockchain project. According to an independent audit carried out by the CEO of Cyber Capital, Justin Bonswas, SOL's circulation supply was reportedly found to be more than the developers had initially disclosed. While Solana has maintained to flourish despite the negative developments.
Where is Solana's breakthrough?
Solana was still down by 13.03% over the past week. However, the latest uptick in volatility has managed to lift the asset up from the 3-month lows. SOL advanced by 6.53% over the past day which drove its price to $146.37. At the time of writing, SOL registered a market cap of $45.63 billion and a 24-hour trading volume of $1.94 billion.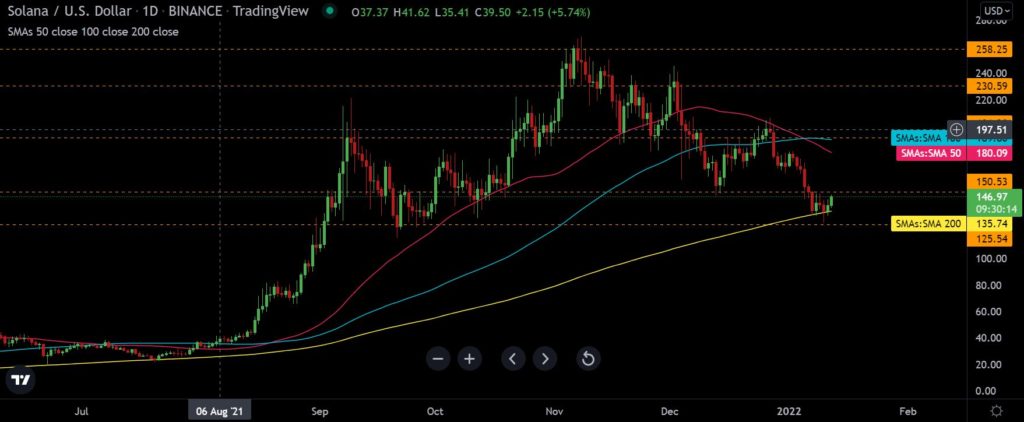 The 50-day SMA [Pink] and the 100-day SMA [Blue] suffered a bearish crossover following a sling of market-wide correction. SOL retested the 200-day SMA [Yellow] and its price appears to be stabilizing above it. The trading volume noted a mild uptick, so did the volatility in the market which may push the asset's price.
A comeback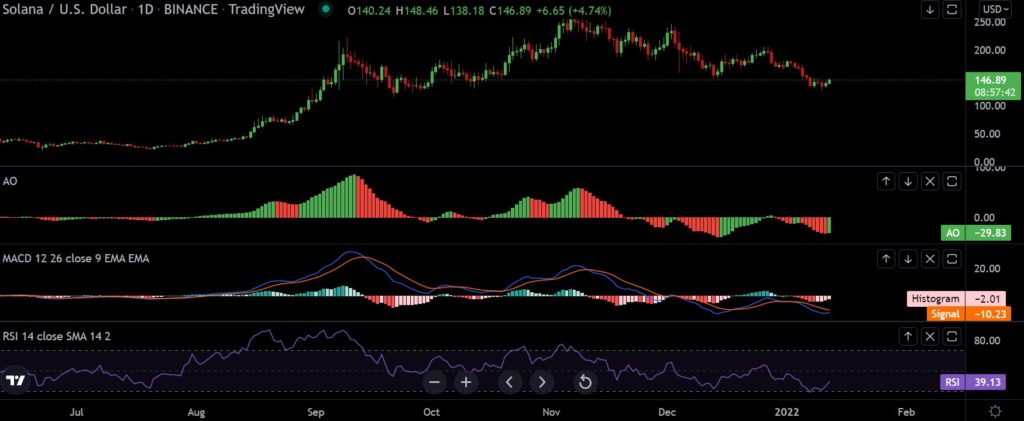 The formation of the green closing line of Awesome Oscillator [AO] depicted a switch to bullish momentum. The MACD, on the other hand, geared up for a bullish crossover. A similar sentiment was echoed by the daily Relative Strength Index [RSI] that bounced from the oversold region depicting a slowly decreasing selling pressure in the market.
The overall market signaled that SOL has reached an inflection point and a resurgence could be right around the corner. In that case, the asset's first resistance level stands at $150.5, a breach of which could bring in other crucial target points of $191.3, $230, and $258 at play. On the other hand, its suppor levels stood firm at $135, and $123 respectively.