Solana (SOL) kicked off the week on a bright note pumping more than 12% in the last 24 hours. The bullish momentum can be credited to communications protocol Helium Network's migration to the Solana blockchain.
According to CoinMarketCap, Solana (SOL) is up 12.27% in the last 24 hours to trade at $26.44. The altcoin has witnessed an explosive gain over the past seven days growing more than 27%. Last week, the cryptocurrency witnessed an astounding $830 million in trading volumes. As per market analysts, the $26.00-$2700 area is a key area of long-term support-turned-resistance.
However, if Solana (SOL) breaks above that, it would face significant resistance from a downtrend that has been dragging the coin though out the previous year. SOL experienced a bloodbath in prices last year, following the collapse of FTX which had triggered a massive outflow of capital from Solana's Decentralized Finance (DeFi) ecosystem.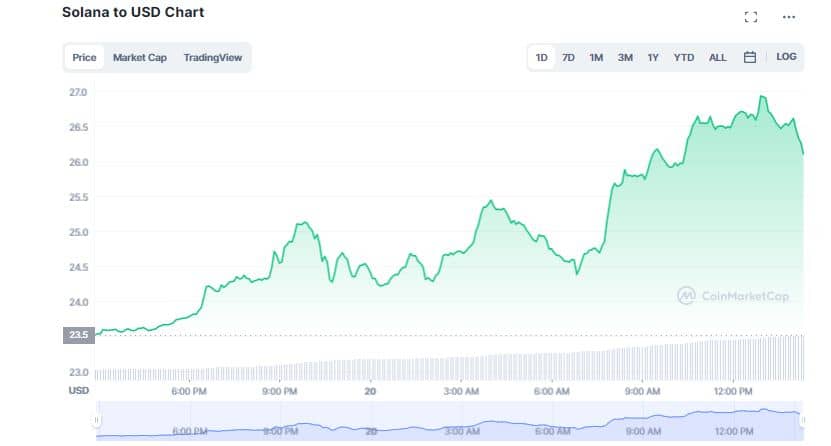 Solana Join Forces with Helium
The recent price surge over the past week can be attributed to positive investor sentiment following the recent announcement that Helium network is planning to migrate to the Solana blockchain. On February 20, Solana took to confirm the news, revealing the migration will be completed by March 27. Helium will also deploy the necessary oracles within that date as it aims to improve scalability and reliability.
The Helium network is migrating from its current L1 to Solana at the end of March, bringing with nearly 1 million hotspots worldwide across the LoRa and 5G networks 🔥https://t.co/Bn847ghLik

— Solana (@solana) February 20, 2023
Solana further revealed that Helium will also help onboard nearly one million hotspots worldwide across the LoRa and 5G networks, based on this integration and use Helium to power the much-anticipated Solana Phone Saga. As per an official blogpost, the migration will take place on March 27 over a period of 24 hours, during which the current Helium blockchain will be halted.
The communications protocol also noted that Proof-of-Coverage and data transfer activities will remain unaffected during the transition.  A working group of community volunteers is being formed to oversee the migration process.
Will SOL Increase in the Near Future?
Helium explained that Solana has the speed and scale necessary to take on the blockchain responsibility while the Helium core-developers and community will focus on building wireless protocols and enabling utility on these networks. The protocol wrote,
"The completion of the migration marks a new era for the Helium Network, enabling it to achieve greater scale and truly become a network of networks."
Many market experts believe believe that upcoming technology such as "xNFTs" on the rising Backpack wallet which is connected to the SOL blockchain will spark new bull movements in the near future. Aside from the general bullish trend in the market, SOL's price movement was also influenced by the Solana-based meme coin "BONK", which saw huge returns at the start of January.