Singapore crypto investors have something to rejoice about since 1exchange, the first regulated private securities exchange platform in the region just went live.
Reportedly, through 1exchange investors will have an avenue to buy tradeable private equities crafted from illiquid assets. A gong celebration was held on Wednesday to celebrate the launch of 1exchange. In attendance were representatives from the exchange itself, ConsenSys, Singapore Exchange (SGX), CapBridge Pte Ltd, Equiom Singapore, and Aggregate Asset Management (AMM).
In addition to going live, the exchange also listed its first token, AAM an Ethereum based token from Aggregated Asset Management (AAM). The AAM tokens are available for trading on 1exchange and account for 7 percent shares of AAM shares.
By going live, the exchange has enabled investors, who participated in the AAM fundraiser six weeks ago to make use of their Ethereum tokens. The tokens grant them trading powers on 1exchange platform. The tokens represent actual company shares. Notably, to mint and list the tokens for trading, 1X either takes 10 or 20 percent of private company's portion and places everything into a special purpose vehicle.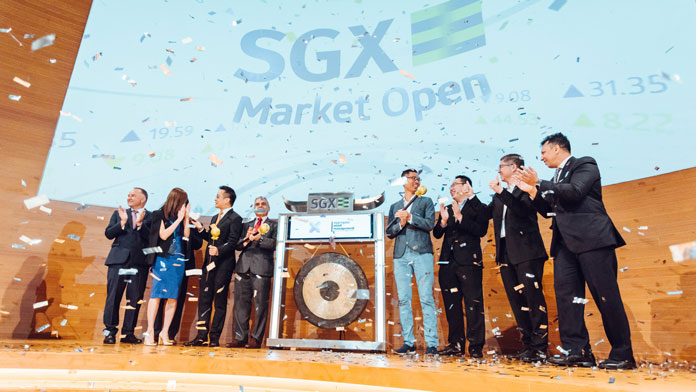 A Snippet into 1exchange Platform History
1exchange is an idea coined by Capbridge, an exchange based in Singapore that operated as a primary market stock offering. Though Capbridge owns 1exchange, it could not have reached this far without getting support from other partners. Some of its partners include the Singapore Exchange (SGX) and ConsenSys Ethereum based startup. During its first funding round AAM walked out with $4 million. Similarly, blockchain tehcnology will help 1X make its platform take the form of an IPO targeting only private companies. The latter grants private companies an opprtunity to raise funds from the primary market.
1exchange Goal
Per the press release, the exchange's primary goal is to translate illiquid assets into a liquid state and make them available for trading. For now, liquidation of private companies is the first step, but 1X also has plans to translate the real estate and bonds into a liquid state.
For its transactions, 1exchange charges traders 2.5 percent as trading fees. However, for listing the tokens annually, successful applicants are charged $3,600 listing fees. As 1exchange takes its position in the global market, using blockchain to facilitate its trading transactions will help it provide better services. In addition to that, blockchain will help it cut its overall running costs.