Shiba Inu (SHIB) has shot up nearly 2% in the last 24 hours as cryptocurrency exchange BitMEX revealed the addition of a new perpetual contract listing for the popular dog-themed digital asset.
On August 30, BitMEX took to X to announce the new perpetual contract listings for Shiba Inu (SHIB), which will be available from August 30. Besides Shiba Inu (SHIB), the exchange has also added Bone ShibaSwap (BONE) to the perpetual contract listings.
💥Attention #SHIBARMY💥

New perp listings for the @Shibtoken community – SHIBUSD and SHIBUSDT – are LIVE on BitMEX.

Users can now long/short $SHIB …with up to 33x leverage.

Contract specs here👇https://t.co/sou2P4SziQ pic.twitter.com/xapoNz4t9U

— BitMEX (@BitMEX) August 30, 2023
BitMEX Ramps Up Product Offerings
The move showcases the platform's increasing efforts to diversify its offerings beyond the product categories that it already offers. The news comes shortly after BitMEX extended its partnership with Italian soccer club AC Milan.
The extended deal aims to boost the existing relationship between the two entities, naming BitMEX as AC Milan's premium partner, in addition to its official cryptocurrency trading partner title held since 2021.

According to the official blog post, BitMEX declared Shiba Inu perpetual listings in USD and USDT pairs, allowing users to enjoy up to 33x leverage on SHIBUSD and SHIBUSDT, which it claims to be the highest in the industry. Additionally, users can have 33x leverage on the SHIBUSD Quanto Contract and 20x leverage on the SHIBUSDT Linear Contract.
The SHIB/USD contract will operate as a quanto contract with a fixed Bitcoin multiplier that will enable traders to bet on exchange rate fluctuations without needing to own the underlying assets, using Bitcoin (BTC) as the margin for potential gains or losses.
@BitMEX are also launching Bone contracts tomorrow, offering up to 5x leverage:$BONE / $USD$BONE / $USDT https://t.co/mxVyHMxOHC

— Shib (@Shibtoken) August 29, 2023
Meanwhile, BONE perpetual listings in also available in both USD and USDT pairs, permitting users to enjoy 5x leverage on BONEUSD and BONEUSDT. BitMEX's decision comes after Shiba Inu's lead developer announced the reopening of the L2 blockchain Shibarium for the public after being unavailable for almost two weeks.
Shiba Inu Pumps Both on Daily and Weekly Chart
As the news broke out, both, Shiba Inu (SHIB) and Bone ShibaSwap (BONE) witnessed modest gains. According to CoinMarketCap, SHIB is up 1.66% in the last 24 hours to hover around $0.0000082. Over the past seven days, the meme token has jumped 1.16%, following a botched Shibarium launch on August 16 that froze access to millions of dollars in user funds.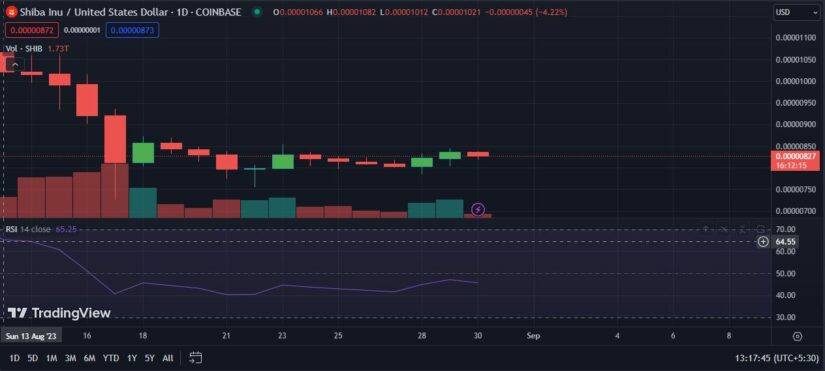 On the other hand, BONE climbed 0.32% over the same time period, trading around $1.29. Similarly, the digital token zoomed a whopping 7.60% in the past 1 week as the Shiba Inu Ecosystem gears up to launch several projects, such as ShibaSwap 2.0, ShibaNet, Treat Token, and SHI Stablecoin, in the coming months.