Already 6 countries have joined forces to sue the technological giants Google, Twitter and Facebook for their arbitrary ban on advertisements of ICOs and cryptocurrencies – these countries are Russia, China, South Korea, Switzerland, Armenia and Kazakhstan.
As reported last March by Yury Pripachkin (President of RACIB – The Russian Association of Cryptocurrency and Blockchain) they expect to file a joint lawsuit against these Internet giants, which could be presented next May.
3 were the countries that initiated the union to present this demand. Russia, China and South Korea reached an agreement to collaborate and present it jointly, the place chosen will be in the United States (New York).
The president of the RACIB also informed that an electronic purse will be enabled to collect donations for the costs of the process. Said purse will be registered in Estonia.
As said by Pripachkin in the Blockchain-RF 2018 held in Moscow on 27-28 March:
"We believe that this is a use of the monopoly position of these four companies, which have entered into a cartel agreement with each other in order to manipulate the market. The ban from these four organizations has led to a significant drop in the market in recent months."
Switzerland, Armenia and Kazakhstan have recently joined this union to fight for cryptocurrencies.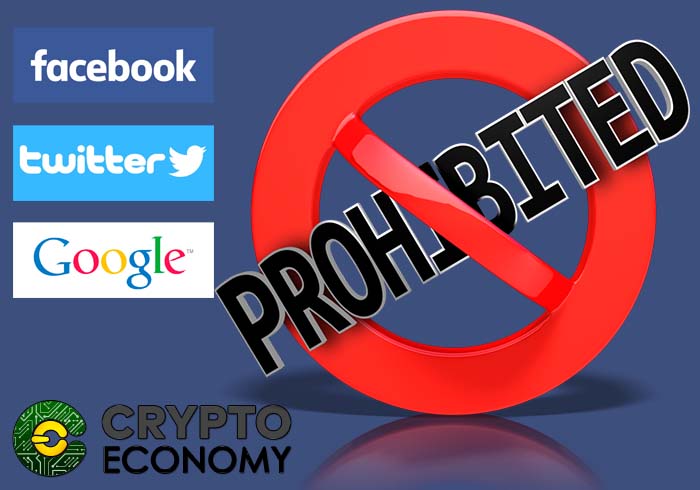 Last March, Google, Twitter and Facebook made the decision to block ads related to ICOs (Initial Coin Offering) and cryptocurrencies.
They said, the reason for this blockade was none other than to protect the users of these platforms, before the possible scams that could be made through these ads.
So the publicity of all legal projects and businesses related to cryptocurrencies were banned in these platforms without having the opportunity to verify their authenticity.
Faced with the prohibition adopted by these big companies, the countries that support growth and opt for cryptocurrencies have not been able to do anything other than unite with what they think is an injustice.
Pripachkin added that they do not rule out taking action against the shareholders of these companies if it is discovered that they have investments in cryptocurrencies, since the EBA (Eurasian Blockchain Association) would consider that the market is being manipulated in their favor in order to obtain a privileged position, which would entail acquiring a great personal benefit.