Into The Cryptoverse is a report created by KuCoin which explores the penetration and adoption of digital currencies in Saudi Arabia and the reasons behind this growth.
In a survey conducted by KuCoin, it was revealed that as of May 2022, around 3 million Saudi Arabians accounted for 14% of the adult population between the ages of 18 and 60 and that around three million of them have become crypto investors, either though they currently own cryptocurrencies or have traded them over the past six months.
Furthermore, the survey reveals that another 17% of those surveyed are still considering cryptocurrencies as a viable investment option for the next six months and are more likely to be interested in investing in cryptocurrencies.
Practical Financial Solutions
According to the report, a significant portion of potential crypto investors in Arab countries have an interest in crypto assets. During the first quarter of 2022, 49% of crypto investors anticipated that they would be increasing their investments in cryptocurrencies over the next six months.
During the first half of 2022, when the bearish market began to take hold, investors' sentiment seemed to turn in the opposite direction towards more conservative strategies in terms of holding cryptocurrencies. Saudi Arabian crypto owners reported in the second quarter of 2022 that 31% would rather keep their crypto balances as is than increase their investment in the cryptocurrency market. During the same period, investors with lower incomes were more likely to sell off a portion of their portfolio than those with higher incomes.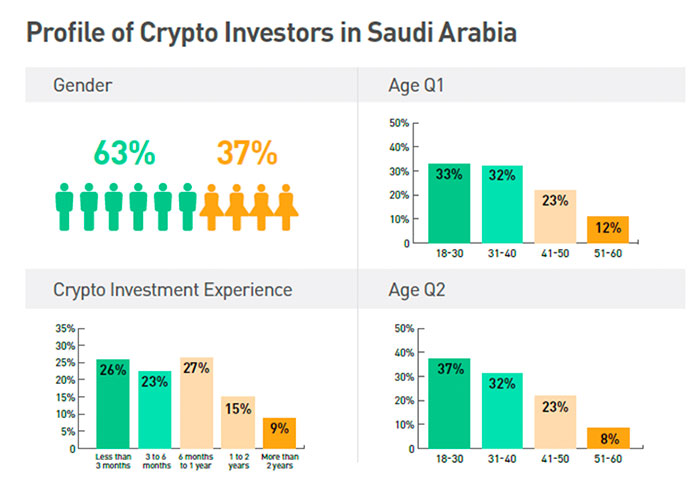 A survey conducted by a financial company in the Middle East found that almost half of crypto investors buy their digital currencies using fiat and carry out spot trades every month. Spot trades involve trading, buying, and selling at market value at the time, and are one of the few forms of crypto trading that some scholars consider halal.
A staking, futures, and margin trading, which are types of investments involving interests and gambling, are not so popular in this country as other types of investments that do not involve interests and gambling. There has been an increase in the use of automated trading tools, such as trading bots, by 42% of crypto investors in the second quarter of 2022, which represents a 7% increase over the previous quarter as the market goes bearish.
It is the unique aspects of the Saudi Arabian mentality that open new horizons in terms of service and functionality for the cryptocurrency market owing to the unique aspects of the Saudi mentality. A large number of progressive youths in the country are also contributing to the success of blockchain-based technologies by fostering a positive attitude towards them and promoting their adoption.